Raids on US Army Bases in South Korea Uncovers Synthetic Marijuana
South Korean military police are investigating 17 US soldiers and five other people who allegedly smuggled or used synthetic marijuana via military mail. This follows raids in at least two US army bases in May, including Camp Humphreys, its largest overseas base.
A Filipino and a South Korean have been arrested, while prosecutors review the cases against all 22 suspects. A tip from the US Army's enforcement arm had sparked a four-month investigation by Korean authorities.
It was one of the largest in recent years involving American soldiers, US media reported citing Cha Min-seok, a senior detective in South Korea.
Joint raids by South Korean police and the US Army's Criminal Investigation Division found 77g (2.7oz) of synthetic marijuana, more than 4kg of "mixed liquids" used for vaping and a total of $12,850 in cash at the 22 suspects' homes.
They are accused of smuggling synthetic marijuana – known by the street names K2 and Spice – into the country through the US military's postal service.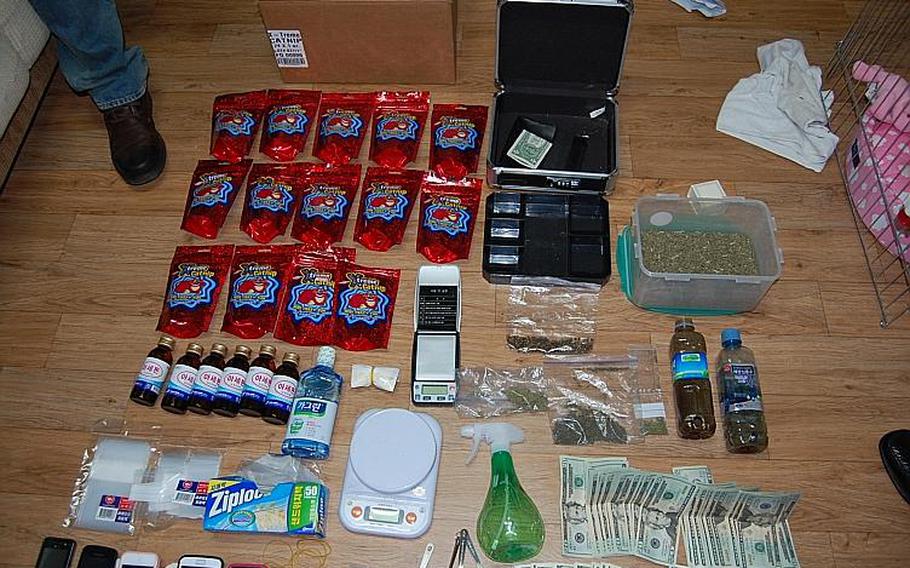 Seven of them, including five soldiers, are thought to have been involved in the sale of the synthetic marijuana, 12 were users and three acted as middlemen.
A soldier's spouse and another soldier's fiancée are also involved, the police told reporters. The 17 soldiers are currently stationed at Camp Humphreys, about 48km (30 miles) south of the capital Seoul, and at Camp Casey, an army outpost about 40km north of Seoul, according to the police.
They allegedly distributed the drugs on the bases while communicating via Snapchat.
United States Forces Korea said on Wednesday that it was aware of the investigation. No soldiers are currently in confinement or being detained in relation to it, it said in a statement. Synthetic marijuana is made to mimic THC, the main psychoactive ingredient in marijuana.
While it has similar effects to cannabis, it is typically more potent and has been reported to produce adverse health effects, including acute psychotic episodes, paranoid delusions and severe agitation.
It is difficult to detect because it is often used in liquid form in legal e-cigarette devices, the police said.
In South Korea, those convicted of trafficking marijuana face from five years to life in prison. Drug possession carries a maximum sentence of five years in prison or a fine of about 50m won ($37,200).
Synthetic marijuana, often known as "synthetic cannabinoids" or "Spice," is a class of designer pharmaceuticals designed to replicate the effects of natural cannabinoids like THC (tetrahydrocannabinol), which is found in marijuana. Synthetic cannabinoids, on the other hand, are chemically manufactured substances that can be far more strong and unpredictable than natural marijuana.
Here are some important facts concerning synthetic marijuana:
Synthetic marijuana is made by spraying synthetic chemicals onto plant material, which is then commonly smoked or vaporized. These compounds are intended to bind to the same brain receptors as THC, providing similar intoxicating effects.
Variability: There is no one formula for synthetic cannabis, and manufacturers vary the chemical makeup on a regular basis to avoid regulatory regulations. This variety makes it difficult for users to know what they are taking, and it can have unforeseen and deadly consequences.
Health concerns: Synthetic marijuana usage has been linked to a variety of health concerns, including extreme agitation, anxiety, hallucinations, paranoia, rapid heart rate, high blood pressure, nausea, vomiting, seizures, and, in some cases, death. Long-term use can result in addiction and other health issues.
The legal status of synthetic marijuana differs by country and area. Many nations have prohibited the use of specific synthetic cannabinoids, but producers frequently change the chemical structure to generate new compounds that are not covered by existing prohibitions.
One of the biggest issues with synthetic marijuana is its lack of regulation. Synthetic cannabinoids are frequently made in clandestine facilities with little oversight, as opposed to natural marijuana, which is subject to quality control and safety regulations in legal markets.
Synthetic marijuana is offered under a variety of brand names and is frequently touted as a legal or safe substitute to natural marijuana. Spice, K2, Black Mamba, and Scooby Snax are some common street names for synthetic cannabinoids.
Dangers of Use: Because of its unpredictable nature and the possibility of hazardous side effects, synthetic marijuana use is strictly discouraged. Individuals with underlying medical disorders, mental health issues, or a history of substance misuse are especially vulnerable.
Possession and distribution of synthetic marijuana can have legal ramifications, and the rules governing these substances can be complicated and susceptible to change. Users should be informed of their region's legal position with regard to synthetic cannabinoids.
Synthetic marijuana, also known as synthetic cannabinoids, are chemical compounds that replicate the effects of natural marijuana. However, because of their unpredictability, potential for injury, and legal concerns, they are a risky choice for recreational or medicinal use. It is usually safer to avoid synthetic marijuana and instead opt for natural marijuana in areas where it is legal and controlled.