Ethiopia's Tigist Assefa Shatters Women's Marathon World Record In Berlin, Kipchoge Remains Dominant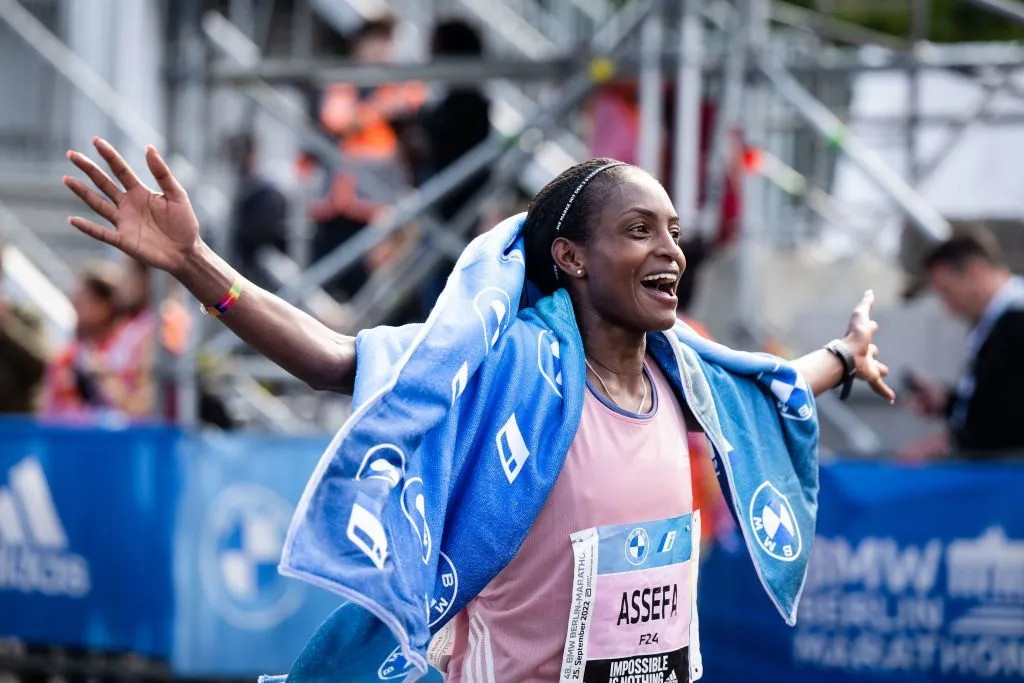 (CTN NEWS) – In a thrilling and record-breaking spectacle at the Berlin Marathon, Ethiopian sensation Tigist Assefa etched her name into the annals of athletics history.
Meanwhile, Kenya's marathon legend, Eliud Kipchoge, further solidified his status as one of the greatest marathoners of all time.
Here's a closer look at the extraordinary achievements that unfolded on the streets of Berlin.
Tigist Assefa's Monumental Feat
Tigist Assefa, a 26-year-old Ethiopian athlete, delivered a jaw-dropping performance in the women's marathon, clinching both victory and a new world record.
Assefa, who had secured the title at the same event the previous year, displayed exceptional stamina and determination as she crossed the finish line in a blistering time of two hours, eleven minutes, and fifty-three seconds.
What makes her achievement even more remarkable is the fact that she obliterated the previous women's marathon world record by more than two minutes.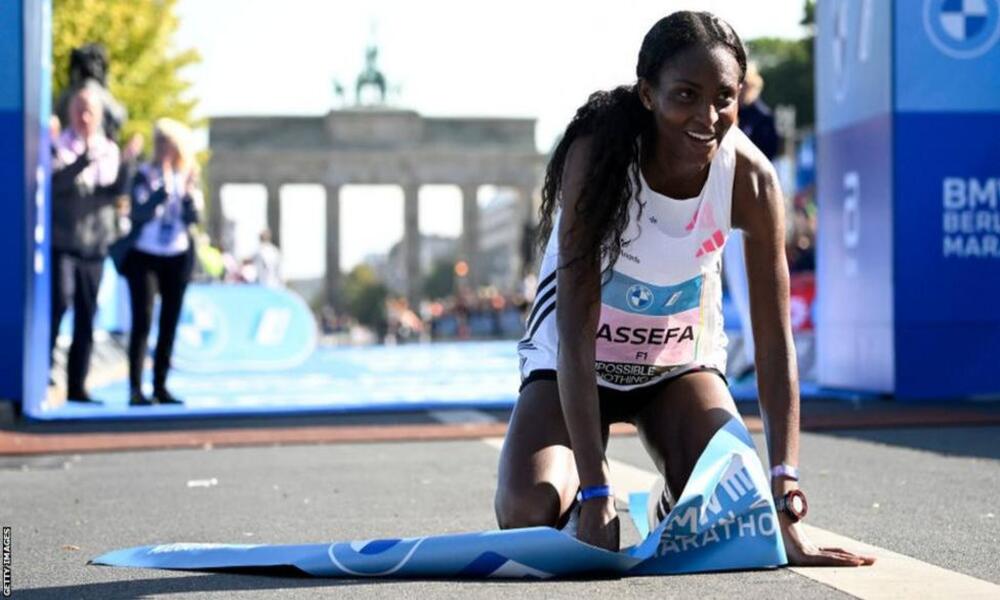 The former record of 2:14.04, set by Kenya's Brigid Kosgei in Chicago in 2019, now stands in the shadow of Assefa's incredible run. This marks a pivotal moment in the world of women's marathon running, as Tigist Assefa's name is etched in history.
Assefa's journey to becoming a marathon world record holder is as inspiring as her performance. She transitioned from being an 800-meter specialist to racing marathons in a remarkably short period.
Her blazing pace in Berlin was evident from the start, with Assefa reaching the halfway point in a staggering one hour, six minutes, and twenty seconds.
At the 37-kilometer mark (23 miles), Assefa maintained a pace that was just three seconds per kilometer slower than Eliud Kipchoge's time at the same stage during the men's race.
This incredible consistency showcased her extraordinary endurance and fortitude, solidifying her place among the elite of women's marathon running.
Eliud Kipchoge's Marathon Mastery
On the men's side, Eliud Kipchoge, a double Olympic champion and a household name in the marathon world, continued to shine in Berlin. His fifth victory in this iconic event came with a remarkable time of 2 hours, 2 minutes, and 42 seconds.
While this time was slightly slower than Kipchoge's own world record of 2:01.09, set in Berlin the previous year, it demonstrated his remarkable consistency and mastery of the marathon distance.
Kipchoge's journey to success has seen him claim victory in five of his six appearances in Berlin and 16 wins in 19 races, including gold medals at the 2016 and 2020 Olympics.
Although Kipchoge had run his slowest marathon of his career (2:09.23) and finished surprisingly sixth in Boston earlier in the year, he remained confident about breaking his own world record in Berlin.
Kipchoge's Pursuit of Marathon Greatness Continues at the 2023 Berlin Marathon
During the early stages of the race, he was on track for a sub-two-hour marathon and appeared to be closing in on his record-breaking pace.
However, he couldn't maintain the intensity needed and reached the halfway mark in 1:00:21, slightly behind his previous split time.
Notably, Kipchoge had already achieved the remarkable feat of running a marathon in under two hours in Vienna in 2019. However, this achievement wasn't recognized as an official world record due to the unique conditions and pacemakers involved.
Looking ahead, Kipchoge has his sights set on the 2024 Olympics in Paris, where he aims to become the first athlete to secure a third Olympic marathon gold medal.
While breaking the world record remains a goal, Kipchoge expressed that stepping onto the podium would bring him immense satisfaction and pride.
In summary, the 2023 Berlin Marathon was a showcase of human endurance and achievement, with Tigst Assefa's historic world record and Eliud Kipchoge's continued excellence reminding us of the boundless potential of athletes who push their limits in the pursuit of greatness.
RELATED CTN NEWS:
Luis Rubiales Resigns As President Of Spanish Soccer Federation Amidst Controversy
AEW Terminates CM Punk's Contract Following Backstage Incident At All In Event
Djokovic Commences US Open Pursuit, Eyeing 24th Grand Slam Title and World No. 1 Ranking