Protesters Disrupt Antony Blinken During US Senate Hearing On Anti-War Demonstrations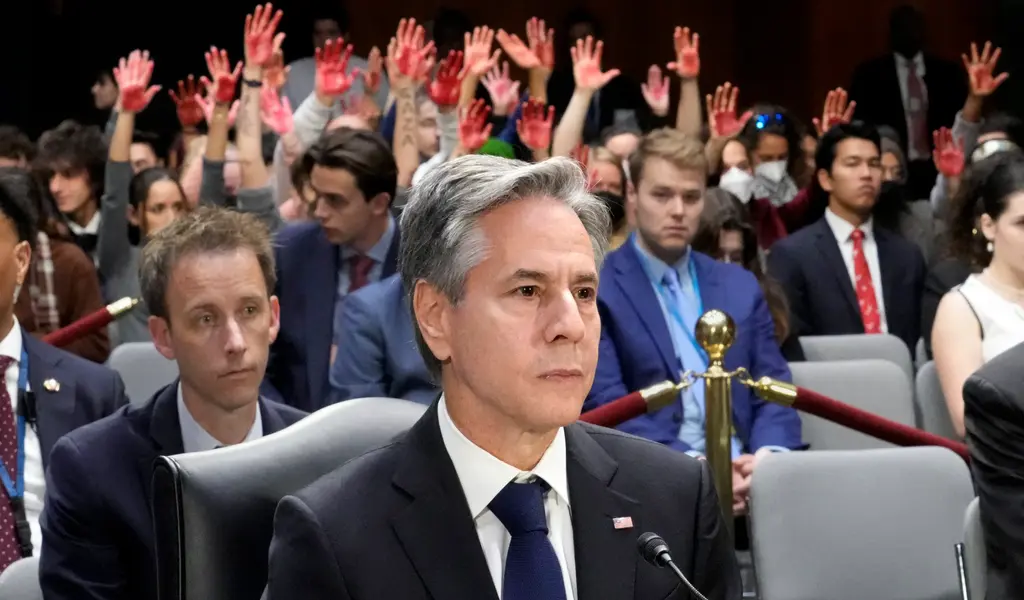 (CTN NEWS) – During a Senate hearing featuring US Secretary of State Antony Blinken, impassioned protesters demanding an immediate ceasefire in Gaza created a tumultuous interruption.
Within the crowd, numerous individuals stood up and, in unison, repeatedly shouted, "Ceasefire now!"
Their fervent cries echoed through the chamber as Secretary Blinken and US Defense Secretary Lloyd Austin testified about the White House's substantial $106 billion national security funding request, which notably allocated $14.3 billion to support Israel's military efforts against Hamas.
The protesters, acting in a coordinated manner, awaited the commencement of Mr. Blinken's testimony before launching their impassioned demands.
This disrupted the proceedings to the extent that lawmakers were compelled to temporarily suspend the hearing on multiple occasions.
Capitol Police officers swiftly took action, escorting the demonstrators out of the room.
Later reports confirmed that a total of 12 people had been arrested for their involvement in what was deemed an unauthorized protest inside the hallowed Dirksen Senate Office Building.
It is worth noting that a
portion of the protesters involved in this compelling act of civil disobedience were associated with the prominent anti-war group CODEPINK.
This organization has not only called for an end to the conflict in Gaza but has also passionately advocated for the cessation of US arms shipments to Ukraine.
Dressed predominantly in pink attire and brandishing signs emblazoned with the message "No to the siege of Gaza," these demonstrators passionately called for an immediate cessation of US funds flowing to Israel.
Their commitment to this cause was manifest in their symbolic gesture, as some had painted their hands in red, signifying the shedding of blood.
CODEPINK later confirmed that some of its members had been among those arrested.
Their steadfast commitment to their cause and their willingness to engage in acts of civil disobedience underscore the depth of their conviction.
The Senate hearing, which was intended to discuss critical matters of national security funding, transformed into a powerful stage for voices seeking change and advocating for peace.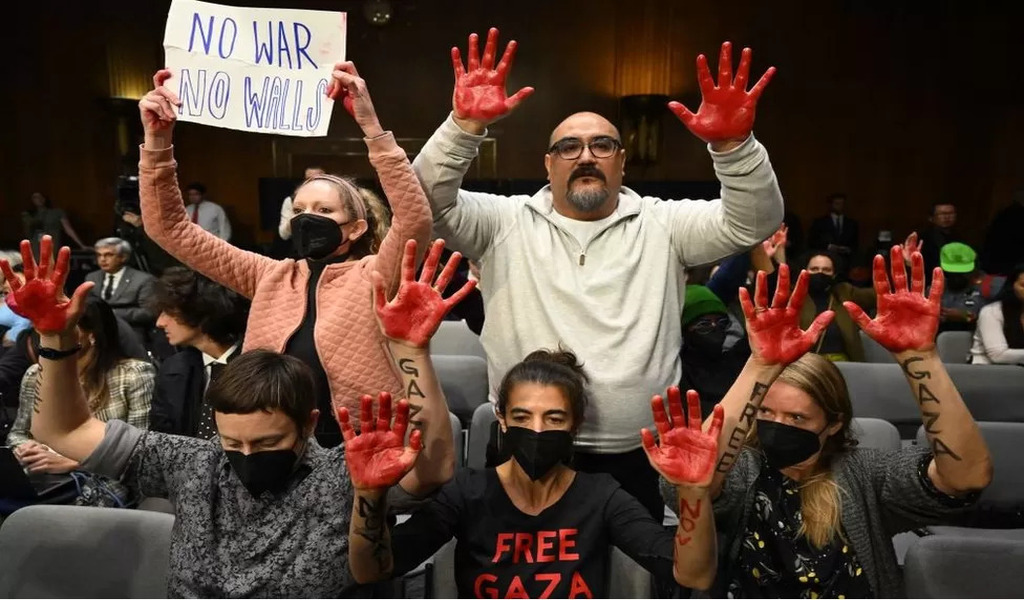 At the conclusion of his statement, Mr. Blinken acknowledged the presence of the protesters and the fervent expressions within the room.
He stated, "All of us are committed to the protection of civilian life.
All of us know the suffering that is taking place as we speak, all of us are determined to see it end."
His words underlined the shared commitment to ending the suffering and turmoil that had unfolded.
Simultaneously, he emphasized the importance of the United States standing with its allies, reiterating a core principle of American foreign policy.
Secretary Blinken, along with Defense Secretary Lloyd Austin, were fervently advocating for the support of President Joe Biden's comprehensive national security package.
This package encompassed a range of critical allocations, including:
$61.4 billion for Ukraine's defense, underscoring the United States' support for the nation in its ongoing conflict.
$9.2 billion earmarked for humanitarian assistance, signifying a commitment to providing aid in times of crisis and need.
$2 billion allocated for Indo-Pacific security, reinforcing the strategic importance of this region.
$10.9 billion designated for southern border security and addressing migrant issues, highlighting the multifaceted challenges that the nation faces.
The Senate hearing was thus a forum for the discussion of critical matters pertaining to national security and foreign policy, with the voices of protesters and the statements of government officials converging in a complex and important dialogue.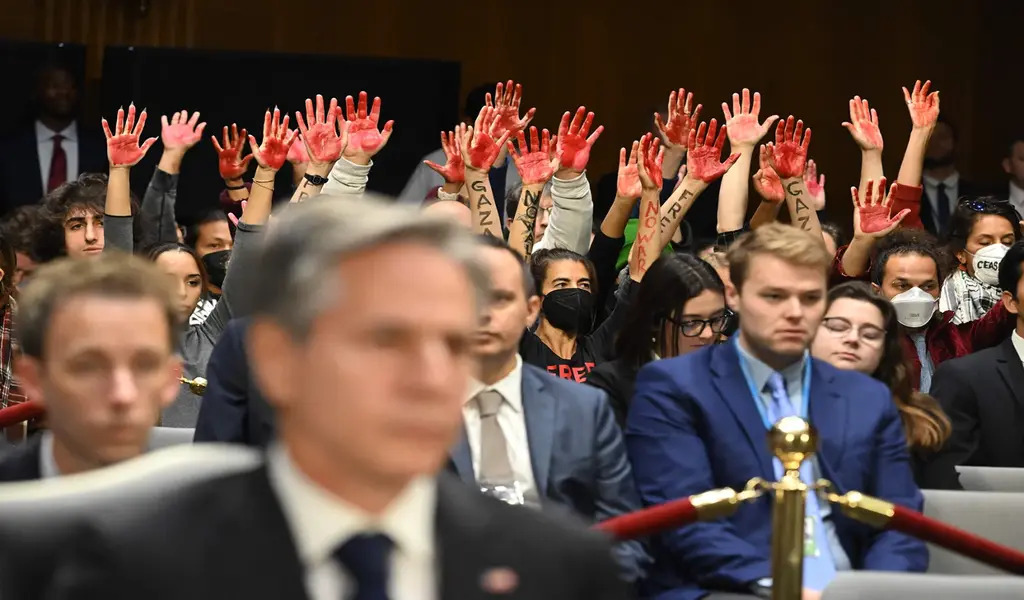 As support for Ukraine faces challenges among conservative voters, Congressional Republicans have begun to explore the possibility of treating funding for Israel as a distinct and separate request.
Mike Johnson, the newly elected Speaker of the House of Representatives, has introduced legislation aimed at allocating $14.3 billion in emergency funding to Israel.
Notably, this funding proposal stands apart from the White House's broader national security priorities and seeks to offset the allocated funds by cutting an equivalent amount from the budget of the Internal Revenue Service (IRS), the federal tax collection agency.
In defense of his proposed bill, Speaker Johnson argued his case on Fox News, asserting that many Americans would consider standing with Israel and safeguarding the innocent lives there to be a matter of national interest and a more immediate need than IRS agents.
The White House, on the other hand, expressed its concerns, stating that Republicans were exploiting the ongoing crisis to benefit the wealthy and large corporations by allowing tax evasion.
White House press secretary Karine Jean-Pierre stressed that politicizing the nation's security interests was unacceptable.
Meanwhile, Representative Debbie Wasserman-Schultz, a Democrat with strong ties to Israel, voiced her deep concern over Mr. Johnson's legislation, denouncing it as "offensive to all pro-Israel Americans."
The United States has a longstanding history of supporting Israel, providing substantial aid that amounts to $158 billion since World War Two, primarily in the form of military assistance, according to the Congressional Research Service.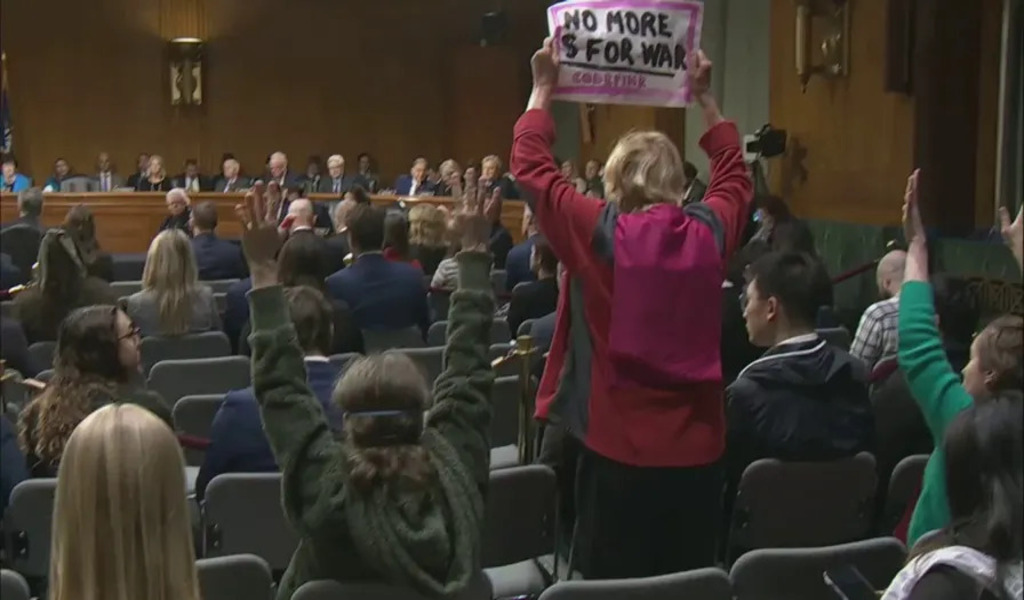 Since Hamas's attack on October 7, the White House and senior American officials have consistently reiterated their support for Israel.
President Joe Biden, in the immediate aftermath of the attack, declared, "We stand with Israel.
And we will make sure Israel has what it needs to take care of its citizens, defend itself, and respond to this attack."
However, as the conflict has evolved, there has been a subtle shift in the President's tone.
While he continues to express support for Israel, he has also issued cautions to Israeli leaders, emphasizing the importance of adhering to international law and responding responsibly to the ongoing humanitarian crisis in Gaza, which has taken a devastating toll on Palestinian civilians.
The toll of the conflict has been heavy on both sides.
Israel reports that since Hamas's incursion and the subsequent rocket attacks that began on October 7, the violence has led to the deaths of approximately 1,400 people, with at least 239 individuals taken hostage by Hamas.
Israel, in response to the attacks, has conducted a sustained bombing campaign in Gaza.
According to the Hamas-run health ministry in Gaza, more than 8,500 people have lost their lives since Israel's bombardment commenced.
The ongoing conflict has created a dire humanitarian situation in the region, which has drawn increased attention and concern from the international community.
MORE RELATED NEWS:
Illegal immigrants left with under 24 hours to leave Pakistan
Thailand is Removing Visa Requirements for Indian and Taiwanese Visitors
WATCH: Israel Embeds Advertising Demonizing Hamas and Palestinians in Children's Video Games