UK's Labour Party Leader Sir Keir Starmer Maintains Position Against Immediate Gaza Ceasefire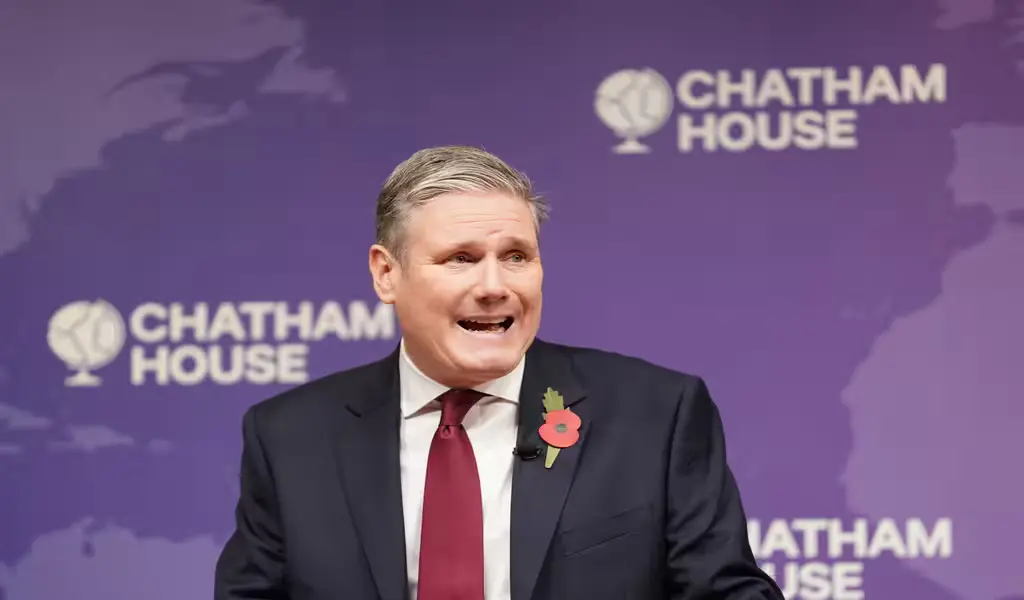 (CTN NEWS) – Sir Keir Starmer, the leader of the UK's Labour Party, has acknowledged the calls for a ceasefire in Gaza, although he maintains that it is not the "correct position" at the present moment.
While over 60 Labour MPs have urged for a ceasefire, Sir Keir stands by his position of advocating for a humanitarian pause, which he asserts is "the only credible approach."
He believes that a temporary pause in hostilities would facilitate the delivery of aid to Gaza and the safe departure of hostages.
Sir Keir's argument against an immediate ceasefire revolves around his concerns that it would leave Hamas's infrastructure intact, potentially enabling them to carry out future attacks.
In an attempt to address the growing internal divisions within his party over the Gaza conflict, Sir Keir emphasized the need for a humanitarian pause during his address to an audience in London.
Several prominent figures within the Labour Party, including Mayors Sadiq Khan and Andy Burnham, Scottish Labour leader Anas Sarwar, and 15 frontbenchers, have deviated from the official party stance on the issue.
Furthermore, over 250 councillors have called for a ceasefire, and approximately 30 councillors have resigned from the party due to disagreements with the leadership's position on the conflict.
In related developments, Andy McDonald, a Labour MP, has been suspended by the party over what has been described as "deeply offensive" comments made at a pro-Palestinian rally.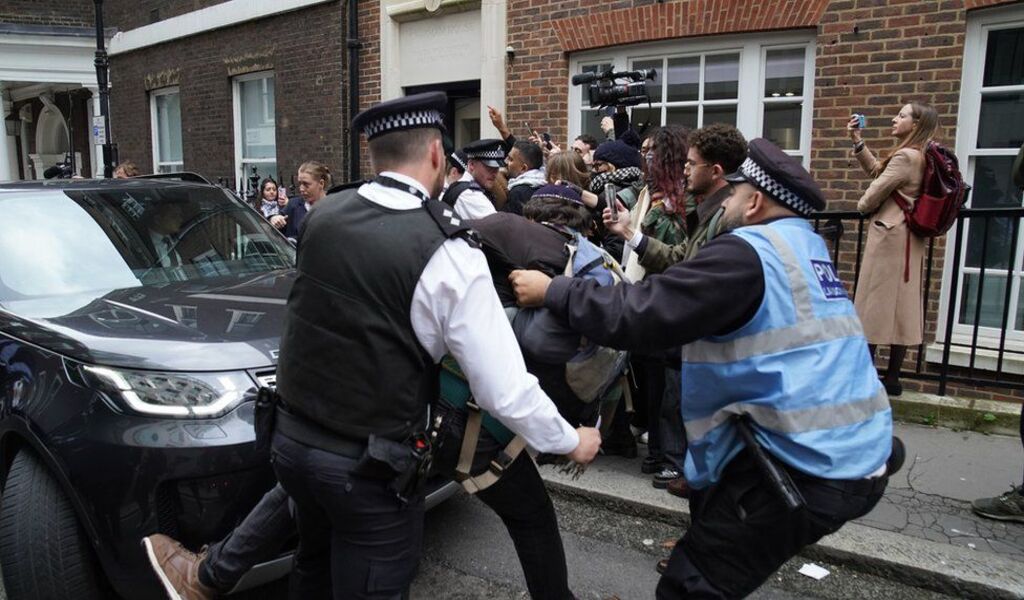 Following his address, Sir Keir faced repeated questions about whether Labour frontbenchers who deviated from the party's position would face disciplinary action.
In response, he emphasized the party's unity in desiring an "alleviation of this awful situation" and stated his intention to engage sensitively with the concerns of his colleagues.
However, he did not indicate that they would be subject to discipline for their departure from the party's official stance.
Sir Keir explained that his approach to the conflict stemmed from a commitment to uphold Israel's right to defend itself against terrorist attacks, while also safeguarding the rights of Palestinians who are "caught in the crossfire."
He acknowledged the calls for a ceasefire but maintained that, at this stage, he did not view it as the correct position.
His concern was that a ceasefire might embolden Hamas and lead to immediate preparations for future violence.
He argued that a humanitarian pause represented the sole credible approach with the potential to alleviate the suffering of Palestinians in Gaza, which aligns with the desired outcome.
When asked about Israel's compliance with international law, Sir Keir declined to make premature judgments, noting that this would ultimately be determined by legal experts in due course.
Upon leaving Chatham House, where he had delivered his speech, Sir Keir's car was surrounded by pro-Palestine demonstrators.
The police intervened to clear a path for his vehicle as the protesters voiced their concerns and drummed on the car's windows.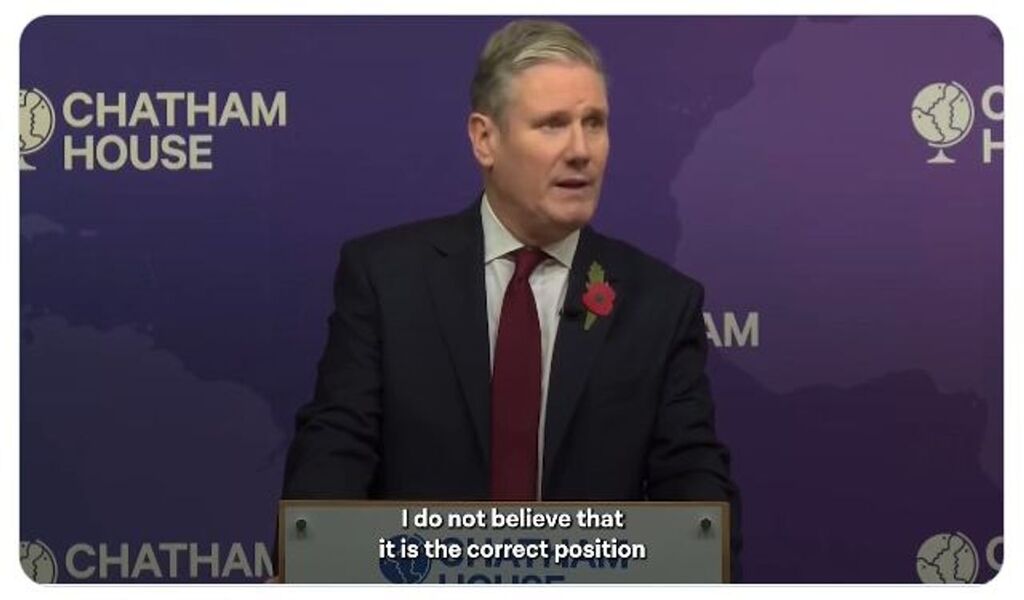 Sir Keir Starmer's stance, which supports a humanitarian pause rather than a formal ceasefire, aligns him with the UK government, as well as the positions of the US and EU.
Humanitarian pauses, in contrast to full ceasefires, tend to be of short duration, often lasting only a few hours.
Their primary objective is to provide immediate humanitarian aid rather than to establish long-term political solutions, as defined by the United Nations.
While the Labour leader defended his position, both Scottish Labour leader Anas Sarwar and London Mayor Sadiq Khan reiterated their calls for a ceasefire.
Mr. Sarwar also expressed concerns about past comments made by Sir Keir, which he believed had caused hurt to Muslims and peace-loving citizens.
In an interview with BBC London, Mr. Khan did not directly criticize the Labour leader but emphasized his belief in de-escalation rather than escalation of violence, clarifying his call for a ceasefire.
Momentum, a left-wing Labour campaign group, dismissed Sir Keir's speech as "fine words" and contended that his support for continued military action and Palestinian casualties did not align with the views of his party or the broader public, who overwhelmingly support an immediate ceasefire.
They predicted that the calls for a ceasefire would grow louder.
Following the speech, former Labour leader Jeremy Corbyn expressed his belief that those opposing a ceasefire would eventually reflect on the consequences of their stance and the human cost it entailed.
He emphasized the urgent need for a ceasefire.
Amnesty International, a human rights organization, criticized Sir Keir for not providing clear and principled leadership to address the long-standing crisis.
They found his calls for a pause to be vague and unclear, urging him instead to endorse an immediate ceasefire.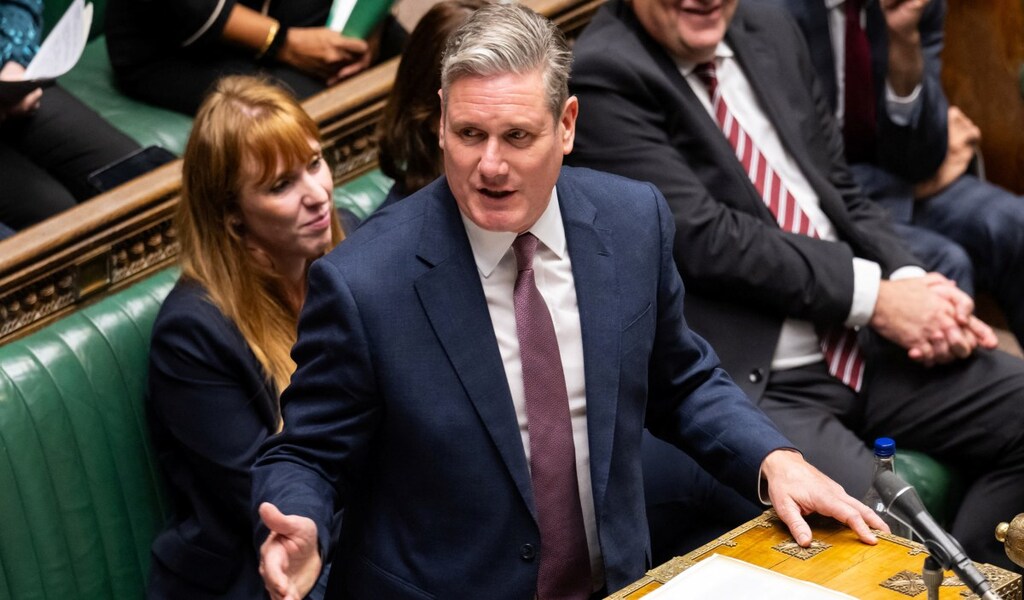 On Monday, Andy McDonald, a former shadow minister under Jeremy Corbyn, faced suspension as a Labour MP due to comments he made during a speech at a pro-Palestinian rally.
McDonald's speech, delivered to protesters, included statements such as, "We will not rest until we have justice. Until all people, Israelis and Palestinians, between the river and the sea, can live in peaceful liberty."
He clarified that his words aimed to be a heartfelt plea for an end to the violence in the region.
The phrase "between the river and the sea," referring to the land between the River Jordan and the Mediterranean, has various interpretations.
While some, including Israel and many Jewish groups, view it as implicitly advocating for the destruction of Israel, some pro-Palestinian activists argue that most people using this phrase are calling for an end to Israel's occupation of the West Bank and the blockade of Gaza, not the annihilation of Israel.
The Labour Party suspended McDonald, contending that his comments were deeply offensive, especially at a time when rising antisemitism had heightened concerns among the Jewish community.
Nevertheless, the suspension has sparked outrage among the left, who claim that McDonald's words were misrepresented.
The Labour Muslim Network also expressed its disapproval of the suspension.
The bigger challenge facing Sir Keir Starmer is that, by reiterating his rejection of calls for a ceasefire, he may face pressure from both left-leaning shadow ministers and communities.
This could lead to resignations, potentially setting off a chain reaction within the party.
In a related development, Conservative MP Paul Bristow was dismissed from his government role as a ministerial aide for advocating a ceasefire in Gaza.
MORE RELATED NEWS:
Illegal immigrants left with under 24 hours to leave Pakistan
Thailand is Removing Visa Requirements for Indian and Taiwanese Visitors
WATCH: Israel Embeds Advertising Demonizing Hamas and Palestinians in Children's Video Games