Illegal immigrants left with under 24 hours to leave Pakistan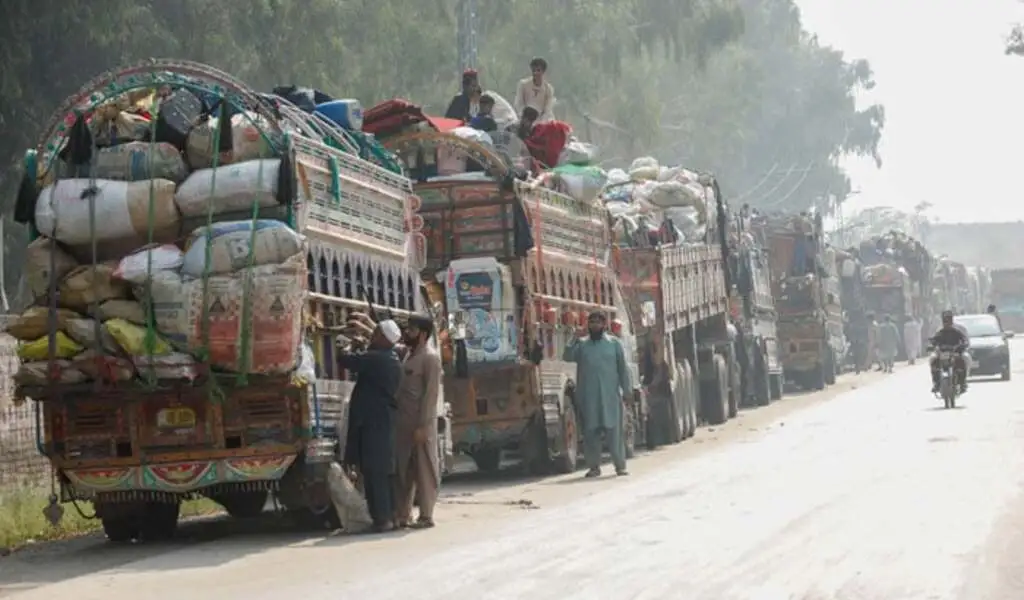 (CTN News) – As the November 1st deadline for the "aliens" approached, provincial and federal officials prepared to remove illegal immigrants who had less than 24 hours to depart Pakistan.
A request from Pakistan's Ministry of the Interior earlier this month urged undocumented foreigners to leave the country by today, October 31, or face deportation.
The authorities insisted that the ruling applied to all undocumented and illegal visitors, not just Afghan nationals who had been staying inside the country illegally.
According to Caretaker Prime Minister Anwaar-ul-Haq Kakar, Pakistan has sheltered almost four million Afghan refugees on its soil under the Geneva Convention for the past 40 years, despite the fact that it is not a signatory to that agreement.
He had previously stated that over a million immigrants were labeled as unlawful for remaining in Pakistan without proper documentation. Afghan refugee commissionerate sources reported that unlawful Afghan citizens were still entering back into Afghanistan at the Torkham border crossing.
They stated that between October 1 and 28, 67,604 persons from 4,672 households have returned to Afghanistan.
They said that all Afghans who had returned to Pakistan were doing so illegally and that families were only permitted to return to Pakistan after completing the necessary legal procedures.
The Taliban administration in Afghanistan claims that between September 23 and October 22, over 60,000 Afghans returned from Pakistan. On October 4, Pakistan announced that it would remove unauthorized migrants who did not depart.
On October 26th, Abdul Mutaleb Haqqani, a spokesman for the Taliban's Refugee Ministry, informed Reuters that recent daily returnee counts are three times higher than average.
A bus company owner named Azizullah near Karachi's Sohrab Goth neighborhood, home to one of Pakistan's major Afghan populations, said he had increased service to accommodate the mass migration.
Lines formed close by for rival bus routes to Afghanistan.
As with all the Afghan migrants Reuters spoke to, Azizullah spoke on the condition that he be identified only by his first name owing to the sensitivity of the situation.
"Before I used to run one bus a week, now we have four to five a week," he said.
"Illegals to be removed beginning November 3"
The provincial government of Punjab has announced that beginning on November 3, a phased evacuation of illegal immigrants will take place across the state. IG Usman Anwar has indicated that he is in communication with the relevant authorities about the repatriation of the illegal immigrants.
He declared that those living in the province illegally would be removed from cities such as Rawalpindi, Sargodha, Gujranwala, Sheikhupura, Lahore, and others.
The Punjab IG has stated that illegal immigrants will be removed from the province via certain exit points and held in "holding centers" until they are removed.
The removal strategy complies with international standards.
Mumtaz Zahra Baloch, a spokesperson for the Foreign Ministry, said that the decision to expel them complied with international rules and standards. "Our record of the last forty years in hosting millions of Afghan brothers and sisters speaks for itself."
Approximately 1.7 million Afghan migrants and refugees are estimated to be living in Pakistan without proper documentation. The majority of migrants are Afghans, many of whom arrived when the Taliban retook Afghanistan in 2021 but who had actually been living in the country since the Soviet invasion in 1979.
The authorities said Afghans were responsible for a slew of suicide bombings this year, prompting the expulsion threat. They have been accused of smuggling and other terrorist acts by Islamabad.
Cash-strapped Pakistan, navigating record inflation and a tough International Monetary Fund bailout program, also said undocumented migrants have drained its resources for decades.
Increase in Profits
In early September, an average of 300 people crossed the border into Afghanistan daily, according to international organizations working on migration issues, who provided data on the condition that they not be identified due to the sensitivity of the matter.
After Islamabad announced the November deadline, crossings jumped to roughly 4,000, the organizations said.
When contrasted with the total number of people who will be impacted in the coming days, these numbers are laughable. Reuters reported that Balochistan's communications minister said the province was opening three new border crossings into Afghanistan.
For weeks, state-run PTV has run a countdown to Nov 1 on the top of its screens. Interior Minister Sarfaraz Bugti warned that law enforcement agencies will start removing "illegal immigrants who have … no justification" being in Pakistan after Tuesday.
They will be processed at "holding centers" and then deported, he told reporters, adding that women, children and the elderly would be treated "respectfully." Pakistani citizens who help undocumented migrants obtain false identities or employment will face legal action, Bugti warned.
Related CTN News:
What Can We Expect from Thailand in 2030?