Canadian PM Trudeau Stands Firm On India Accusation In Khalistani Terrorist's Killing: 9 Points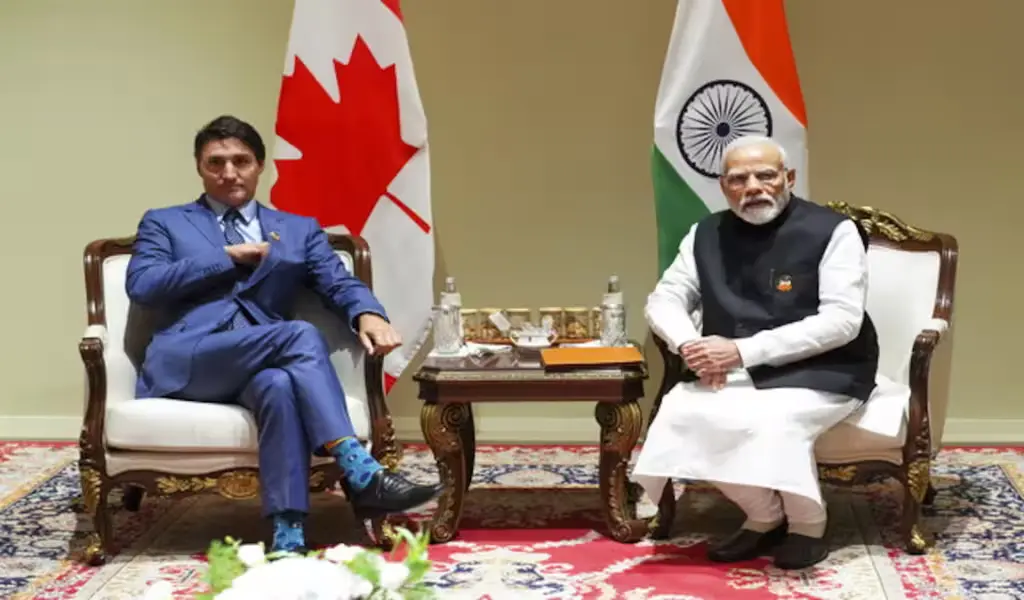 (CTN NEWS) – In a recent development, Canadian Prime Minister Justin Trudeau has reiterated his earlier accusation, asserting that the killing of Khalistani terrorist Hardeep Singh Nijjar was orchestrated by "Indian government agents."
This claim has led to a significant diplomatic crisis between Canada and India.
Khalistani Terrorist's Killing: 9 Key Points
Here are the key points in this escalating tension:
Canada's Allegations: Trudeau maintained that Canada had shared these "credible allegations" with India several weeks ago. He stated, "Canada has already shared the credible allegations I mentioned on Monday with India, and we did so many weeks ago. We are committed to working constructively with India and hope for their engagement to address this extremely serious matter."
Indian Denial: On Monday, when Trudeau first linked Nijjar's killing to India, the Indian government swiftly and firmly denied the accusations. India pointed out that Canada had not provided specific information to support its claims, instead highlighting "politically endorsed hate crimes and criminal violence" within Canada.
Retaliatory Actions: This allegation set off a series of retaliatory actions, including the expulsion of diplomats by both nations. India suspended visa services, citing "security threats" to its High Commissions and consulates in Canada.
Crackdown on Khalistani Activities: India's anti-terrorism agency seized the properties of Khalistani terrorist Gurpatwant Singh Pannun, the leader of the banned 'Sikhs for Justice' organization. Pannun had earlier urged Indo-Canadian Hindus to leave Canada in the wake of the diplomatic crisis.
Diplomatic Interference: The Indian government accused Canada of "diplomatic interference" in India's internal affairs and requested Canada to reduce the size of its diplomatic presence in India, which exceeds India's presence in Canada.
Travel Advisories and Expulsions: Both India and Canada issued travel advisories and expelled senior diplomats from each other's countries, culminating in a week of heightened tensions, mutual allegations, and countermeasures. India advised its citizens in or traveling to Canada to exercise caution due to "increasing anti-India activities."
US Involvement: US Secretary of State Antony Blinken called on India to cooperate with Canada and emphasized the importance of accountability. Blinken noted that the investigation must proceed to its conclusion.
Background: The tensions between India and Canada had been brewing since Prime Minister Narendra Modi reprimanded Trudeau during the Delhi G20 summit over Khalistan supporters' attacks on Indian diplomatic missions in Canada. Subsequently, Canada postponed a planned trade mission to India scheduled for October.
Initial Allegation: A week after this incident, Prime Minister Trudeau made the explosive claim that "Indian government agents" might be responsible for the shooting of Hardeep Singh Nijjar, a Canadian citizen and wanted terrorist in India, outside a gurdwara in Surrey in June. India promptly dismissed the allegation as "absurd."
Conclusion:
In a significant development, Canadian Prime Minister Justin Trudeau has reiterated his accusation that the killing of Khalistani terrorist Hardeep Singh Nijjar was orchestrated by "Indian government agents."
Trudeau claims that Canada had shared these "credible allegations" with India weeks ago. This accusation has led to a diplomatic crisis between the two nations, resulting in the expulsion of diplomats, property seizures related to Khalistani activities in India, and travel advisories.
The tensions stem from earlier confrontations and allegations, including attacks on Indian diplomatic missions in Canada.
US Secretary of State Antony Blinken called for cooperation and accountability in the investigation. The situation remains highly contentious, with no resolution in sight.
RELAED CTN NEWS:
U.N Member Nations Approve Plan To End Tuberculosis Worldwide Within Five Years
Pope Francis Rejects 'Emergency' Label For Migration, Advocates For Compassion In Marseille Address
Long-Term Effects Of Severe COVID-19: Study Reveals Significant Organ Impairments