Israeli Airstrike In Northern Gaza's Jabalia Refugee Camp Results In Numerous Casualties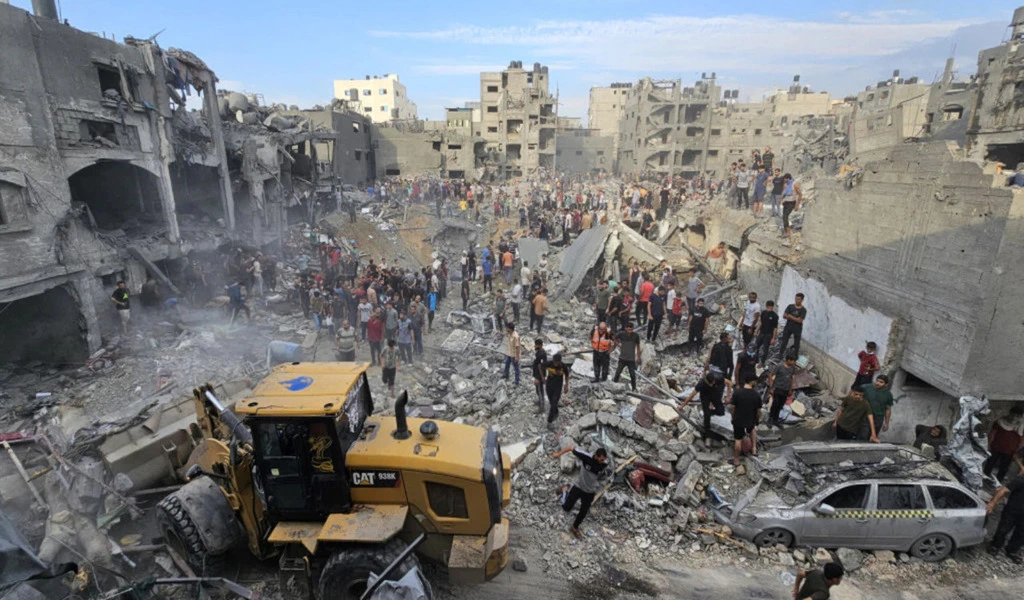 (CTN NEWS) – An Israeli airstrike in northern Gaza's Jabalia refugee camp is reported to have resulted in the deaths of numerous individuals.
According to Gaza's Hamas-run health ministry, 50 people lost their lives, and another 150 sustained injuries.
However, a nearby hospital reported receiving 400 casualties, including 120 fatalities.
Photographs depict several significant craters, surrounded by damaged buildings.
The Israeli military stated that the airstrike had targeted a senior Hamas commander and an "underground terror infrastructure" located beneath the collapsed buildings.
It was also noted that a "significant number of terrorists" from Hamas's Central Jabalia Battalion, who had been present with the commander at the time, were killed.
Simultaneously, Israeli tanks and troops continued their advance toward densely populated areas in northern Gaza, including Jabalia.
Israel has declared this to be the "second phase" of its campaign to eliminate Hamas, which commenced following an unprecedented cross-border attack by Gaza gunmen on October 7, resulting in the death of 1,400 people and the taking of 240 hostages.
Gaza's health ministry reports that more than 8,500 individuals have lost their lives in the region since then.
Moreover, essential supplies such as food, water, fuel, and medicine for the 2.2 million residents are in critically short supply due to an Israeli-imposed siege.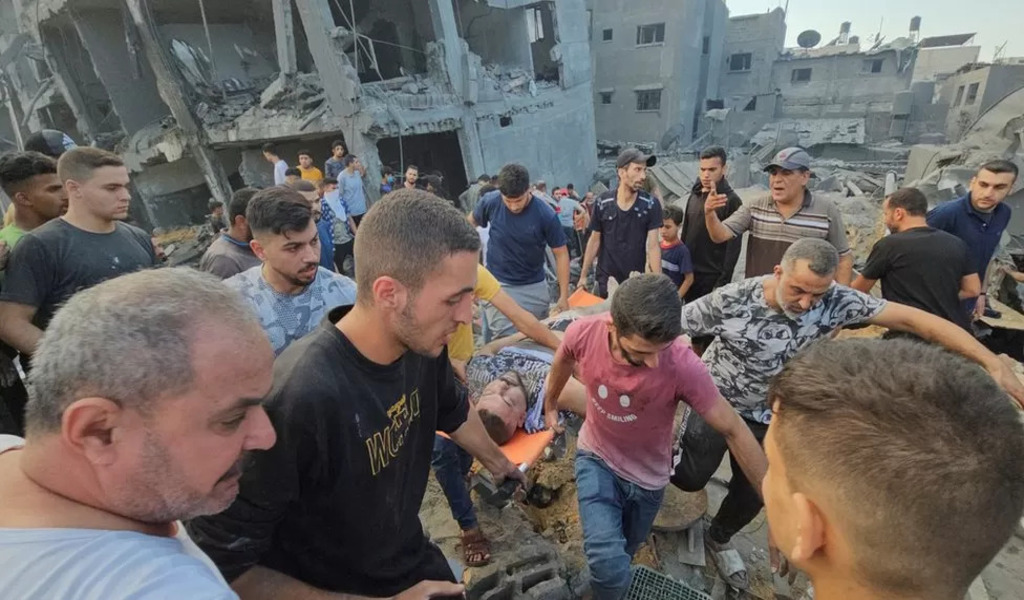 On Tuesday, an airstrike in Jabalia resulted in a massive explosion that obliterated several residential buildings in the heart of the refugee camp.
Before the conflict, this area, measuring just 1.4 square kilometers (0.5 square miles), was home to 116,000 people.
Ragheb Aqal, a resident of Jabalia, described the impact as akin to an "earthquake."
He recounted the devastation, with homes buried under the rubble and numerous casualties, including both fatalities and wounded individuals.
Video footage and images depicted hundreds of people scouring the wreckage in search of survivors.
One man could be heard exclaiming, "We're filling bags with children," as he held up a small white cloth bag stained with blood.
According to reports from AFP, video footage from the scene showed the recovery of at least 47 bodies from the debris.
A procession of body bags was laid outside the Indonesian Hospital in nearby Beit Lahia.
The surgical director at the hospital informed the BBC that they received 400 casualties, including 120 fatalities, the majority of whom were children and women.
Dr. Mohamed el-Ron also revealed that severely injured individuals in need of complex surgery had to be transferred "under fire" to Al-Shifa Hospital in Gaza City.
Médecins Sans Frontières quoted one of its nurses at Al-Shifa, Mohammed Hawajreh, who described the arrival of young children with deep wounds and severe burns.
Many of them arrived without their families, and they were often heard crying and asking for their parents.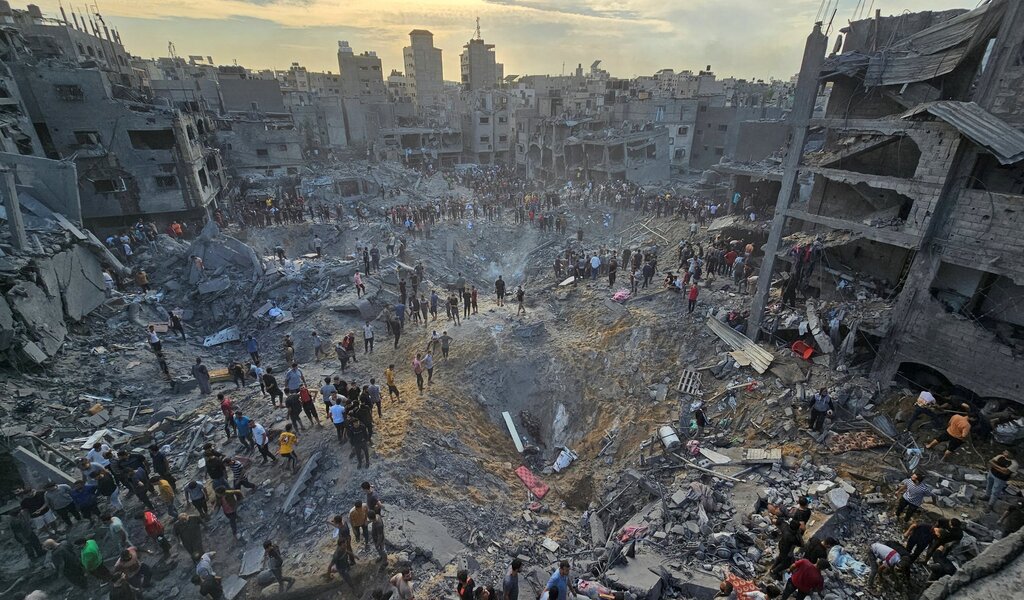 Following the incident, the Israel Defense Forces (IDF) reported that they had carried out a "wide-scale strike on terrorists and terror infrastructure belonging to the Central Jabaliya Battalion" and confirmed the death of its commander, Ibrahim Biari.
The IDF stated, "The strike damaged Hamas's command and control in the area, as well as its ability to direct military activity against IDF soldiers operating throughout the Gaza Strip."
They added that a significant number of terrorists who were with Biari had been killed, and the underground terror infrastructure utilized by the terrorists had collapsed following the strike.
During a briefing, IDF spokesman Rear Adm Daniel Hagari did not directly address the reported civilian casualties but asserted, "The Hamas terrorists continue to use the civilian population as protective cover. This is a deliberate and highly cruel tactic."
A Hamas spokesperson, quoted by Al Arabiya TV, denied the presence of a commander in Jabalia and accused the IDF of spreading "false and unfounded talk" to "justify its heinous crime."
The IDF also reported that its ground forces had eliminated approximately 50 Hamas fighters during an operation to secure a military stronghold in western Jabalia.
This stronghold served as a training center for the attack on October 7 and contained tunnels used as a passageway to the Mediterranean coast.
Two Israeli soldiers lost their lives during this battle, according to Adm Hagari.
Hamas's military wing claimed its fighters had targeted four Israeli military vehicles in southern Gaza, fired at tanks and bulldozers in north-west Gaza, and ambushed an Israeli unit in the north-east.
Meanwhile, Hamas and other Palestinian groups continued to launch rockets into Israel.
In two attacks, four people in the coastal city of Ashdod sustained injuries.
Following the Tuesday strike in Jabalia, Adm Hagari once again urged all civilians in the camp and other areas in northern Gaza to relocate to regions south of the Wadi Gaza river for their safety.
However, hundreds of thousands of people have not heeded this order, which was first issued by the IDF on October 13.
The United Nations reports that approximately 117,000 displaced civilians are currently seeking refuge in 13 hospitals across the northern region, alongside thousands of patients and medical staff.
Many others have found shelter in UN facilities, schools, and various public buildings.
On Tuesday, the World Health Organization expressed extreme concern about reports of airstrikes in the vicinity of the Turkish-Palestinian Friendship Hospital over the past two days.
Situated south of Gaza City, this hospital serves as the primary cancer center in the Gaza Strip.
The BBC verified a video circulating on social media on Monday, showing smoke outside the hospital and the sound of an explosion.
While the Israeli military told the BBC that it had not targeted the hospital, it did not deny that there might have been strikes in the area.
MORE RELATED NEWS:
Illegal immigrants left with under 24 hours to leave Pakistan
Thailand is Removing Visa Requirements for Indian and Taiwanese Visitors
WATCH: Israel Embeds Advertising Demonizing Hamas and Palestinians in Children's Video Games