Gaza's Desperate Humanitarian Crisis: Hunger, Thirst, And Chaos Loom Amid Escalating Conflict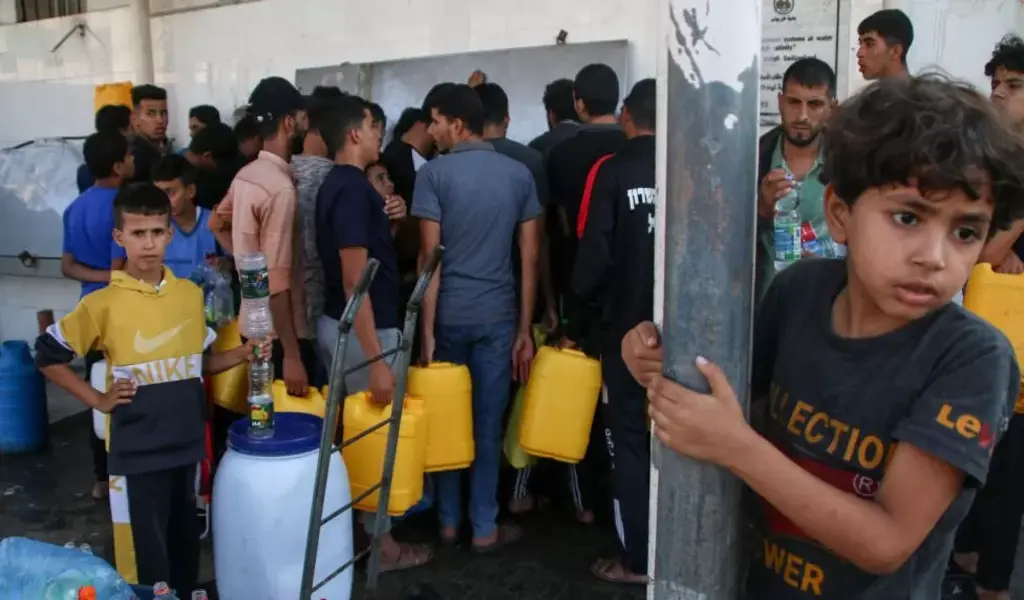 (CTN NEWS) – The mass migration of people from northern Gaza, as you've described, reflects the dire humanitarian situation in the region during times of conflict.
The sudden influx of displaced individuals, inadequate infrastructure, and limited resources in Khan Younis have created an incredibly challenging situation for the local population and the displaced people.
Such events underscore the need for international humanitarian assistance and long-term solutions to address the ongoing conflicts and suffering in the area.
The situation you describe paints a harrowing picture of the dire circumstances faced by the people in Gaza during times of conflict.
With a population already struggling to meet basic needs due to ongoing blockades and previous conflicts, the sudden displacement of thousands, coupled with the fear of impending danger, underscores the urgent need for humanitarian assistance and a resolution to the longstanding conflicts in the region.
The suffering and uncertainty endured by the people of Gaza is a stark reminder of the human toll these conflicts take on innocent civilians.
The humanitarian crisis in Gaza demands immediate attention. Displaced individuals urgently require shelter, food, and essential supplies.
Humanitarian organizations play a crucial role in providing aid, but addressing the conflict's root causes and pursuing lasting peace is equally vital.
The people of Gaza deserve peace, security, and dignity.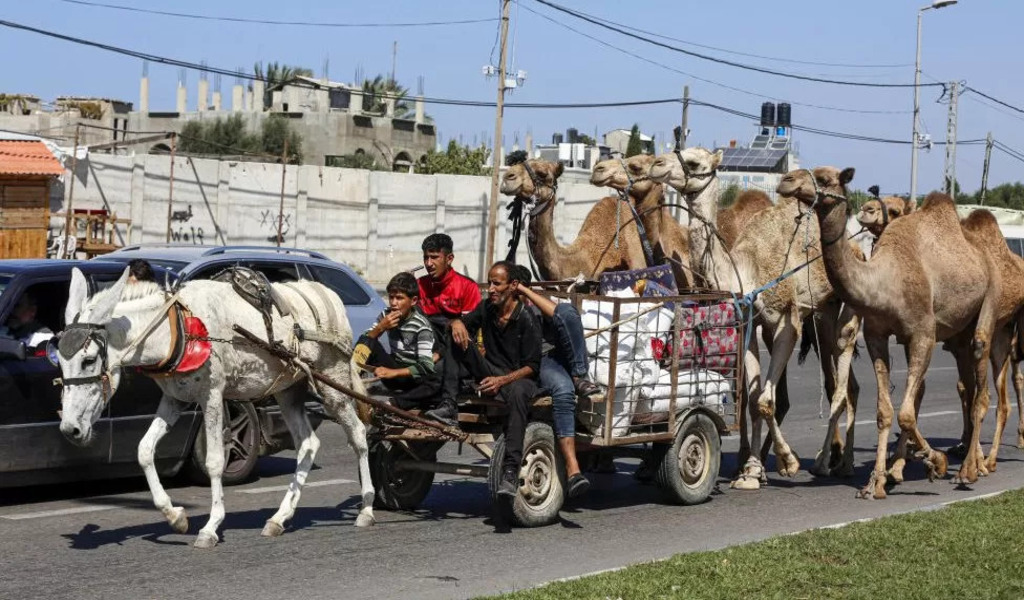 Things Are Falling Apart
Scarce resources are rapidly depleting in a city that was already weary. The main hospital, strained by the influx of patients, is now a refuge for displaced individuals.
Refugees have filled the corridors, seeking shelter and care as doctors work tirelessly to tend to injuries from Israeli airstrikes.
Hospitals are a sanctuary during times of conflict, protected by international law. Yet even in these spaces, resources are running low.
Patients receive only a limited amount of water, and refugees have even less. Elsewhere in Khan Younis, residents open their homes to newcomers, leading to overcrowded living conditions.
Families that once occupied small apartments now house 50 or 60 people. This situation is unsustainable, and many face unimaginable challenges.
In these dire circumstances, we count ourselves fortunate to share a two-bedroom flat with four other families, although personal space remains minimal.
Schools, considered safe havens during wartime, are now teeming with numerous families across the city. Tens of thousands have sought refuge in these educational institutions, and the count continues to rise.
In one school, managed by the UN Relief and Works Agency (UNRWA), every available space is occupied. Classrooms are crowded, and balconies are adorned with clotheslines.
In the school's courtyard, mothers and grandmothers cook meals on park benches, while their hungry children eagerly await their food.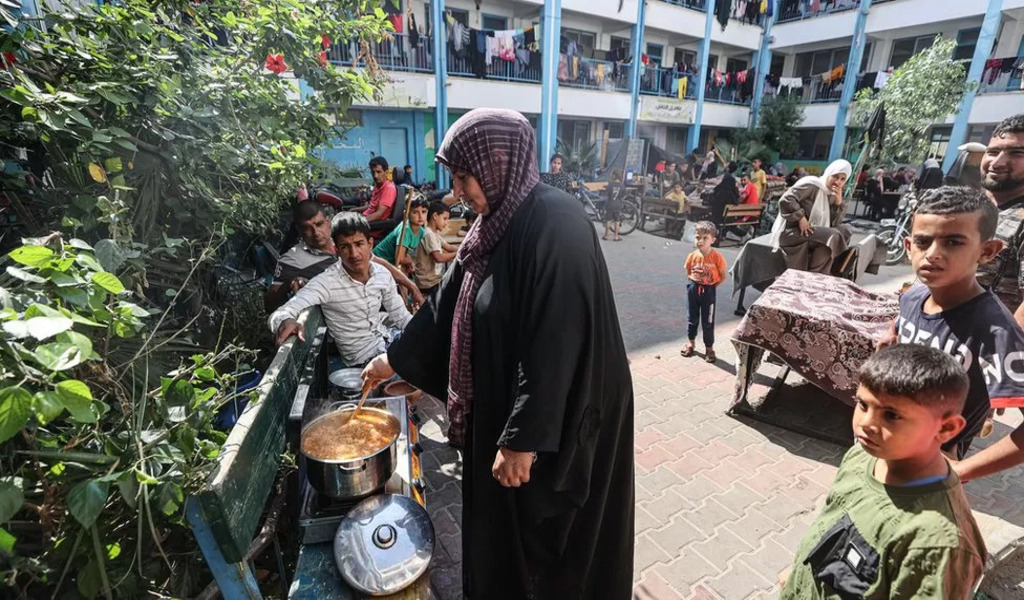 With nowhere else to go, and no available space left, people inevitably spill out into the streets, alleys, and underpasses, living and sleeping in the dirt, dust, and rubble.
They wait for something better, even though it may never come.
Resources are scarce, with little food and fuel, and no water in the shops.
People rely on water stations as their best hope, but it's still a catastrophic situation.
Moreover, the city is not safe from harm, as it is regularly bombed, and it remains in a war zone, with collapsed buildings and rubble scattered across the streets.
The constant hum of Israeli drones searching for targets is a chilling backdrop, and bombs continue to fall while buildings collapse.
The morgues and hospitals are filling with more casualties every day.
The situation is unbearable, and this is all happening before the invasion has even begun. People cannot live like this.
The situation in Gaza is a humanitarian crisis of immense proportions.
Thousands of people have been forced to flee their homes due to the ongoing conflict, and many of them have sought refuge in Khan Younis, which is now dealing with an overwhelming and sudden population increase.
With limited resources available, the city is struggling to provide for the basic needs of the refugees. Shelter, food, clean water, and medical services are in short supply.
The city's hospital, already low on essential supplies, has taken in the injured and sick from the northern areas of Gaza, further stretching its capabilities.
Doctors are working tirelessly to provide care to the casualties, but they have almost nothing to offer in terms of resources.
The situation has also resulted in cramped living conditions, with multiple families sharing small apartments.
Schools, which are considered safe from the conflict, are now overcrowded with families seeking shelter.
Mothers cook for their families in the courtyards of these schools as children eagerly wait for food.
Moreover, the ongoing bombings and airstrikes continue to pose a threat to the safety of those in Gaza.
The constant presence of Israeli drones and the sound of rockets being launched contribute to an atmosphere of fear and uncertainty.
There are reports of buildings collapsing, and the morgues and hospitals are filling up rapidly with more casualties.
The most distressing aspect is the looming fear of a full-scale invasion.
The people of Gaza are already facing unbearable conditions, and the situation could deteriorate further if an invasion were to occur.
The population is trapped, with the Rafah crossing into Egypt remaining closed.
When it eventually opens, there's a risk of chaos and an overwhelming flood of refugees trying to escape, as demonstrated during the 2014 conflict.
The people of Gaza are experiencing tremendous suffering, and the situation is dire.
The international community's assistance and intervention are urgently needed to alleviate the humanitarian crisis in the region.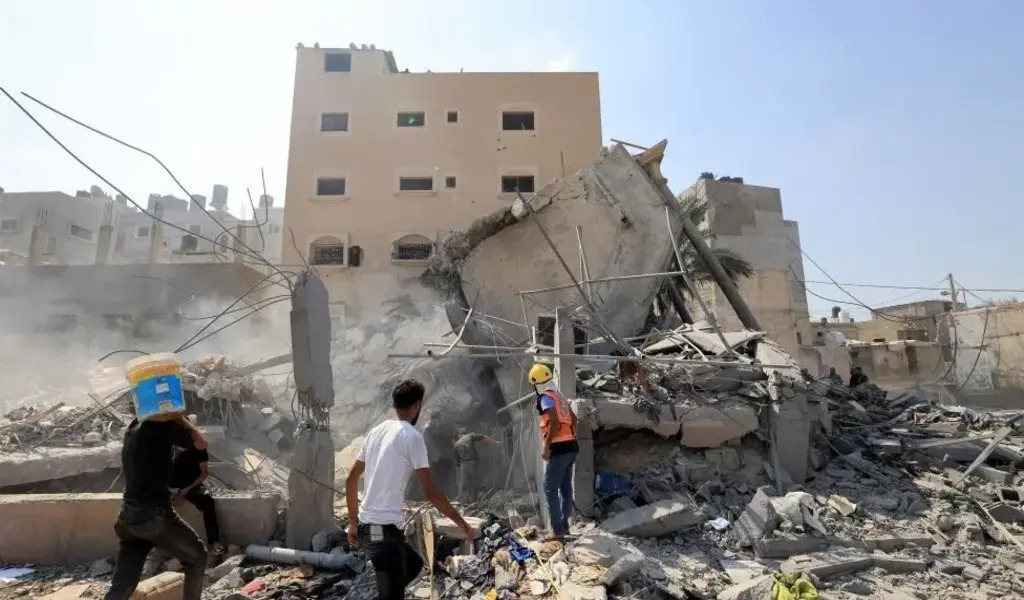 I've reported from Gaza through four different wars, and never before have I witnessed such dire conditions.
In previous conflicts, as terrible as they were, I never saw people facing the risk of starvation and dehydration like they are now.
There's a grim reality that people in Gaza could die from hunger or thirst. The only way out, the Rafah crossing into Egypt, remains closed.
Cairo is well aware that opening it would lead to a new humanitarian disaster. One million Gazan refugees are currently waiting just 20km from Rafah. Once that crossing opens, it will likely lead to chaos.
I remember a similar situation in 2014 when thousands tried to escape the war.
But this time, the situation would be much, much worse. Egypt fears the flood of humanity will overwhelm the border, creating catastrophe and chaos once again.
The situation in Gaza is incredibly dire. With the current conflict and escalating violence, there are countless families who have been displaced from their homes.
Many of them fled north, trying to find safety in Khan Younis. However, this has created a massive strain on the city, as it was ill-prepared to accommodate such a sudden and large influx of people.
The number of refugees has practically doubled the city's population, and essential resources such as shelter, food, and clean water are running out fast.
Hospitals are struggling to keep up with the influx of casualties, and the facilities are overwhelmed.
The situation has forced many refugees to live in extremely cramped conditions, sharing small apartments with dozens of people. This leads to unsanitary and uncomfortable living conditions.
Schools, considered "safe" from the conflict, are filled with families, but eventually, there's no more room left. When there's no space indoors, people end up living on the streets, in alleyways, and underpasses, exposed to the elements.
The shortage of food, fuel, and water is a catastrophic problem, and the city continues to be bombed regularly. The fear of the impending invasion only adds to the desperation and uncertainty in Gaza.
The situation at the Rafah crossing into Egypt is also a significant concern. Opening it would indeed be a humanitarian necessity, but it could potentially lead to chaos and overwhelm the border, creating another dire situation.
Egypt is wary of the flood of people trying to escape the conflict, as past experiences have shown how challenging it can be to manage such a mass exodus.
MORE RELATED NEWS:
EU Regulators Delay Approval For Novavax's Variant-Tailored Covid-19 Vaccine
Ex-F1 Boss Bernie Ecclestone Given Suspended Sentence After Pleading Guilty to Fraud
Another 6.3 Magnitude Earthquake Strikes Western Afghanistan, Adding To Recent Tragedies