Gaza's Al Shifa Hospital Is Raid By Israel, And Hamas Is Urged To Surrender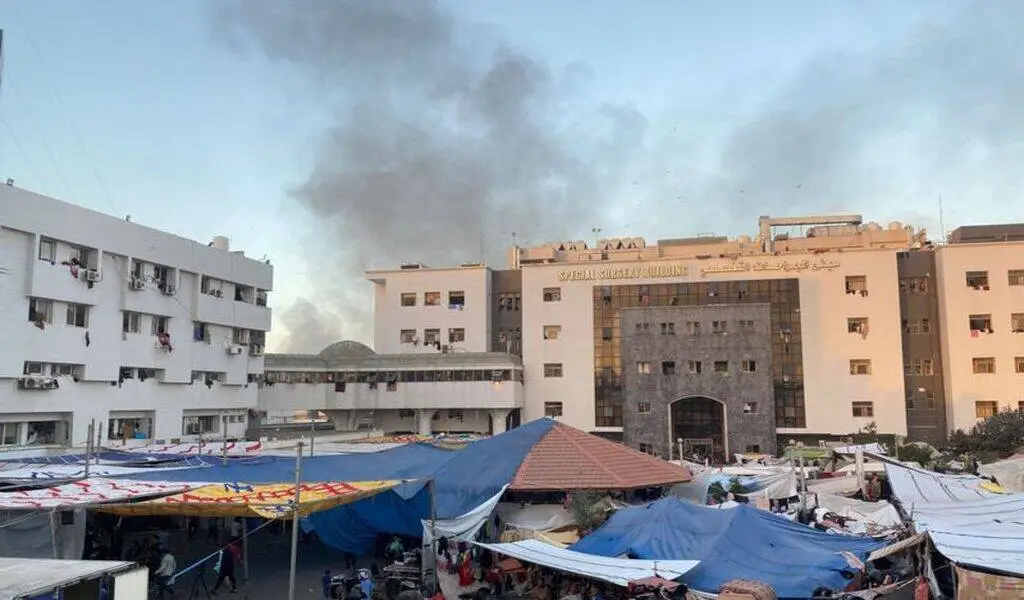 (CTN News) – As thousands of Palestinian civilians shelter inside the Gaza Strip's biggest hospital, Israel announced on Wednesday that it would attack Hamas there.
A raid on Gaza's western side of the medical complex was reported by Munir al-Bursh, director-general of the Gaza health ministry.
Our area has been affected by large explosions and dust. Bursh believes the hospital was the site of an explosion. "The occupation army is searching the basement," a Gaza health ministry spokesperson told Al Jazeera. In the complex, bombs have been thrown.
Al Jazeera reported that Israeli forces first raided the surgery and emergency departments of Gaza's hospitals. the situation at Al Shifa could not be independently confirmed by Reuters.
In recent days, international calls for a humanitarian ceasefire have risen, and Al Shifa has become a focal point of international concern due to deteriorating conditions in the facility, where thousands of Palestinians, medical staff, and displaced persons have been trapped during the Israeli assault on Gaza.
Hamas uses a hospital and tunnels beneath Al Shifa to conceal military operations and to hold hostages, according to Israel. The Hamas movement denies this.
IDF forces are conducting a precise and targeted attack on Hamas in a specific area in the Shifa hospital, based on intelligence information and an operational necessity.
"IDF forces have medical teams and Arabic speakers who are trained to ensure civilian safety."
Lieutenant Colonel Peter Lerner, spokesman for the Israeli army, told CNN the hospital and compound were "the beating heart of Hamas' operations." On Tuesday, the US said that its own intelligence backed Israel's assertions.
The Hamas group said that the US announcement effectively gave Israel permission to raid the hospital. It said Israel and US President Biden were fully responsible for the operation.
In response to Hamas' cross-border attack into Israel on October 7, Israel has vowed to destroy it. More than 240 hostages were taken by Hamas during the rampage, according to Israel.
CONDITIONS OF DIRENESS
Al Shifa is a sprawling complex of buildings and courtyards near Gaza City's fishing port. On the western side of the complex, which the Gaza official said was the site of the raid, are buildings for internal medicine and dialysis.
Under constant fire from Israeli snipers and drones, 650 patients and 5,000 to 7,000 civilians are trapped inside the hospital grounds. 40 patients have died in recent days due to shortages of fuel, water, and supplies. The neo-natal ward has 36 babies left after three died. Babies were kept warm by lining them up eight to a bed without fuel for generators to run incubators.
Despite Israel's offer to provide portable incubators, Palestinians trapped in the hospital dug mass graves on Tuesday to bury dead patients. According to Qidra, there were about 100 bodies decomposing inside. Antonio Guterres' spokesman said the "dramatic loss of life" in the hospitals deeply disturbed him. In the name of humanity, the secretary-general calls for an immediate humanitarian ceasefire.
More than 11,000 Palestinians have been confirmed dead from Israeli strikes in Gaza, around 40% of them children, and countless others are trapped under rubble. Food, fuel, freshwater, and medical supplies are running out in Gaza, where two-thirds of the population is homeless.
LAW OF INTERNATIONAL RELATIONS
UN human rights officials said Shifa's move has raised questions about how Israel will interpret international laws on protecting medical facilities.
SEE ALSO:
An Ohio Highway Crash That Killed 3 Students And Hospitalized 18 Others Killed 3 People