Gaza Hospital Blast Claims Hundreds of Lives Amid Israeli Blockade's Stranglehold on Medical Aid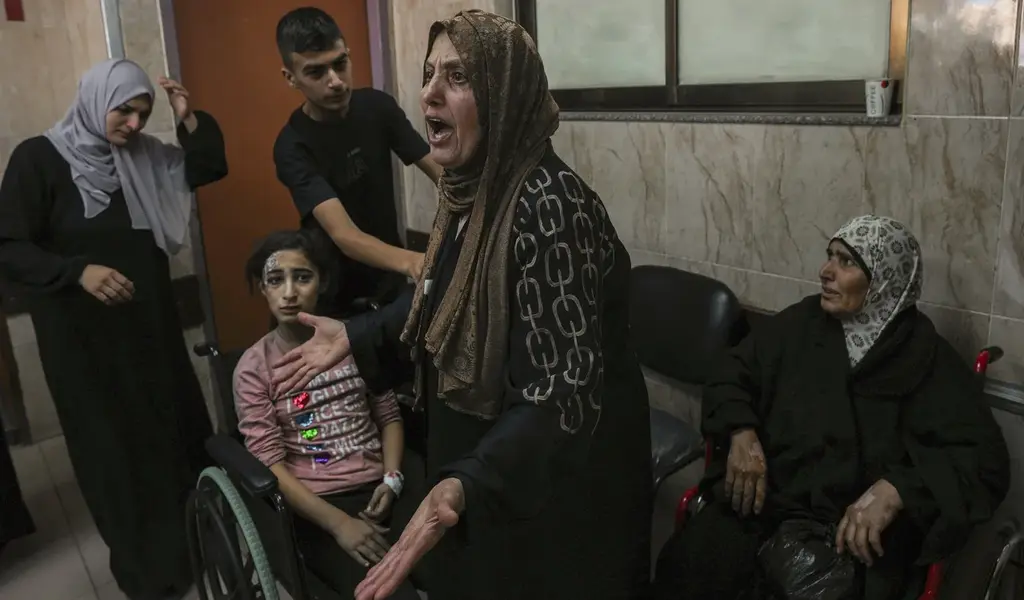 (CTN NEWS) – Hamas is a multifaceted and controversial organization with complex designations by different countries and international bodies.
It operates as a political party and a militant group, and its status is subject to diverse interpretations based on the perspectives of various governments and organizations.
Hamas, whose full name is Harakat al-Muqawama al-Islamiya (the Islamic Resistance Movement), was founded in 1987 during the First Intifada (Palestinian uprising) against Israeli occupation.
Initially, its primary focus was on resistance against Israeli forces in the occupied Palestinian territories, primarily in the West Bank and Gaza Strip.
Hamas's military wing, the Izz ad-Din al-Qassam Brigades, is responsible for conducting armed activities, including attacks against Israeli military targets.
The organization's founding charter, issued in 1988, contains anti-Semitic and anti-Israel rhetoric, calling for the destruction of Israel and the establishment of an Islamic state in historic Palestine.
This charter has drawn widespread condemnation, and some have characterized it as endorsing terrorism and violence.
It's important to note that in recent years, there have been suggestions within Hamas for revising or reinterpreting the charter.
From a political perspective, Hamas has gained significant ground.
It won the Palestinian legislative elections in 2006 and subsequently took control of the Gaza Strip in a violent conflict with its rival Palestinian political party, Fatah, leading to a de facto split in Palestinian governance.
While Hamas governs the Gaza Strip, the West Bank is under the administration of the Palestinian Authority led by Fatah.
Hamas's governance in Gaza has faced various challenges, including political isolation, economic difficulties, and recurring conflicts with Israel.
It is considered a terrorist organization by several countries, including Israel, the United States, Canada, the European Union, and others.
These designations are often rooted in concerns over the group's militant activities, its refusal to recognize Israel, and its ties to Iran.
However, Hamas also enjoys support from certain countries and regions, particularly within the Middle East. Qatar and Turkey, for example, have maintained diplomatic relations with Hamas and provided financial assistance to the Gaza Strip.
From their perspective, Hamas is seen as a legitimate political force representing the Palestinian people's resistance against Israeli occupation.
Efforts have been made over the years to mediate peace talks between Hamas and Israel, with mixed results.
Various ceasefires and agreements have been reached and subsequently broken, leading to recurring conflicts in the Gaza Strip.
In conclusion, Hamas is a complex and divisive organization, viewed differently by different actors on the global stage.
Its dual role as both a political entity and a militant group has made it a central player in the Israeli-Palestinian conflict, with a significant impact on the region's stability and prospects for peace.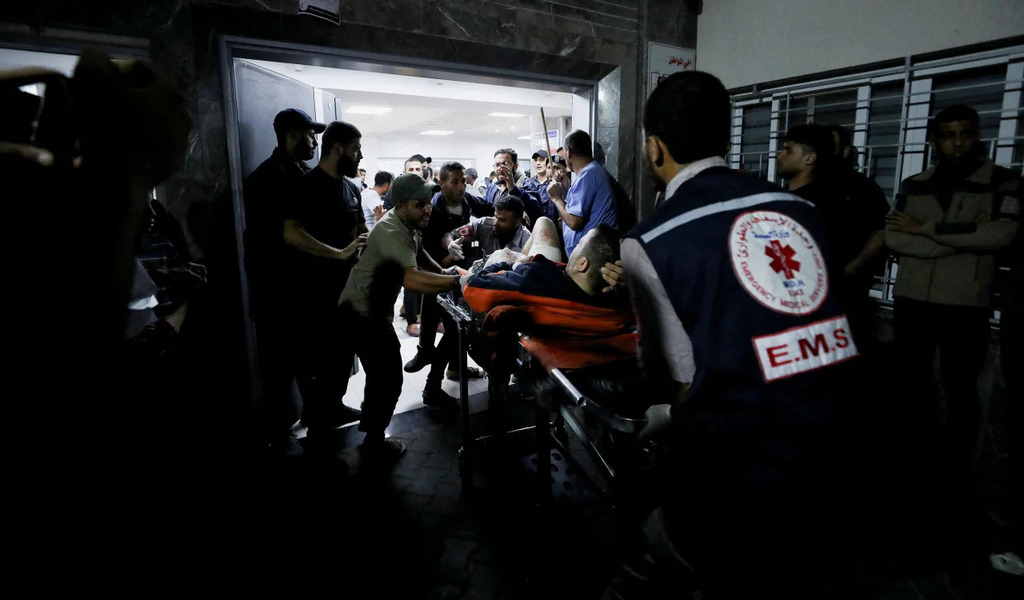 The humanitarian situation in Gaza is increasingly dire, with vital aid resources piling up at the closed border.
Diplomatic efforts have been underway to open a corridor from Egypt to facilitate aid delivery.
However, the United Nations and other officials are stressing the need for assurance of safe passage for potential aid convoys.
To address the escalating crisis, US President Joe Biden is embarking on an extraordinary wartime visit to Israel.
This visit follows Secretary of State Antony Blinken's intensive efforts throughout the Middle East.
Initially, President Biden was set to attend a summit in Amman, Jordan, with several Arab leaders. However, the hospital blast in Gaza prompted the cancellation of the planned summit.
Instead, Palestinian Authority President Mahmoud Abbas announced his intention to return to Ramallah for an urgent meeting of the Palestinian leadership.
The international community is increasingly concerned about the ongoing conflict, humanitarian hardships, and the urgent need for a peaceful resolution in the region.
The situation remains highly volatile, and diplomatic efforts are ongoing to address the complex challenges and bring about a lasting ceasefire.
The Al-Ahli Baptist Hospital, situated in the heart of Gaza City, was serving as a refuge for thousands of displaced individuals who had been forcibly evacuated from their homes due to the ongoing occupation, as reported by the Palestinian Ministry of Health in Gaza.
Hamas, the governing authority in the region, has stated that over 500 people lost their lives in the bombing.
Initial estimates from the Palestinian Health Ministry had put the death toll at between 200 to 300 individuals.
Israeli Prime Minister Benjamin Netanyahu, in response to the situation, accused the "barbaric terrorists in Gaza" of "attacking" the hospital on Tuesday and remarked, "Whoever brutally took the lives of our children is also taking the lives of their children."
Hospitals Under Siege
Over the course of more than a week, Israeli airstrikes have resulted in a devastating toll, with a reported death toll of over 3,000 individuals, including 1,032 girls and 940 boys, while 12,500 people have been wounded in Gaza, according to the Palestinian Ministry of Health's announcement on Tuesday.
Notably, the casualties in Gaza during the past ten days now exceed the total from the 51-day Gaza-Israel conflict in 2014.
Despite the Israeli Defense Forces (IDF) claiming that they do not target hospitals, both the United Nations and Doctors Without Borders have reported instances of Israeli airstrikes hitting medical facilities, including hospitals and ambulances.
On the same Tuesday, Israeli warplanes struck two densely populated refugee camps and a UNRWA school housing displaced individuals in central Gaza, leading to the tragic death of at least 18 people and injuries to many, as confirmed by Palestinian officials.
The IDF also reported the elimination of a high-ranking Hamas commander, Ayman Nofal, in the airstrikes that took place in Gaza on that Tuesday.
In the occupied West Bank, the Palestinian Ministry of Health reported at least 61 fatalities as of Tuesday.
Additionally, the United Nations disclosed that at least 20 humanitarian workers from organizations such as the UN, the Red Cross, and the Red Crescent have lost their lives in Gaza.
Furthermore, the situation within Gaza is reaching a critical point, with healthcare services at the brink and dwindling supplies of food and water.
The UN Relief and Works Agency (UNRWA) issued a warning, indicating that 20 out of 23 hospitals are only able to provide partial services due to nearly depleted fuel reserves.
UN agencies have issued a stark warning, indicating that shops in Gaza are perilously close to depleting their food supplies, with less than a week's worth of stocks remaining.
Furthermore, Gaza's sole seawater desalination plant has ceased operation, intensifying the risk of additional fatalities, dehydration, and waterborne diseases.
Hospitals in Gaza have been inundated with a significant influx of bodies originating from various locations in southern Gaza, as reported by Dr. Mohammad Zaqout, the director of Gaza hospitals.
This somber toll includes numerous victims of airstrikes in Rafah.
The Palestinian Interior Ministry has confirmed that Israeli airstrikes have resulted in the tragic loss of at least 49 lives in the southern Gaza cities of Rafah and Khan Younis.
In response, IDF spokesperson Lt. Col. Jonathan Conricus informed CNN that he was "not aware of any strikes specifically in those areas but they could have happened."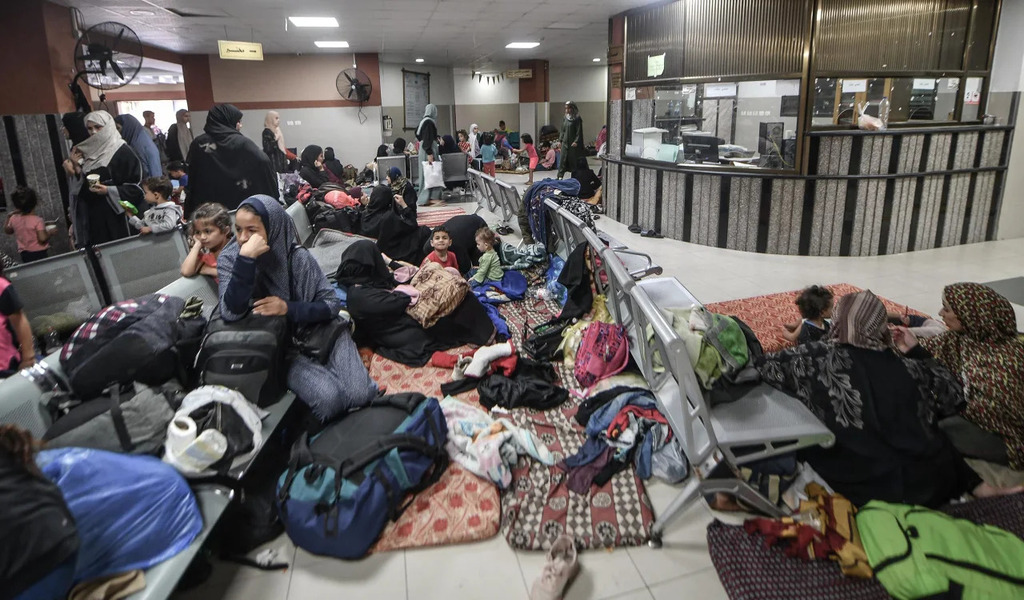 Closed Crossing
Urgent pleas for assistance are increasing on both sides of the border as aid resources accumulate on the Egyptian side of the crossing.
Secretary of State Antony Blinken announced on Tuesday that the United States and Israel have jointly committed to devising a plan that will facilitate the delivery of humanitarian aid from donor nations and international organizations to the civilian population in Gaza.
Nevertheless, on the Egyptian side of the Rafah crossing, a lengthy convoy of humanitarian aid remains queued up, eagerly waiting for authorization to enter Gaza, according to Egyptian Foreign Minister Sameh Shoukry, who conveyed this to CNN.
He explained that, as of now, no secure passage has been granted for these convoys, lacking the necessary authorization or clearly marked and secure routes to ensure their safe entry without the risk of being targeted.
Furthermore, he noted that the Rafah crossing had been subjected to bombing on four occasions over the past few days.
Transporting humanitarian assistance to those in need in Gaza has become exceedingly challenging, given the frequent Israeli airstrikes targeting UN facilities in the region.
UN spokesperson Dujarric emphasized the necessity of safe passages for humanitarian workers and secure points for aid distribution.
However, recent Israeli strikes have made even the Rafah crossing, agreed upon for aid transfer with Egypt's President Abdel Fattah El-Sisi, unsafe for such operations.
In contrast, Israel's National Security Minister, Itamar Ben-Gvir, insisted on restricting the entry of humanitarian aid until Hamas releases hostages, expressing a different perspective.
On the Gaza side, a substantial number of evacuees have gathered near the crossing, forming part of a widespread displacement that has resulted in over one million individuals fleeing their homes in just the past week, as reported by UNRWA.
Among these evacuees is a family of five Palestinian-Americans, all of whom are US citizens. They made the journey to Rafah on Monday, hopeful that the borders would be opened, only to be met with disappointment.
Haifa Kaoud, whose husband Hesham is one of the five individuals stuck in Gaza, shared their experience.
Satellite imagery provided by Maxar Technologies reveals four significant craters, each measuring 30 feet (9 meters) in diameter, obstructing the roadway near the border crossing closest to the Egyptian gate, alongside concrete slabs.
The United Nations Security Council rejected a Russian resolution on Monday, which called for a humanitarian ceasefire, as it did not receive enough votes.
Countries such as the US, the United Kingdom, and France voted against it because the resolution did not condemn Hamas for the October 7 attack, which the Israel Defense Forces (IDF) claimed resulted in the deaths of at least 1,400 people and the capture of numerous hostages.
Among the hostages is Mia Schem, a French-Israeli woman, who appeared in the initial hostage video released by Hamas. Her mother, Keren Scharf Schem, pleaded with world leaders to bring her daughter back home.
It's important to note that CNN cannot independently verify the location, timing, or current condition of Mia Schem in the video.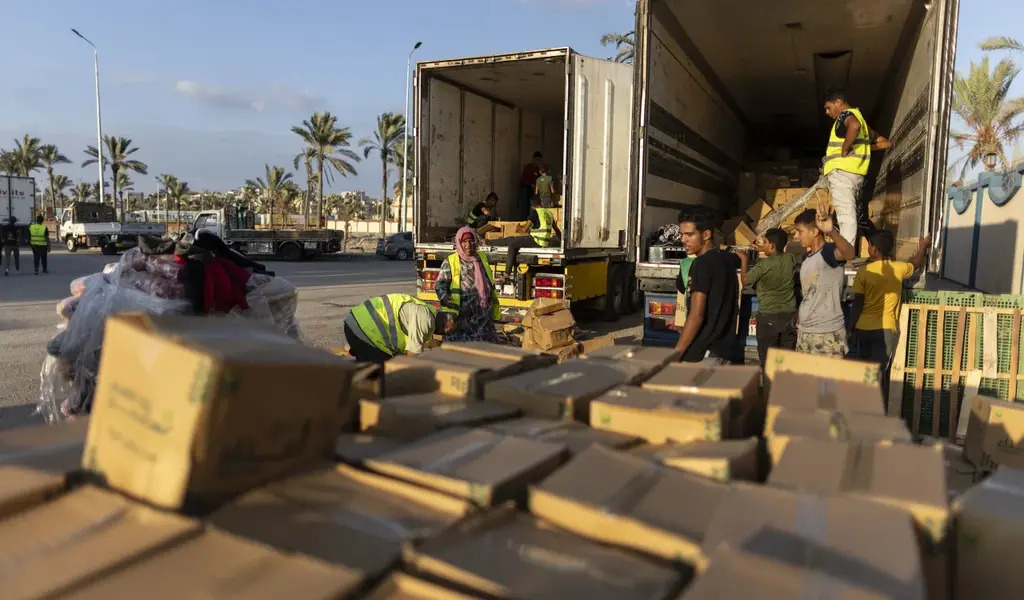 Fears Of Regional Conflict
In the region, there are concerns among leaders about potential conflict between Israel and Lebanon's Iran-backed Hezbollah to the north, as well as with Syria.
Border skirmishes have become a volatile flashpoint that could escalate into a wider conflict.
On Tuesday, the Israel Defense Forces (IDF) reported gunfire directed at several locations along the security fence between Israel and Lebanon.
Simultaneously, Iranian Supreme Leader Ali Khamenei issued a warning that if the "atrocities" against Gaza continue, there's a risk that "Muslims and resistance forces could lose patience," with potential consequences that nobody would be able to prevent.
Following an incursion by Hamas on October 7, militants from Lebanon fired shots that were intercepted by Israel, leading to a lethal exchange of fire.
Tragically, on Friday evening, an Israeli airstrike claimed the life of Reuters journalist Issam Abdallah, who hailed from southern Lebanon.
The attack also left at least six other reporters injured. CNN's video analysis revealed that these journalists were wearing clearly marked press vests.
In further developments, on Tuesday, Israeli airstrikes in Alma al-Shaab, located in southern Lebanon, resulted in the loss of at least four lives, according to the Lebanese Red Cross.
Two Hezbollah fighters were reported to have been killed in clashes on the same day, although it remains uncertain whether they are included in the Red Cross's reported death toll.
MORE RELATED NEWS:
Terror Strikes Sweden: Shocking Truth Behind Recent Attacks And Freedom Of Speech Debate
China's Belt And Road Initiative (BRI) Adapts Towards Smaller And Greener Projects
U.S President Biden's Solidarity Visit To Israel Amidst Humanitarian Crisis In Gaza