Gaza Authorities Report 700 Palestinian Casualties in Overnight Airstrikes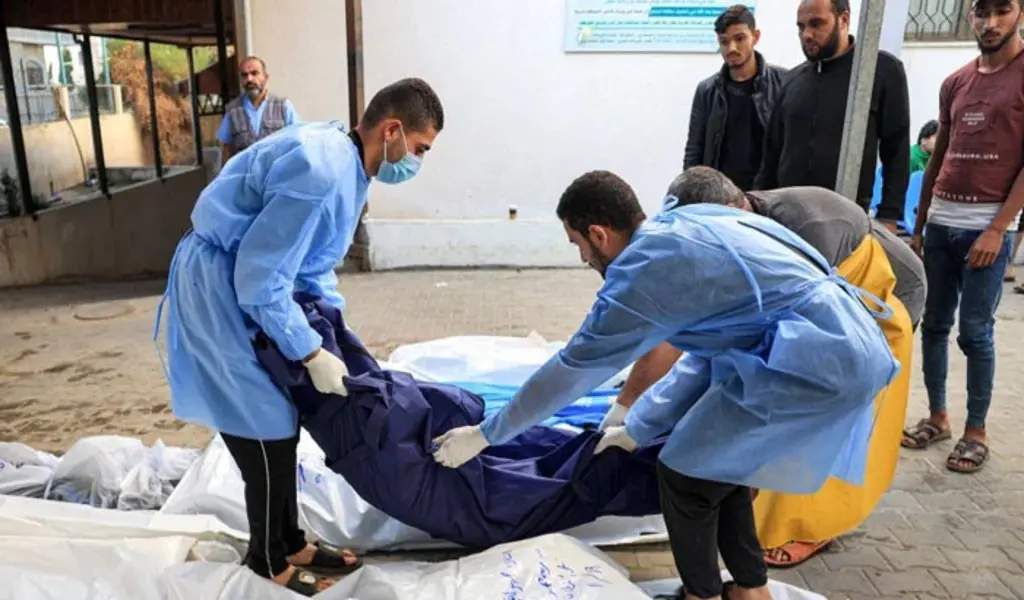 (CTN NEWS) – Israel's relentless and aggressive bombardment in the Gaza Strip continues to take a devastating toll.
In just one hour, at least 50 innocent Palestinian civilians lost their lives, as reported by Ashraf al-Qedra, a spokesman for the Palestinian Health Ministry.
These tragic developments unfolded following a particularly harrowing day where a staggering 700 people lost their lives, marking the highest single-day death toll since Israel initiated its intense airstrikes on the besieged territory.
Gaza was already grappling with severe shortages of food, water, and fuel, with streets in ruins resembling graveyards, and hospitals struggling to cope with the ever-mounting casualties.
On Tuesday, after enduring two weeks of relentless Israeli shelling, UN agencies urgently appealed for "on our knees" access to Gaza for emergency aid.
They emphasized that more than 20 times the current level of deliveries were required to support the Palestinian population.
As Israel continued its bombing campaign in the besieged enclave, it issued a new evacuation warning for Gaza. The Palestinian death toll stood at 5,791, including 1,292 women and 2,360 children as of Tuesday.
Additionally, at least 18,000 Palestinians have been injured in the Israeli strikes.
Doctors in war-torn Gaza reported a surge of patients flooding hospitals, with symptoms of illnesses exacerbated by overcrowded and unsanitary conditions in shelters during the most intense Israeli bombing campaign the region has ever witnessed, on top of the war-related injuries.
The heavy population density in this Palestinian area has led to nearly 1.4 million people seeking refuge in temporary shelters, heightening concerns from numerous humanitarian organizations about an impending public health crisis.
Arab Foreign Ministers Call For Immediate Ceasefire In Gaza
During a meeting of the UN Security Council on Tuesday, the Saudi foreign minister, along with several other Arab leaders, called for an immediate cessation of hostilities in Gaza and the lifting of the blockade.
Prince Faisal bin Farhan urged for an urgent cease-fire in the conflict-ridden region, emphasizing that a just resolution to the Palestinian issue is essential for lasting peace in the area.
Standing alongside his Arab counterparts, Jordanian Foreign Minister Ayman al-Safadi expressed their collective efforts to prevent the conflict from spreading across the region.
UN Agency Says To Halt Gaza Work Unless Fuel Arrives
The United Nations Relief and Works Agency for Palestinian Refugees (UNRWA) issued a dire warning, stating that its operations across the Gaza Strip may come to a grinding halt unless there are immediate fuel deliveries to this war-torn territory.
This critical message was posted on social media, with UNRWA emphasizing, "If we do not get fuel urgently, we will be forced to halt our operations in the Gaza Strip as of tomorrow night."
The scarcity of fuel has triggered alarm among various aid agencies, considering the pivotal role it plays in sustaining vital services in Gaza.
Hospitals, in particular, are heavily reliant on generators powered by fuel to maintain their operations.
Juliette Touma, the Communications Director of UNRWA, urgently emphasized the severity of the situation, declaring, "Time is running out. We urgently need fuel."
The consequences of this fuel crisis have already resulted in the closure of six hospitals across Gaza, a situation that has grave implications for the health and well-being of the local population.
The World Health Organization (WHO) has reported that, on Monday, with the support of UNRWA, limited supplies for ambulances were delivered to four hospitals in southern Gaza.
However, WHO stressed that these supplies would only be sufficient to sustain the operation of ambulances and critical hospital functions for a little over 24 hours.
Notably, this recent crisis in Gaza transpired amid the backdrop of the Israel-Hamas conflict that erupted on October 7.
Over the weekend, the first aid delivery entered Gaza since the onset of hostilities, but regrettably, it did not include fuel.
During a statement at the United Nations headquarters, Secretary-General Antonio Guterres underscored the dire straits in Gaza, likening the limited supplies to "a drop of aid in an ocean of need."
He elaborated on the critical role of fuel in humanitarian efforts, explaining, "Without fuel, aid cannot be delivered, hospitals will not have power, and drinking water cannot be purified or even pumped."
The fuel crisis in Gaza continues to exacerbate the already grim humanitarian situation in the region.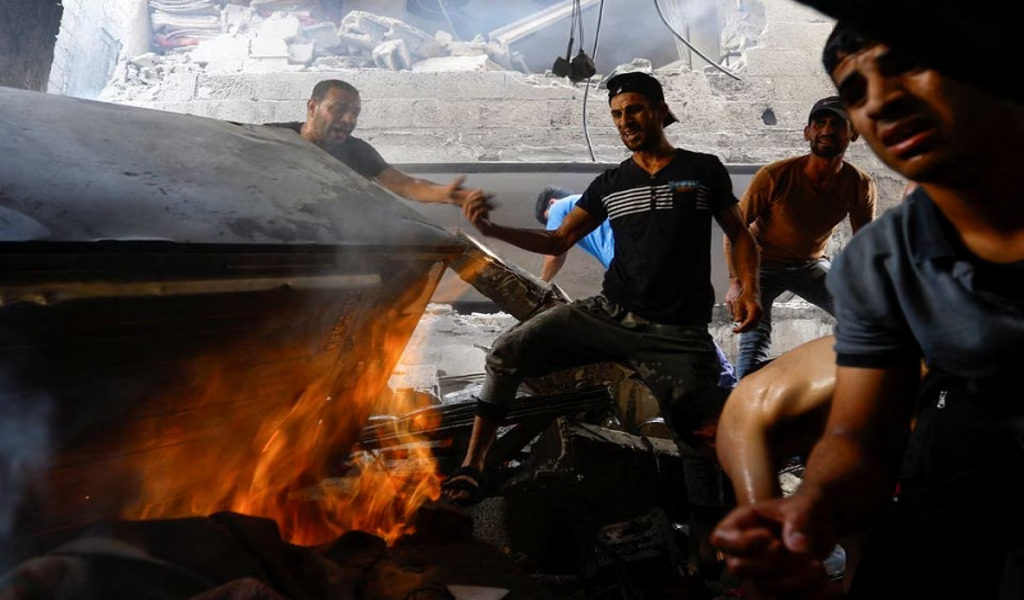 Israel Army Offers Gazans Rewards For Hostage Tip-offs
The Israeli military has initiated a campaign by dispersing leaflets across the Gaza Strip, urging residents to provide information about individuals held hostage by Hamas in exchange for financial rewards, as reported by AFP journalists.
These leaflets were dropped by Israeli aircraft during the ongoing air strikes targeting Gaza, which, according to Hamas health officials, have resulted in the loss of over 5,000 lives.
The Arabic message on the leaflets implored residents to "do the right thing and send us safe and useful information about kidnapped people in your area if you want a better future for yourself and your children."
The leaflet also pledged to take every measure to ensure the safety of the residents and their homes, along with offering a financial reward.
An assurance of complete discretion was provided as well.
The leaflet included contact details such as a telephone number and information on messaging services like Telegram, WhatsApp, and Signal, where information about the hostages could be shared.
The Israeli military has confirmed the launch of this campaign, while France expressed solidarity with Israel in a press conference held in Jerusalem on Tuesday.
New Evacuation Warning
Israel has issued a fresh warning for the evacuation of Gaza as the bombardment of the besieged enclave continues.
As of Tuesday, the Palestinian death toll stood at 5,791, including 1,292 women and 2,360 children, while at least 18,000 Palestinians have been injured in the Israeli airstrikes.
Israel announced on Tuesday that it would not be scaling back its attacks on the besieged Palestinian territory, as relentless airstrikes have resulted in over 200 fatalities in Gaza within the past 24 hours.
After two weeks of intense Israeli bombardments, Gaza finds itself in a dire humanitarian crisis, with the United States urging Israel to allow more aid into the region.
Nevertheless, amidst one of the deadliest episodes of the Israeli-Palestinian conflict in recent history, the prospects of an immediate ceasefire appear bleak.
The death toll among Palestinian civilians continues to rise dramatically, particularly in Rafah and Khan Younis, where Israeli strikes claimed over 50 lives overnight.
According to officials from the Gaza health ministry, at least 200 individuals have lost their lives in Israeli strikes in Gaza in the last 24 hours.
Those who have escaped death are now grappling with hunger and struggling to secure basic necessities like clean water and medicines.
Even before the recent Israeli bombing campaign that began on October 7 in response to deadly Hamas attacks inside Israel, more than 60% of Gaza's residents were in need of food assistance.
The Gaza health ministry also reported that over 18,000 people have been injured, pushing hospitals to the brink of collapse.
This dire situation underscores the immense challenges facing the people of Gaza as the conflict continues to exact a heavy toll.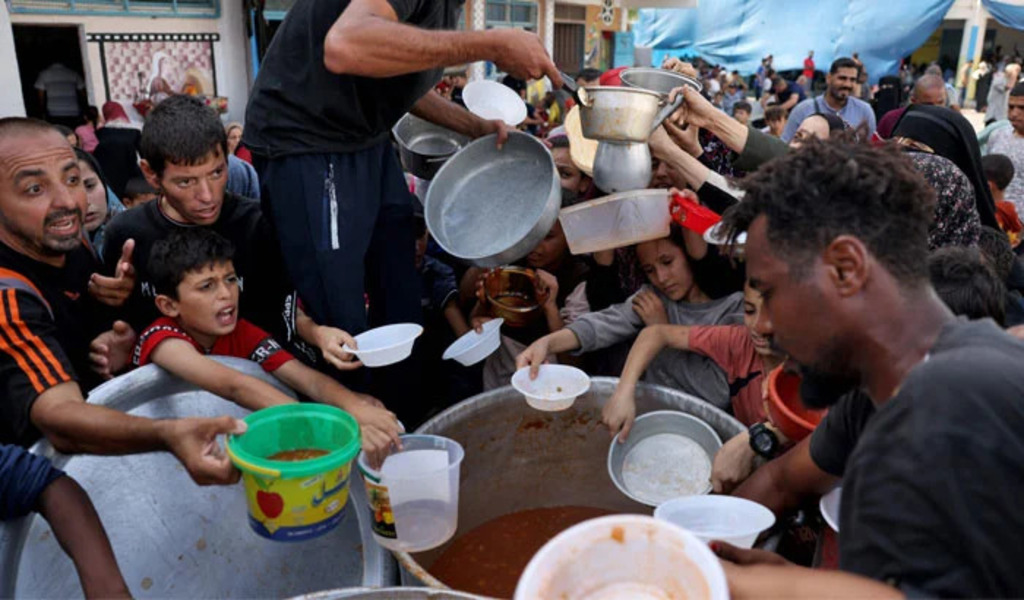 Escalation of regional conflict
Saudi Arabia has, in recent weeks, condemned the violence occurring in Israel and Gaza, which sharply contrasts with the vision it has championed for a more stable and prosperous Middle East.
Saudi Arabia had been rebuilding ties with Iran and was in discussions toward recognizing Israel before the recent outbreak of hostilities.
According to a source familiar with the discussions on potential normalization with Israel, this process has been put on hold.
The ongoing war comes at the midway point of Saudi Arabia's Vision 2030 reform agenda, led by Crown Prince Mohammed bin Salman, aimed at transitioning the world's largest crude oil exporter away from fossil fuels.
Despite the concerns of broader regional instability, Saudi officials have signaled their commitment to continuing with their reform plans.
Yasir al-Rumayyan, the governor of the well-funded Saudi Public Investment Fund, mentioned the Israel-Hamas conflict indirectly in his recent comments, expressing caution about the challenges posed by high-interest rates.
He also maintained optimism that even in a high-interest rate environment, they could accelerate growth and productivity.
'Nowhere else to go'
One major concern revolves around the network of tunnels and fortified positions believed to have been established by Hamas to counter any potential Israeli invasion.
Additionally, there are apprehensions regarding how Hamas's allies across the Middle East might react to a ground war.
The Institute for the Study of War, based in the United States, has documented an increase in attacks targeting Israeli and American interests by Iranian-backed groups in Lebanon, Iraq, and Yemen.
Daily skirmishes persist between Israel and Lebanon's Hezbollah, a militant group backed by Iran.
In Lebanon, at least 41 people have lost their lives, including four civilians and a Reuters journalist.
In Israel, four individuals, comprising three soldiers and a civilian, have been martyred.
The pace of evacuations has escalated on both sides of the border, with nearly 20,000 people fleeing villages in southern Lebanon amid ongoing hostilities.
Israel has also issued evacuation orders for thousands of residents in communities near its northern border.
However, not everyone has departed, with individuals like 62-year-old peach farmer Moshe Dadoush choosing to remain.
He explained, "I'd be lying if I said I wasn't afraid. But I have to stay here. I wouldn't leave for one simple reason: it's here where I grew up. I have nowhere else to go but this country."
MORE RELATED NEWS:
US rejects Israel-Gaza ceasefire as Hamas released 2 female hostages
Gold Price Today, October. 24th, 2023 – TUESDAY
LEGEND LOST: Veteran Indian Spinner Bishan Singh Bedi Died at the age of 77