Thailand's Rubber Farming a Major Contributor to Deforestation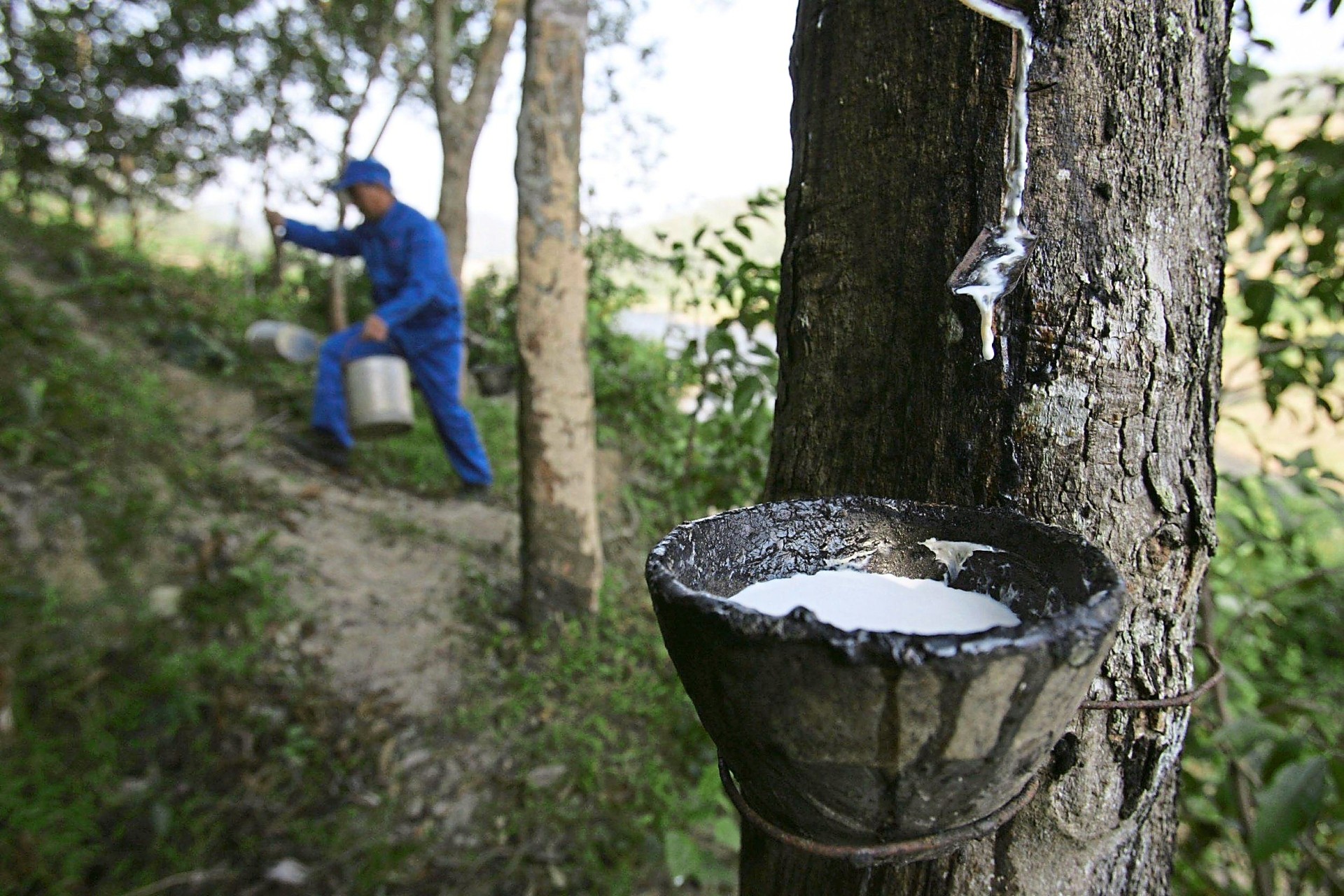 The deforestation caused by the rubber farming in Thailand and the world has been significantly underestimated, according to new findings from two scientific studies, with Southeast Asian rubber production potentially contributing up to three times more forest depletion than previously thought.
With over 4 million hectares of forest lost for rubber production since 1993, an area the size of Switzerland, "the effects of rubber on biodiversity and ecosystem services in Southeast Asia could be extensive," according to a paper published on Wednesday in the journal Nature.
In Southeast Asia, mature rubber plantations covered 14.2 million hectares. Indonesia, Thailand, and Vietnam accounted for more than 70% of these plantations.
China, Malaysia, Myanmar, Cambodia, and Laos were also important rubber-producing countries. Rubber plantations that were closed down before 2021 were excluded from the analysis, despite the fact that they may have contributed to deforestation.
Increasing stress on natural woods
According to Benarnews, more than 1 million hectares of rubber plantations have been created in crucial biodiversity areas in Southeast Asia, including some of the most critical places for the protection of species and habitats worldwide.
According to researchers who used satellite data to create high-resolution maps of rubber-driven forest loss and analysed over 100 case studies, rising worldwide demand for rubber is increasing stress on natural woods and leading to a drop in biodiversity.
Southeast Asia produces 90% of the world's rubber.
An infographic depicts rubber-related deforestation in Southeast Asian countries between 2001 and 2016. [Nature magazine]
Another assessment of case studies, as well as an analysis of recent trends in the rubber area and yield, discovered that rubber is frequently associated with deforestation. On Wednesday, it appeared in Conservation Letters.
Rubber deforestation will likely continue as demand climbs and yields stagnate, according to main author Eleanor Warren-Thomas.
"Some 2.7 million to 5.3 million hectares of additional harvested area could be needed to meet industry estimates of demand by 2030," she went on to say.
"It is critical that existing rubber producers are supported to improve their yields and maintain production, to avoid ongoing expansion of plantation area."

Rubber production and deforestation
Rubber, a vital rainforest product, is obtained by tapping latex from certain Amazonian trees that are increasingly common in tropical locations. The collected latex is heat treated to increase flexibility and durability.
The link between rubber production and deforestation has long been recognised, but quantifying the magnitude of this harm has been challenging due to the difficulty in separating it from natural forest cover in satellite photography.
As a result, according to Yunxia Wang, the study's lead author in Nature, the issue received little attention in estimates of commercial plantation losses.
"However, as earth observation and computing technology advance, there are more opportunities to map 'difficult' commodities." "The outcomes have been depressing," she remarked.
Despite the fact that rubber-related deforestation is widespread, senior author Antje Ahrends voiced particular concerns about specific countries.
"In Cambodia, for example, over 40% of rubber plantations are associated with deforestation," she went on to say.
According to study, 19% of that was in crucial biodiversity regions.
According to the Nature journal study, the impact of rubber in Southeast Asia is lower than that of oil palm, but only by a factor of 2.5 to 4, not by a factor of 8 to 10.
"With 70% of the world's natural rubber yields destined for tyre manufacture, demand is not likely to diminish and the threat this poses to biodiversity should not be underestimated," Ahrends said in a statement.
"In addition, while predominantly grown by smallholders with the potential to support livelihoods, rubber is also associated with land grabbing and human rights infringement in some countries."
Both findings emphasise the necessity of halting rubber-related deforestation without marginalising the 85% of smallholder farmers who contribute to natural rubber production on less than 5 hectares of land.
Next year, the European Union will impose a new policy that will restrict commodity importers from purchasing products that contribute to deforestation. It will contain soy, cattle, palm oil, timber, cocoa, coffee, and rubber.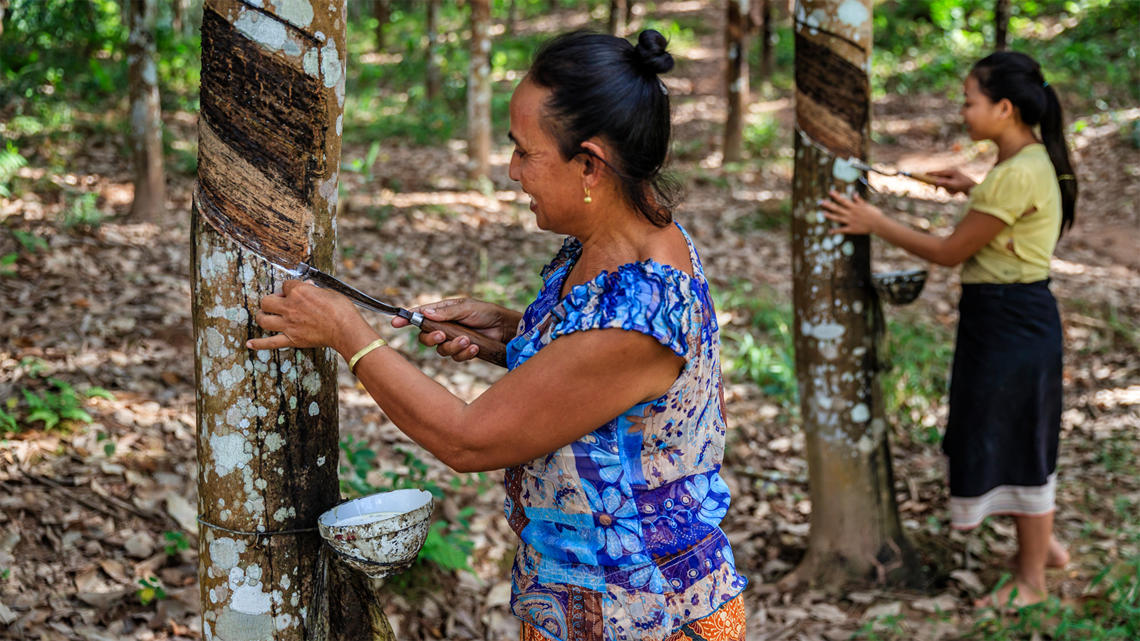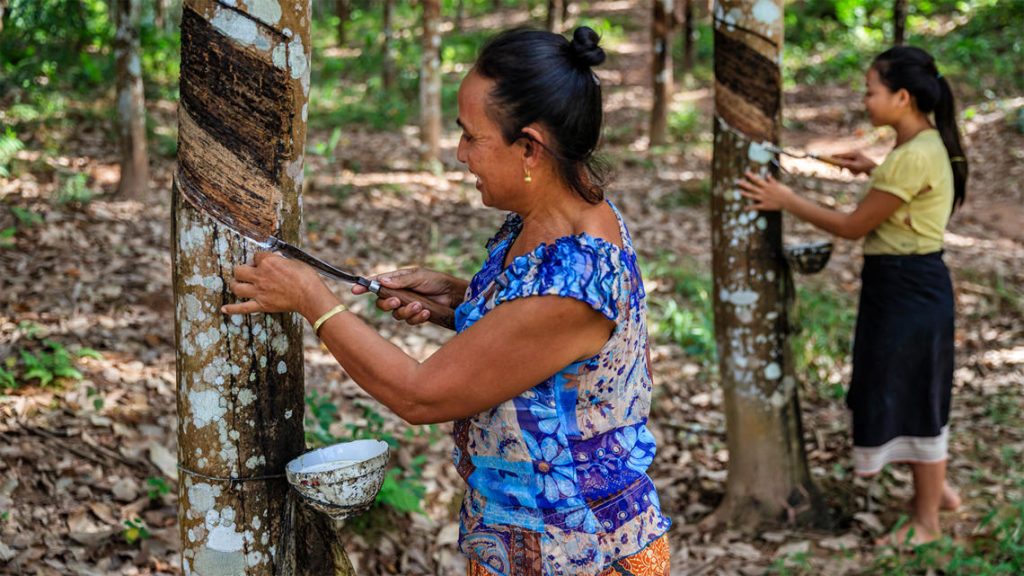 Rubber Farming in Thailand
Rubber farming is a significant agricultural activity in Thailand. The country is a major producer and exporter of natural rubber in the world. Here are some crucial characteristics concerning Thai rubber farming:
Rubber is largely grown in southern Thailand, with significant rubber-producing districts being Songkhla, Surat Thani, and Phatthalung. Rubber plantations can, however, be found in other sections of the country.
The rubber tree (Hevea brasiliensis) is the principal source of natural rubber. Rubber latex is taken from the bark of trees and processed to make a variety of rubber goods.
Rubber plantations require meticulous maintenance to achieve high returns. Regular tapping (latex extraction), pruning, disease control, and fertilisation are all part of the process. Every few days, the trees are tapped, and the latex is collected in little cups attached to the tree.
Latex Extraction: Tapping is the process of creating a diagonal cut in the bark of a tree to allow latex to flow into collecting receptacles. Proper tapping procedures are required to maximise latex yield while minimising tree harm.
After latex is harvested, it goes through several procedures to be converted into raw rubber. Coagulation, drying, and rolling of the rubber sheets are all part of the process.
Rubber Exports: Thailand is a major exporter of natural rubber, with its rubber goods supplied all over the world. Rubber is utilised in a variety of industries, including automotive, tyre manufacturing, and the manufacture of rubber items.
Price volatility, weather-related concerns (such as drought and floods), and illnesses that might impact rubber trees are all issues in the rubber growing industry. Low rubber prices, as shown in previous market slumps, can have severe impact on the livelihoods of rubber farmers.
Support from the Thai government: The Thai government has launched a number of programmes to assist rubber farmers, including price stabilisation schemes and attempts to encourage sustainable rubber farming practises.
Sustainability: There is an increased emphasis in Thailand on sustainable rubber farming, with initiatives to limit environmental consequences and promote fair labour practises in the rubber business.
Global Impact: Thailand's rubber industry is a major player in the global rubber market, and its output levels have the potential to affect global rubber prices.
Overall, rubber farming in Thailand is important to the Thai economy and the worldwide rubber supply chain. It employs a large number of people and contributes to both local consumption and exports of rubber and rubber-based products.