Thousands Of Abortion Opponents Rallied in Washington on Friday for the Annual 'March for Life'
(CTN News) – The 50th annual "March for Life" in Washington, D.C., brought together tens of thousands of pro-lifers, beginning a new chapter in a movement that has been built on reversing Roe v. Wade, the important decision that legalized abortion for women.
Since that decision has been overturned, March for Life organizers and activists have been advocating for more stringent abortion restrictions at the state and federal levels and praying to influence the "hearts and minds" of Americans who favor abortion rights.
The crowd, smaller than the previous year's event but overflowed onto the National Mall, was addressed by March for Life President Jeanne Mancini with the words, "We are not yet done."
She said, "We will march until abortion is inconceivable.
According to the Guttmacher Institute, a reproductive rights research and advocacy group, 12 states have implemented outright abortion prohibitions with few exceptions after the end of Roe on June 24, 2022, and abortion is not legal in two more states.
Participants at the rally said that all states should outlaw abortion at all stages of pregnancy. The words "I want protection at conception" and "abortion is genocide" were written on some people's placards.
Pastor Rob McNutt of a crisis pregnancy center in Maryland said, "I feel that, just as we wouldn't want to kill anyone out here, we wouldn't want to see any of these lives damaged or lost."
Kathleen Stahl, a 60-year-old nurse from Washington, D.C., specializing in maternity and child health, said that "life starts at conception."
Along with other speakers, Stahl argued that more legislation to support women with unplanned pregnancies was needed in addition to abortion prohibitions.
Stahl said that our moms need medical care, and many of our young mothers need extra assistance.
Protesters read the Lord's Prayer as they marched along a somewhat different path than in past years, chanting, "We love babies!" They passed in front of the U.S. Capitol instead of the Supreme Court's building to reference their Supreme Court triumph because they wanted to see federal anti-abortion legislation approved there.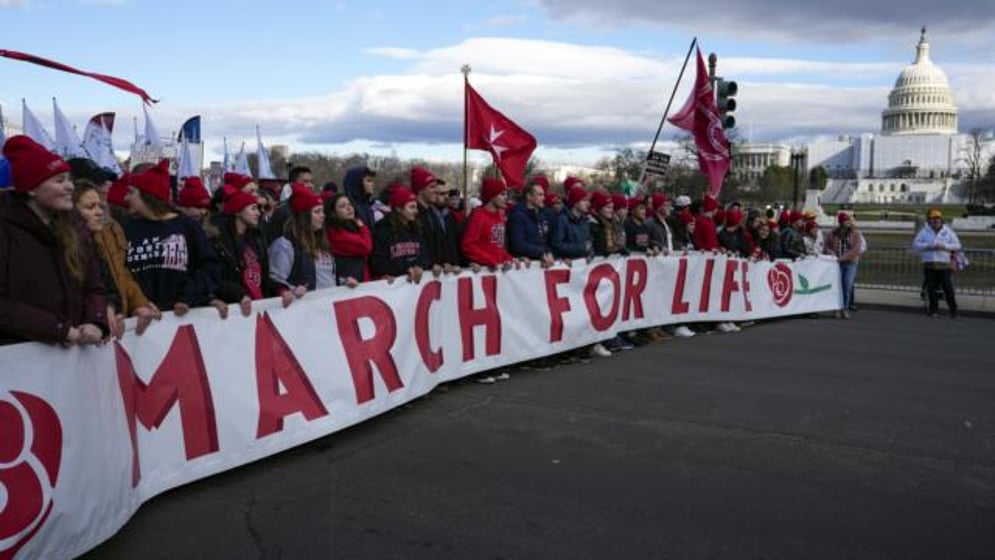 The occasion occurred two days before the 50th anniversary of the Roe v. Wade ruling.
In honor of the event, proponents of abortion rights reflected on the significant disruption in American reproductive healthcare during the previous year and called for more legislation to preserve abortion rights.
According to Herminia Palacio, president of the Guttmacher Institute, "on what would have been Roe's 50th anniversary, we are instead confronting the worst crisis in abortion availability in 50 years."
At the gathering, speakers were U.S. House Majority Leader Steve Scalise and Mississippi Attorney General Lynn Fitch, who won the lawsuit Dobbs v. Jackson Women's Health Organization that led the Supreme Court to reverse Roe.
Scalise praised the passing last week of the "Born-Alive" measure by the Republican-led House, which seeks to safeguard the welfare of newborns in the very unlikely event that they are born during abortion operations. The measure is unlikely to pass the Democratic-controlled Senate.
According to Mancini, the March for Life group intends to intensify its state march strategy to lobby for greater state-level restrictions.
The national march's first state-level event was held in Virginia in 2019. The group plans to stage 10 state marches in 2023, including ones in Arizona, Virginia, California, and Connecticut.
States where the anti-abortion movement has recently lost ground, like Michigan, are among places where Mancini would want to see the march movement grow.
Related CTN News:
China has 80% of Covid-19 infected People, So There's Little Chance of a Big Rebound