North Korea Claimed ICBM Launch Aimed To "strike fear into the adversaries"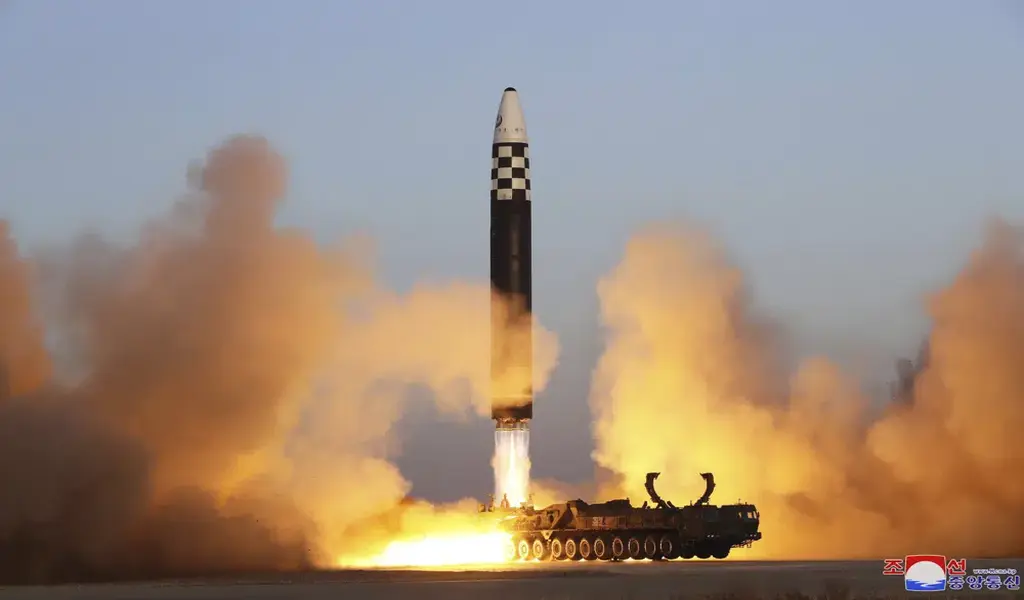 (CTN NEWS) – North Korea claimed it launched an ICBM on Friday to "strike fear into the adversaries," as South Korea, Japan, and the United States committed to cooperate closely on regional security at a summit and conducted military drills nearby.
A meeting between South Korean President Yoon Suk Yeol and Japanese Prime Minister Fumio Kishida that took place hours later was overshadowed by the missile that North Korea's leader Kim Jong Un and his daughter watched from a distance launch Thursday.
Rebuilding security relations between the frequently separated U.S. partners in the wake of North Korean nuclear threats was one goal of the Tokyo summit.
North Korea has increased its tit-for-tat response to continuing U.S.-South Korean military drills, which are the largest of their sort in years, with four missile shows in about a week.
The Biden administration is pushing to bolster its alliance network in Asia to confront the North Korean nuclear threat and China's growing influence.
As a result, it wants to improve South Korea-Japan relations, which have deteriorated recently over historical issues.
Along with their joint exercises, which started on Monday and will go until March 23, the United States and South Korea are also taking part in anti-submarine warfare drills, which started on Wednesday, alongside Japan, Canada, and India.
Kim reportedly oversaw the test-firing of the Hwasong-17 missile, which blasted off from a launch truck placed on an airport runway, according to the official Korean Central News Agency of North Korea.
Kim emphasised the need to "strike dread into the enemies" in response to what it described the "open hostility" displayed towards the North by the U.S.-South Korea exercises.
The missile, which was launched at a steep angle to avoid North Korea's neighbours' territory, traveled 1,000 kilometres (621 miles).
And reached a maximum altitude of 6,045 kilometres (3,756 miles) before coming to rest in the country's eastern coast, according to KCNA.
The United States mainland is within the missile's range, according to assessments of the flight by the militaries of South Korea and Japan.
It is yet unknown if North Korea has created nuclear weapons that can survive atmospheric reentry when launched at a normal trajectory or nuclear bombs that are tiny enough to put on its long-range rockets.
State TV broadcast the launch from a variety of perspectives, including video that was presumably captured by a camera mounted on the missile body.
The video showed the rocket rising into the air amid intense orange flames before its bottom chamber separated in what appeared to be a stage separation.
The official newspaper of Pyongyang, Rodong Sinmun, also released still images that appeared to have been captured by a camera mounted on the rocket as it shot into space.
With clouds strewn over what looked to be the Korean Peninsula and the Asian coastline, they displayed a rounded view of Earth.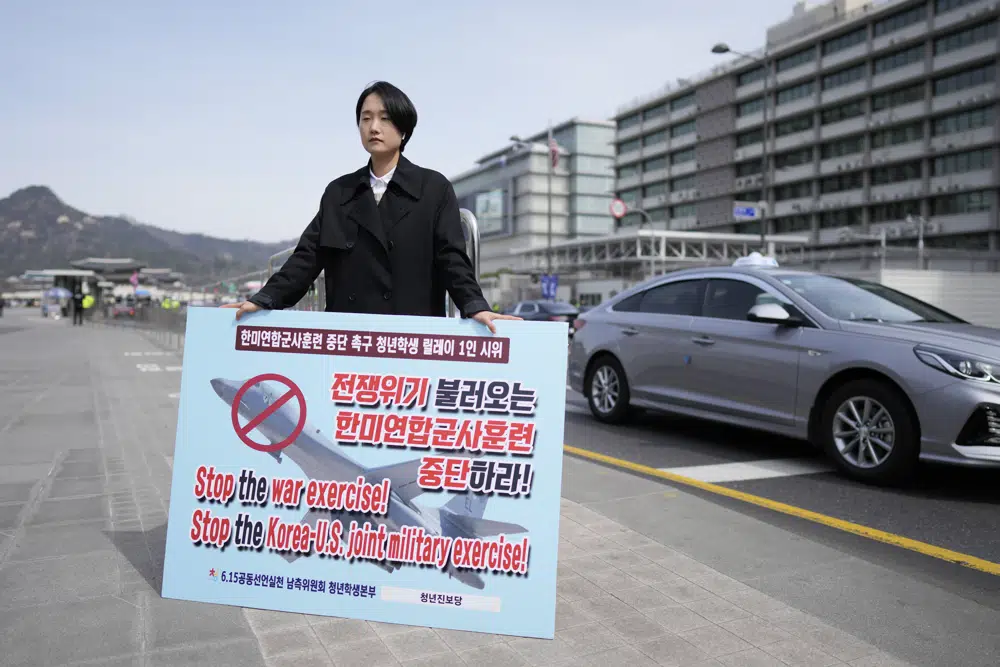 Kim was travelling with his daughter, who is considered Kim Ju Ae and is around 10 years old. After being made known to the general public for the first time at an ICBM launch in November, she has accompanied him to a number of military activities.
According to analysts, the purpose of her public appearances at military ceremonies is to link the Kim family's dynastic rule to the nuclear arsenal, which Kim views as the strongest assurance of his survival.
According to Cheong Seong-Chang, a senior expert at South Korea's private Sejong Institute, the high-altitude photographs appeared to be intended as evidence that the missile would be able to hit its target precisely.
Despite the fact that all of North Korea's ICBM tests have been carried out at a high angle.
Cheong claimed that the country is probably getting close to sending one of these missiles across the Pacific Ocean at a low angle, which would be one of its most provocative military displays ever.
According to KCNA, the launch of the ICBM sends a "stronger warning" to North Korea's adversaries who are ratcheting up the tenor of the conflict with their "frantic, provocative, and hostile large-scale war preparations."
According to KCNA, the test was also intended to verify the weapons system's dependability.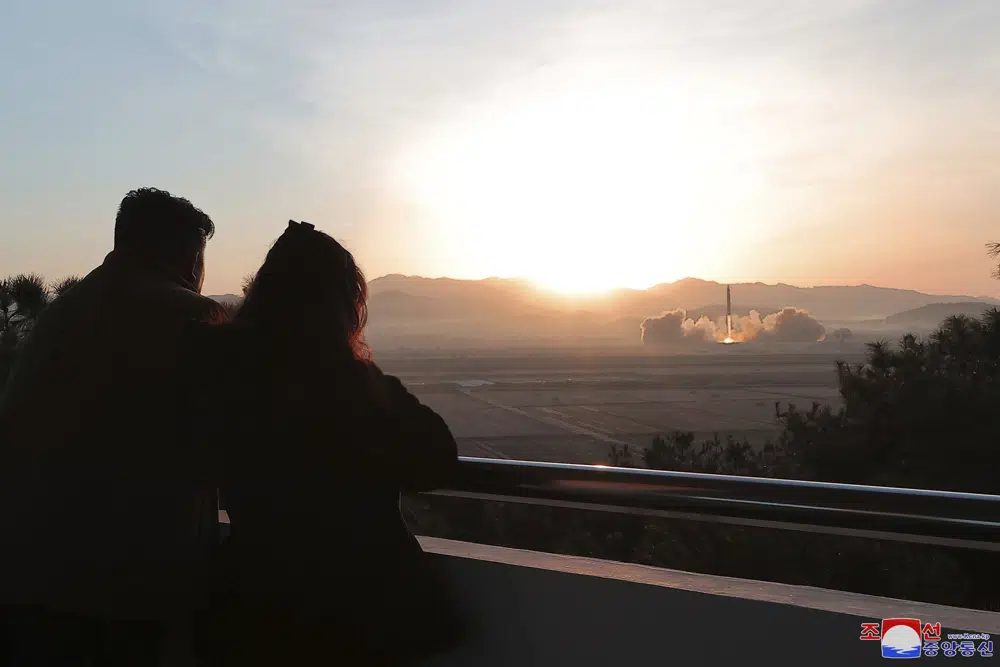 Kim stated that it is essential for North Korea to keep its nuclear missile forces ready to launch "overwhelming offensive measures anytime".
To counterattack adversaries and convince them that continuing and expanding their military actions will "bring an irreversible, grave threat to them," according to KCNA.
According to Lee Hyojung, spokesman for South Korea's Unification Ministry, which deals with inter-Korean matters, it is highly sad that the North continues to use the joint military exercises with South Korea as justification for staging provocative military exercises.
She urged Pyongyang to resume talks, saying, "It's clear that North Korea's reckless nuclear and missile development is the source of growing tensions on the Korean Peninsula.
Adm. John Aquilino, head of the U.S. Indo-Pacific Command, said China has a role to play in the world if it upholds the rules-based order.
Particularly in regard to North Korea, which depends on Beijing as its main ally and source of economic support.
He was speaking at a lecture in Singapore on Thursday.
In addition to posing a greater threat to Japan and South Korea due to its increased missile testing last year, North Korea has now "acquired the capability to harm the United States as well," according to Aquilino.
It's unstable, unpredictable, still going strong, and not slowing down.
It would be beneficial if the People's Republic of China could assist in persuading the DPRK not to carry out these events, Aquilino remarked, using the initials of North Korea's official name.
North Korea has historically depicted joint military exercises between the United States and South Korea as invasion preparations, despite the fact that the partners describe them as defensive.
According to many observers, North Korea uses the drills conducted by its adversaries as an excuse to aggressively increase both its nuclear weapons and overall military capability.
Since last week, North Korea has also conducted short-range missile tests and cruise missile tests from a submarine in an effort to demonstrate its capability to launch nuclear attacks on both South Korean targets and the U.S. mainland.
North Korea launched an ICBM for the second time this year on Thursday. Compared to the Hwasong-17, the Hwasong-15 was launched in February and is a slightly smaller weapon.
Yoon and Kishida decided to resume defence talks and further bolster security cooperation with the US to combat North Korea and other threats at their summit.
Yoon declared, "The ever-increasing threat posed by North Korea's nuclear missile programme poses a major challenge to peace and stability in East Asia and the (broader) worldwide community.
"To wisely resist the threat, South Korea and Japan must cooperate closely and stand united."
RELATED CTN NEWS:
Imran Khan's Supporters Rally in Solidarity as Police Attempt to Arrest him
Americans Paid Out $10.3 Billion In Online Scams In 2022