South Korea Intends To Resolve Its Forced Labor Feud With Japan
(CTN NEWS) – SEOUL –  On Monday, South Korea announced a plan to repay Koreans compelled to work during Tokyo's colonial control without requiring Japanese businesses to contribute to the reparations.
This was a move towards repairing relations with its longtime foe Japan.
To better counter North Korea's nuclear threats, conservative President Yoon Suk Yeol has been pushing to heal strained ties with Japan and strengthen security cooperation among Seoul, Tokyo, and Washington.
This is reflected in the plan. Quickly praising it as "a revolutionary new chapter" of cooperation between two of the United States' closest allies, President Joseph Biden said.
Former forced workers and others who support them immediately voiced their opposition to the South Korean scheme, which depends on funds raised domestically.
They want the Japanese firms to pay them directly and the Japanese government to issue a new apology.
Grievances stemming from Japan's brutal rule over the Korean Peninsula from 1910 to 1945.
When hundreds of thousands of Koreans were mobilized as forced laborers for Japanese companies or sex slaves at Tokyo's military-run brothels during World War II, long complicated relations between Seoul and Tokyo.
The survivors are in their 90s, and many forced laborers have passed away.
Only three of the 15 victims, all in their 90s, are still living after South Korean courts in 2018 ordered two Japanese businesses, Nippon Steel and Mitsubishi Heavy Industries, to pay them compensation.
The victims will receive compensation through a regional state-run foundation financed by private donations, South Korean Foreign Minister Park Jin stated during a live-streamed press conference.
He expressed South Korea's wish that Japanese businesses would also voluntarily contribute to the foundation.
"If we relate it to a glass of water, I believe the glass is filled with water more than halfway. Based on Japan's earnest response, we anticipate that the glass will continue to fill going forward," Park added.
Yoon described the South Korean action later on Monday as "a commitment to progress towards future-oriented Korea-Japan relations."
According to Yoon's office, he stated that both governments must work to aid in the beginning of a new era in their ties.
South Korean officials did not mention the firms that would fund the foundation.
The funds, however, would come from South Korean businesses that benefited from a 1965 treaty between Seoul and Tokyo that normalized their relations, according to Shim Kyu-sun, chairperson of the Foundation for Victims of Forced Mobilization by Imperial Japan, which would be in charge of handling the reparations.
Hundreds of millions of dollars accompanied the 1965 agreement in loans and economic assistance from Tokyo to Seoul.
Which were used in construction projects by significant South Korean businesses, including POSCO, today a key player in the world of steel.
In response to a formal request, POSCO stated on Monday that it would seriously consider donating to the foundation.
In 2019, Japan imposed export restrictions on chemicals essential to South Korea's semiconductor industry in retaliation for the South Korean court's ruling for compensation from Japanese corporations.
Japan maintains that all wartime reparations issues were resolved under the 1965 treaty.
Yoon's liberal predecessor Moon Jae-in was in charge of South Korea then.
He accused Japan of weaponizing trade and threatened to sever a military intelligence-sharing pact with Tokyo, a key element of their three-way security cooperation with Washington.
These disputes hindered American efforts to deepen ties with its two most important Asian allies in the face of conflict with China and North Korea.
"Our countries are stronger —, and the world is safer and more affluent — when we stand together," Biden said in his statement, adding that he looks forward to continuing to strengthen the trilateral connections.
Concerns about tension Particularly since North Korea last year embraced an escalating nuclear posture and test-launched a barrage of missiles, some of which were nuclear-capable and put both countries within striking distance, Seoul-Tokyo relations have improved in both nations.
On Monday, the United States sent a nuclear-capable B-52 bomber to the Korean Peninsula for a combined exercise with South Korean jets.
The B-52's deployment, according to South Korea's Defense Ministry, proved the partners' "decisive, overwhelming capacities" to thwart North Korean aggression.
According to Japanese Prime Minister Fumio Kishida, the restoration of trade relations is a separate problem from Japan's prior expressions of remorse and apologies for its crimes during colonial times.
Yoshimasa Hayashi, Japan's foreign minister, told reporters that while his country "appreciates" the South Korean government's move to mend fences, it does not necessitate financial support from Japanese businesses.
Foreign Minister Park responded that he doesn't anticipate Japan's government to obstruct "voluntary donations" made by its civil sector when asked about South Korea's inability to ensure that Japanese corporations contribute to the compensation of forced laborers.
The preparations for discussions to repair its commercial relations were simultaneously revealed later on Monday by the trade ministries of South Korea and Japan.
According to South Korea's Trade Ministry, the country has stopped its World Trade Organization dispute procedures on the Japanese trade restraints.
Former forced laborers, those who supported them, and MPs from the liberal opposition attacked the government plan, branding it a diplomatic capitulation.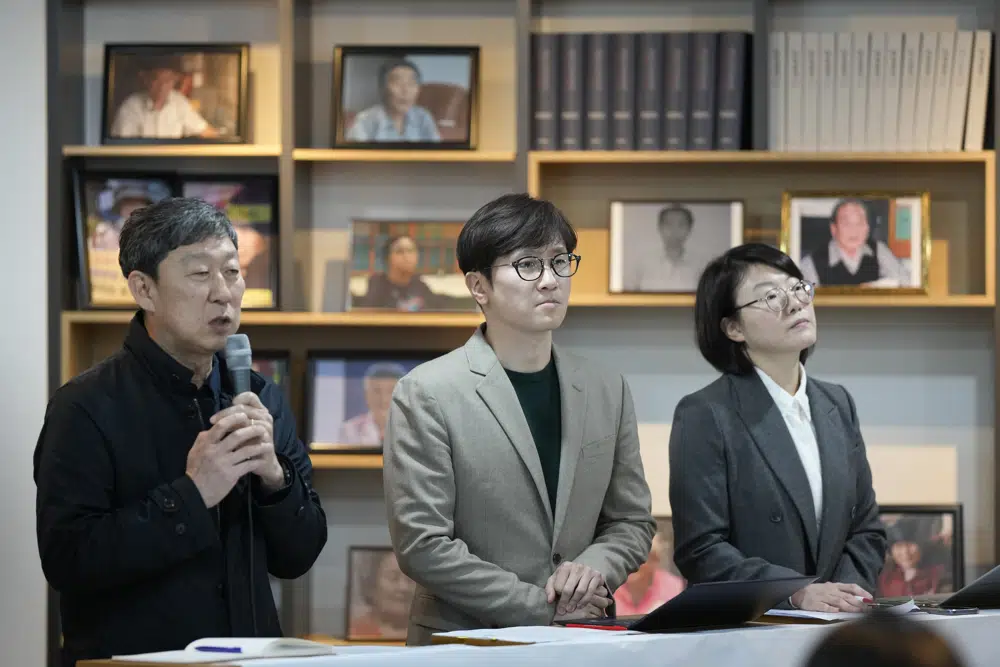 At the foreign ministry in Seoul, about 20 to 30 protesters gathered, honking their horns and yelling, "We denounce (the Yoon government)" and "Withdraw (the announcement)."
According to Lim Jae-sung, a lawyer for some plaintiffs, the South Korean plan is "absolutely a triumph for Japan, which maintains it cannot spend 1 yen" on forced laborers.
He stated that to secure the restitution; lawyers will continue with actions targeted at selling the Japanese corporations' assets in South Korea.
The Democratic Party, the biggest liberal opposition party, demanded that Yoon immediately halt what it called "a humiliating diplomacy" towards Japan and abandon its proposal.
The likelihood of resolving the conflicts was called into question by the opposition to the government's declaration.
Because the foundation didn't have the approval of the Korean women who were forced to work as sex slaves during World War II, the Democratic Party led by Moon disbanded it when it was in power.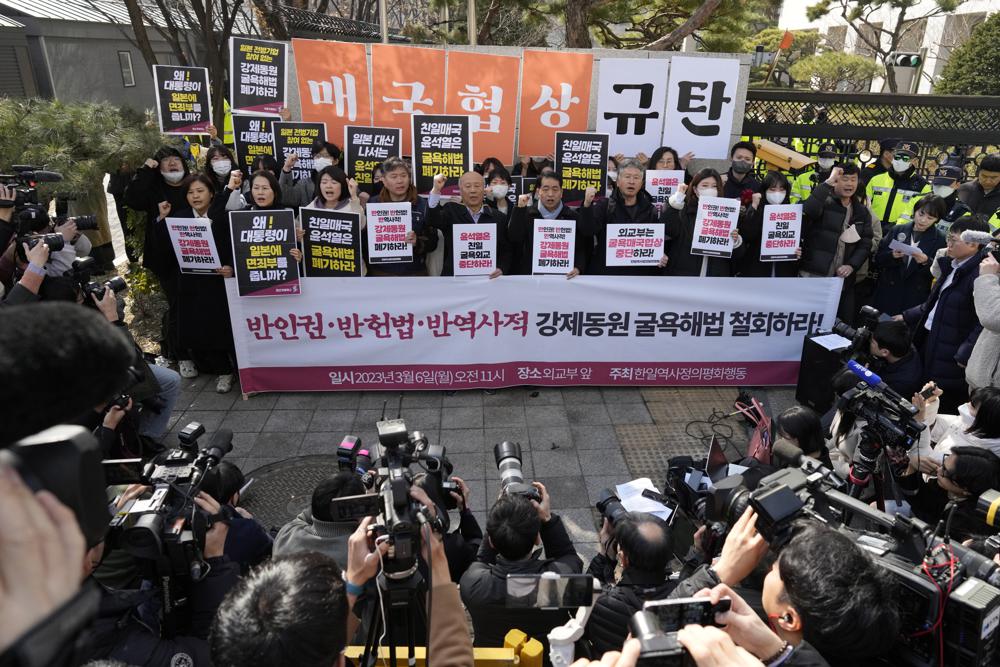 Because "there is no magic solution that can satisfy everyone," according to Bong Young-shik, a specialist at Seoul's Yonsei Institute for North Korean Studies.
Yoon has probably decided to move forward with measures to ease the disputes with Japan to strengthen the alliance with the United States.
Yoon, according to him, was probably under pressure to strengthen defences against North Korea's escalating missile threats.
A third-party repayment of forced laborers was the only practical alternative, according to Choi Eun-mi, a Japan expert at South Korea's Asan Institute for Policy Studies, because there are "basic" differences with Japan regarding the 2018 court judgments.
One could argue that the government moved quickly to find a resolution, but Choi pointed out that the plaintiffs would have suffered the most if this point hadn't settled the matter.
RELATED CTN NEWS:
China Targets A 5% Economic Growth Rate For This Year