North Korean Leader Kim Watches Soccer Match With Daughter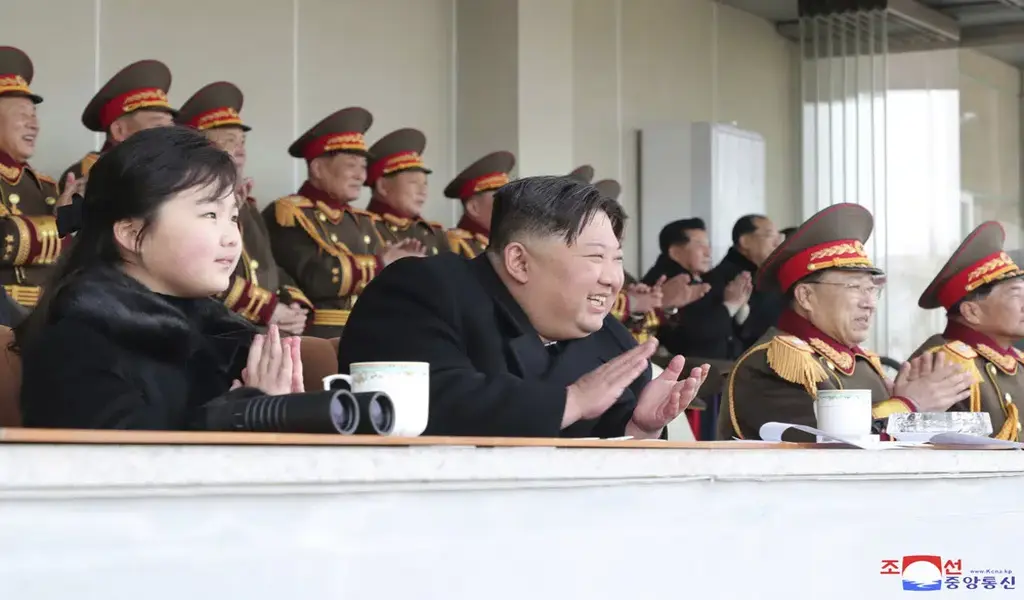 (CTN NEWS) – SEOUL – State media reported on Saturday that North Korean leader Kim Jong Un took his young daughter to a soccer tournament honoring his late father's birthday.
The latest in a string of public appearances that have raised questions about whether she is being groomed for a future leadership position.
According to the official Korean Central News Agency, the appearance of Kim and his "loving" daughter, Kim Ju Ae, is thought to be around 10 years old.
On Friday's ceremonial game between employees from the Cabinet and the Defense Ministry generated "cheer and excitement."
The article, which omitted any mention of Kim's remarks, stated that the Defense Ministry team defeated the Cabinet officials once more in a tug-of-war competition after winning the first match 3-1.
On his birthday, the occasion was held to honor the late Kim Jong Il, the nation's former leader and the father of the present leader.
The stadium was reportedly "full with joy and excitement of officials of the Cabinet and the Ministry of National Defense who had the great honor of holding significant sports and cultural events on the spring vacation of February in the presence of Kim Jong Un.
Whom they wished to see even in their dreams," according to a KCNA report.
All attendees, it was stated, made a "strong commitment to serving the people with devotion, renewed courage, and in high spirits."
Kim and his daughter could be seen grinning and applauding from the VIP seats, where they were seated in the middle between key military and government leaders.
In photos released by North Korea's official Rodong Sinmun newspaper. One of Kim's top diplomats and sister, Kim Yo Jong, was observed seated in a row behind them.
The occasion marked Kim Ju Ae's sixth known appearance in public, but it was her first without an apparent connection to her father's desire for nuclear weapons.
When Kim Jong Un brought her to watch an intercontinental ballistic missile flight test in November, she was first featured on state media for that occasion.
She also appeared alongside her father last week in a sizable military parade in Pyongyang, where troops unveiled an unprecedented number of ICBMs.
This demonstrated how Kim continues to build up his military capabilities despite having limited resources while diplomatic efforts are still stalled.
Kim Ju Ae participated with her father in a visit to the military before the parade, and she also sat in the honored seat at a banquet while being flanked by her parents and generals.
She also appears with her father in several fresh postal stamps unveiled on Friday to commemorate the North's successful ICBM launch in November.
According to analysts, Kim Ju Ae's participation in important military-related events is her father's way of letting everyone know that he will never voluntarily give up his nuclear weapons and missiles.
Which he views as the strongest assurance of his survival and the continuation of his family's dynastic rule. Her extensive portrayal in state media may be intended to increase domestic support for the Kim family and prepare the country for a potential hereditary power transfer.
Kim Ju Ae has been described as "liked" and "respected" in North Korean state media, fueling speculation that she is being groomed to become a future leader.
But, South Korean Unification Minister Kwon Youngse played down that idea at a parliamentary session on Wednesday.
Kim Jong Un is thought to be 39 years old, making him relatively young, and the country's male-dominated power structure raises doubts about whether Kim Ju Ae is being prepared to succeed him, according to Kwon, Seoul's top expert on North Korea.
RELATED CTN NEWS:
Karachi Police Chief Office Attack Kills 7 In Hours-Long Gunbattle
Japanese Government Considers Raising The Age Of Consent From 13
Indian Tax Department Suspects BBC Of Tax Evasion