The Ford Mustang Mach-E: Paving the Electric SUV Road Ahead
The automotive landscape is undergoing a seismic shift as electric vehicles (EVs) continue to make their presence felt. Spearheading this change is the Ford Mustang Mach-E, a game-changing all-electric SUV that marries the legacy of the iconic Mustang with the innovation of electric power. In this comprehensive exploration, we delve deep into the heart of the Mustang Mach-E, examining its performance, features, design, and its significant role in shaping the future of EVs.
1. A Paradigm Shift in Motion
In a world where electric mobility is becoming the new norm, the Ford Mustang Mach-E emerges as a statement of Ford's dedication to the electrified future. A masterful fusion of the Mustang's exhilarating spirit and the allure of electric power, the Mach-E positions itself as a family-friendly SUV with the heart of a Mustang. Notably, it competes with the likes of the Tesla Model Y and Volkswagen ID.4 while also aiming to rival its gas-powered counterparts.
Built on Ford's Global Electrified 1 (GE1) platform, meticulously tailored for EVs, the Mach-E boasts a commodious interior and harmonious weight distribution that accentuates comfort and agility.
2. Power Meets Efficiency
The Mustang Mach-E is offered with a choice of standard-range (75.7 kWh) or extended-range (98.8 kWh) battery configurations, available in both rear-wheel and all-wheel drive. The base model harnesses 266 horsepower and 317 lb-ft of torque with the standard-range battery, delivering spirited acceleration and seamless power delivery.
Its range adapts according to battery and drivetrain options, with the extended-range rear-wheel drive variant showcasing an impressive 305-mile range. Charging, a pivotal aspect of EVs, is expedited with the support of DC fast charging, facilitating a 10% to 80% charge in approximately 45 minutes at public charging stations.
The Mach-E's road manners are captivating – a low centre of gravity, coupled with balanced weight distribution, crafts a symbiotic blend of agility and comfort. A modifiable regenerative braking system endows the vehicle with the possibility of one-pedal driving, enhancing both efficiency and driving experience.
3. A Technological Odyssey
Inside, the Mach-E boasts a modern and minimalist ambiance, adorned with premium materials and user-friendly design. Dominating the dashboard is a sizable 15.5-inch infotainment screen housing Ford's SYNC 4A system. This system encompasses navigation, voice control, and seamless integration with Apple CarPlay and Android Auto, ensuring a comprehensive and connected journey.
Safety and driver-assistance features envelop the Mach-E experience, including forward collision warning, automatic emergency braking, blind spot monitoring, and rear traffic alerts. For those desiring added security, optional adaptive cruise control, lane-keeping assist, and a surround-view camera system are also available.
4. A Symphony of Design
Externally, the Mustang Mach-E embodies a contemporary aesthetic, its distinct silhouette an ode to the Mustang's heritage. While compact in size for urban manoeuvrability, large windows grant expansive visibility, making it a breeze to navigate city streets.
Internally, the Mach-E's interior is a marvel – minimalistic design harmonizes with top-tier materials. The flat floor and inventive packaging yield an expansive ambience, accentuated by rear seats with generous legroom and a capacious cargo area. Interactive ambient lighting, adept at altering its hue when charging, exemplifies the Mach-E's forward-thinking design.
5. Embracing Ownership of Ford Mustang Mach-E
Owning a Mach-E is an endeavour marked by simplicity and joy. Its nimble dimensions and electric powertrain ensure seamless drives across various terrains. Reduced maintenance requirements are a boon – without the need for oil changes and with regenerative braking mitigating wear on brake pads, long-term cost savings become palpable.
The initial cost of the Mach-E, competitive within the EV SUV segment, is further softened by the potential of federal tax credits. Ford's sterling customer service is underpinned by a comprehensive warranty package: three years or 36,000 miles of basic warranty coverage coupled with an eight-year or 100,000-mile warranty for the battery.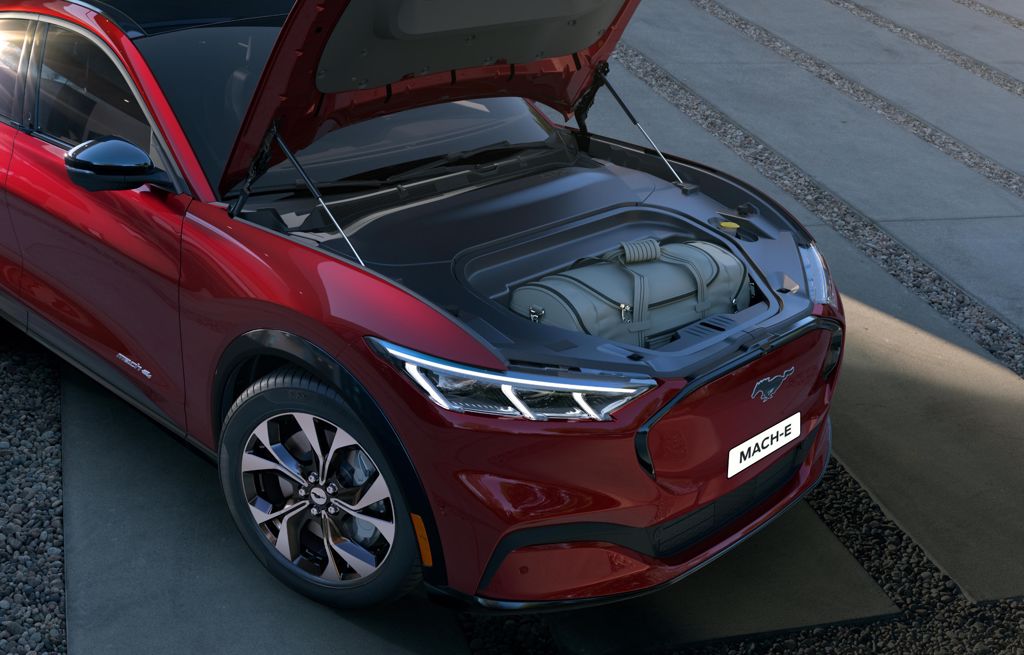 6. Reality Amplified: Life with the Mach-E
In the realm of everyday driving, the Mach-E's allure truly shines. Its fluid acceleration, comfortable ride, and serene cabin create a tapestry of driving pleasure – whether commuting or accomplishing daily errands. With an impressive range, worries of range anxiety become a thing of the past.
For longer journeys, the Mach-E remains a steadfast companion, poised and comfortable even at highway speeds. The battery's fast-charging capability streamlines the refuelling process, ensuring minimal interruptions during road trips.
Practicality aligns with performance – charging the Mach-E at home is convenient, with an expanding network of public charging stations catering to journeys on the road. The cabin's spaciousness, coupled with advanced infotainment, creates a seamless and connected experience for families and solo drivers alike.
7. Pioneering New Frontiers: Ford Mustang Mach-E vs. the Competition
When compared to other Ford models, such as the Escape and Explorer, the Mach-E retains the practicality and comfort expected from SUVs while infusing the benefits of electric propulsion. Against its EV SUV peers, such as the Tesla Model Y and Volkswagen ID.4, the Mach-E's sporty character, versatility, and value proposition place it in a league of its own.
8. Glimpsing Ahead: The Future of the Ford Mustang Mach-E
Ford's commitment to evolution is manifest in the Mach-E. A more potent GT Performance Edition looms on the horizon, promising heightened performance. Software updates continually enrich the vehicle's features, underscoring its adaptability.
The Mach-E, emblematic of Ford's electric ambitions, is a cornerstone of the brand's strategy to steer the EV market. With plans to unveil a spectrum of electric models, the Mach-E's triumph is pivotal in this mission.
9. The Final Chord: An Enduring Legacy
The Ford Mustang Mach-E isn't just a vehicle – it's a celebration of innovation and sustainability. By blending the thrill of the journey with environmental responsibility, it encompasses the essence of the modern automotive era. Whether one is an EV enthusiast or a seeker of a stylish and eco-conscious SUV, the Mach-E beckons.
In an increasingly crowded EV market, the Mach-E stands tall, boasting a harmonious amalgamation of attributes. From urban agility to long-range prowess, from driving delight to ecological stewardship, the Mach-E represents not just a car, but a testament to Ford's engineering prowess.
10. A Lasting Impression
The Ford Mustang Mach-E isn't just an automobile; it's an emblem of Ford's dedication to innovation and eco-friendliness. It's an invitation to relish every mile while respecting the planet. Whether an electric aficionado or an individual seeking a sophisticated yet conscientious SUV, the Mach-E extends an invitation worth considering.
Amid the surge of electric vehicles, the Mach-E is a beacon of distinction. It's the epitome of urban sensibility interwoven with exhilaration, a vehicle built not just for today, but for a sustainable tomorrow.
In summation, the Ford Mustang Mach-E isn't just a means of transportation; it's an embodiment of a brighter, more electrifying future. It's a journey not just from A to B, but towards a future where style, substance, and sustainability converge.