Vladimir Putin Urges Ukrainian Army To Take Power From 'Neo-Nazi' Leaders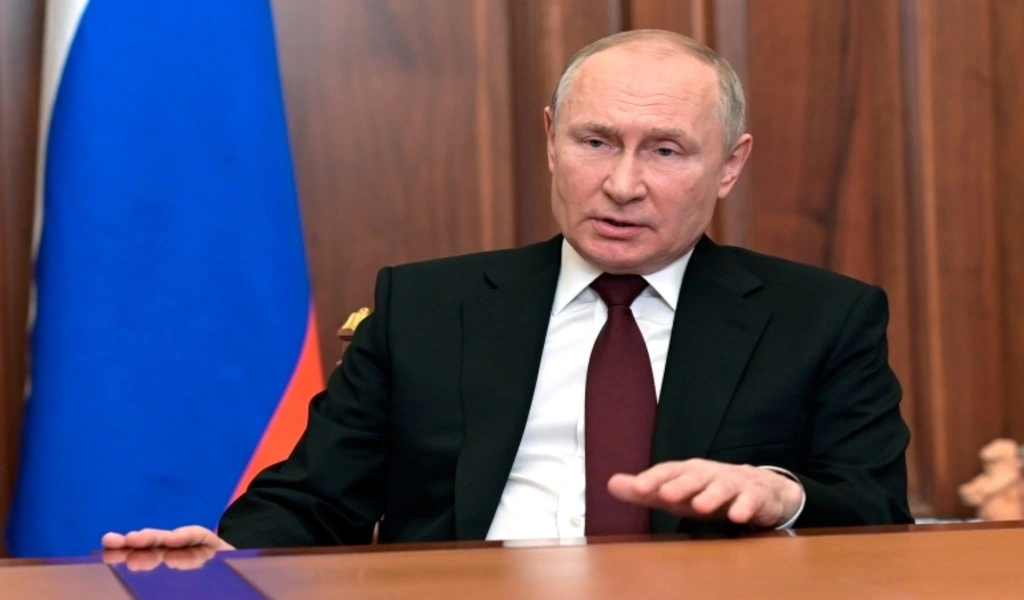 Russian President Vladimir Putin urged the Ukrainian army to take power into their own hands and overthrow the government, which he described as being made up of 'terrorists' and 'a gang of drug addicts and neo-Nazis'. Vladimir Putin claimed that the Ukraine administration was deploying Multiple Launch Rocker Systems (MLRS) in regions like Kiev and Kharkov, even as Russia itself is accused of attacking and bombing civilian areas in its invasion of Ukraine.
"Right-wing Banderites and neo-Nazis in Ukraine are setting up heavy weapons, including multiple-launch rocket systems, in the midst of major cities like Kyiv and Kharkiv," the Russian President said in his address to the nation. In the televised address, he said that Russian servicemen in Ukraine were acting heroically, bravely, and professionally.
Republic crews in Ukraine visited sites that were hit by the Russian missiles fired since the 'special military operations,' contrary to the claim made.
#RepublicInUkraine | Republic's crew is #LIVE from the site bombed in Kyiv; watch devastating visuals of residential areas left shattered. The only global channel to report #LIVE from the bombing site in Kyiv. Non-stop rolling coverage here – https://t.co/eKQa6kIuKl pic.twitter.com/AQoF2UvDSx

— Republic (@republic) February 25, 2022
Must Read: Ukraine-Russia: What Does Putin Want In Ukraine?
Russia's Vladimir Putin full-blown attack on Ukraine
The Russian military has launched a full-blown attack on Ukraine, with its forces entering the Obolon district, which is less than 10 km from Central Kyiv – the government's seat of power. There are reports that Ukrainian President Volodymyr Zelenskyy has invited Vladimir Vladimir Putin to sit down for talks. There are further reports that Vladimir Putin is willing to send a delegation to Minsk for negotiations with Ukraine.
Currently, Ukraine is fighting Russia tooth and nail. According to Ukraine, Russia has suffered massive losses, including the loss of up to 80 tankers. Malyar reports that 10 aircraft, 7 helicopters, 516 armored combat vehicles, and 2,800 army personnel were also lost.
Ukraine is receiving a great deal of support in its fight against Russia. The Council of Europe suspended Russia. The international organization held a referendum, in which 42 of 47 Committee of Ministers voted in favor of a joint Ukrainian-Polish proposal to suspend Russia.
In response to Russia's invasion of Ukraine, the European Union is 'close' to imposing new sanctions on the country. European assets linked to Vladimir Putin and Sergey Lavrov are likely to be frozen by the EU. However, it is unclear whether either of them has significant assets in the EU.
Jean Asselborn, Luxembourg's foreign minister, said before a meeting of EU foreign ministers to discuss Russian sanctions that he believes "we will find an agreement here," for sanctions against both countries. There will be a discussion, but I think we're all on the same page that Vladimir Putin and Lavrov will come to an agreement on the freezing of assets."
Also Check:
 World War 3: Will Putin Stop Or Is This Just The Beginning?
China-Ukraine: Will China Join the War With Russia Over Ukraine?
 NATO – Ukraine Joining NATO and Why Russia Opposes It
Joe Biden Picked Ketanji Brown as The First Black Woman To Judge Supreme Court