Ukraine Capitol Hammered By Rocket Strikes for 2 Days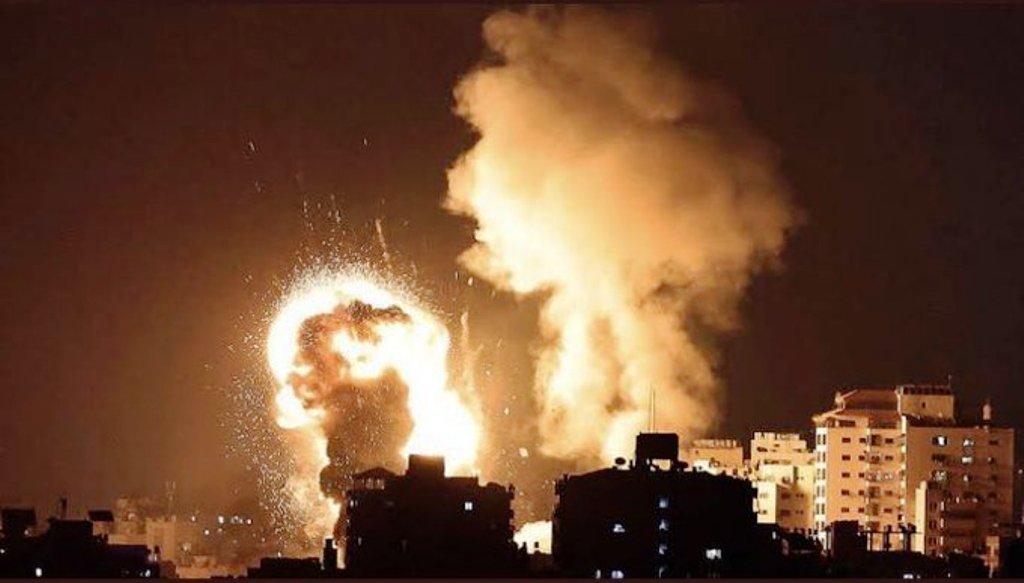 The besieged Ukraine government describes the Friday morning explosions heard in its capital as "horrific rocket strikes" as Russian forces push deeper into Ukraine.
The second day of violence was set off by the blasts in Kyiv after Russian President Vladimir Putin ignored Western warnings by unleashing a full-scale ground invasion and air assault on the Ukraine government. The president of Ukraine said that the bombing has sadly claimed dozens of lives and displaced at least 100,000 people.
In response, the United States and its allies imposed sanctions, but the Russian forces appeared intent on securing their advantage after a string of strategic victories on day one.
U.S. President Biden's administration imposed sanctions on Russian elites and banks. The administration also stressed that American forces would not head to eastern Europe to fight in Ukraine.
However, no sanctions have been imposed on President Vladimir Putin personally.
Nato said it had activated "defence plans" for allied countries.
NATO will not enter Ukraine
However, Nato chief Jens Stoltenberg said there was no plan to send NATO forces into Ukraine.
Among the highest-profile strategic developments, Russian forces seized the Chernobyl nuclear power plant, prompting concern from international nuclear watchdogs.
Russian paratroopers wrested control of the strategic Gostomel airfield, on the northwestern outskirts of Ukraine's Kyiv.
Russian ground forces have moved into Ukraine from the north, south and east, forcing many Ukrainian citizens to flee their homes.
Intelligence reports confirmed Moscow has established "complete air superiority" over Ukraine.
President Biden completely failed to deter Putin, who massed over 150,000 troops on Ukraine's borders in what the West said was Europe's biggest military build-up since World War II.
Initially, Biden and his western allies imposed sanctions on Russia in an effort to deter Putin but followed up Thursday with a commitment to punishing Russia heavily economically.
However, Biden hasn't imposed any sanctions on President Putin.
Biden Sanctions Russia, Not Putin
President Biden announced export controls against Russia to stop more than half of its high-tech imports, along with sanctions against "corrupt billionaires" and banks in the country.
Biden's handlers announced Friday he would meet with Nato leaders via a virtual summit to discuss the security situation in and around Ukraine.
European Union officials have moved to impose "massive" sanctions on Russia's energy and finance sectors. French President Emmanuel Macron called President Putin to "demand an immediate halt" to the offensive. Saying however that the door must remain open for dialogue.
Putin's invasion of Ukraine has spooked global financial markets, with stocks plunging and oil prices soaring past $100 a barrel.
Critics and economists say Biden's decision to end the United States oil production has further strengthened Russia. In 2020 Biden reversed Trump's energy policies that had made the US energy independent.
Donetsk and Lugansk in Eastern Ukraine
Meanwhile, IMF chief Kristalina Georgieva said the unrest carried "significant economic risk" for the world, but Putin insisted he was not trying to undermine the global economic system.
Russian President Vladimir Putin justified the assault as a defence of the self-proclaimed republics of Donetsk and Lugansk in eastern Ukraine.
In both areas in eastern Ukraine where over 14,000 Russian-speaking citizens have been killed after the Ukraine government ignored the Minsk accord.
The Kremlin earlier said the leaders of the two separatist territories had asked Moscow for military help against the Ukraine government after Putin recognized their independence on Monday.
Putin has long demanded that Ukraine be forbidden from ever joining Nato and that US troops pull out from Eastern Europe. The Biden administration ignored Putin's request despite NATO itself saying it had no interest in allowing Ukraine to join.
Biden's Failed Diplomacy
Biden has said numerous times that the US is open to diplomacy with Russia, but on the issue that Moscow has most stressed, Nato enlargement, there has been no American diplomacy.
President Putin has repeatedly insisted that the US should forego Nato's expansion into Ukraine, while President Biden has said Ukraine's membership in the alliance is its choice.
Meanwhile, national emergencies have been declared in the Baltics. The Czech Republic, Latvia, and Lithuania have also stopped granting Russians visas.
European capitals saw protesters take to the streets to condemn the Kremlin, but a small anti-war demonstration in Moscow was quickly put down by police, with over 1,700 people being detained at rallies across Russia.
While the UN said that 100,000 people have been displaced by the Russian invasion of ukraine, the first refugees have begun to trickle into Hungary, Romania, and Poland.
Trending CTN News: