South Africa vs New Zealand: Quinton De Kock Sets World Cup Record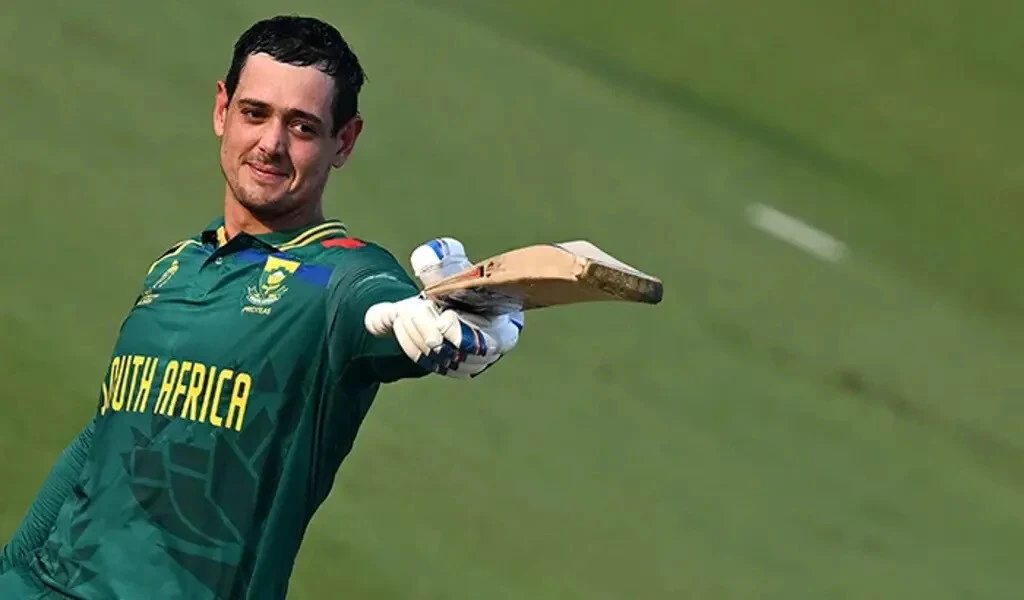 (CTN News) – Earlier this week in Pune, South Africa's Quinton de Kock struck his fourth century in the World Cup in a match against New Zealand – becoming the first wicketkeeper to score more runs in one tournament in the history of the game.
Due to the fact that he scored his 21st century in one-day international cricket, the left-handed opener from South Africa finished his innings with 114 runs in the form of ten fours and three sixes within his 114-run innings.
On the way to his century, he hit a huge six off Jimmy Neesham to cap off a brilliant innings in which South Africa reached 205-1 after 36 overs.
De Kock has now surpassed Kumar Sangakkara's tally of 543 runs from the 2015 edition of the World Cup and has become the wicketkeeper with the most runs in a single World Cup edition since Kumar Sangakkara hit 543 runs in 2004.
It is estimated that he has scored a total of 545 runs in seven innings of play to date.
In addition to the 100 de Kock made against Sri Lanka, he also made 109 against Australia and 174 against Bangladesh when the team won the match.
When the Proteas were sent in to bat in Pune on the final day of the tournament, he started the day with just 69 runs to pass 500 for the tournament.
After scoring 62 runs off 62 balls, including three fours and two sixes, de Kock broke the 500-run barrier with a legside boundary off recalled paceman Tim Southee after scoring his half-century in 62 balls.
He leads the World Cup run chart ahead of Australian David Warner (413 runs) and New Zealand's Rachin Ravindra (406 runs) despite announcing his retirement from one-day international cricket at the end of this tournament.
New Zealand chose to bat first when they put South Africa into the batting order, but it is important to note that it was New Zealand that put South Africa into the batting order.
As of the time of writing this article, the Proteas have scored 242 runs for the loss of two wickets in 42 overs at the time of writing this article.
SEE ALSO:
This Day In Cavs History: LeBron James Re-Debuts In The Second Stint