Slovenia Suffers Catastrophic Flooding Highways, Bridges Destroyed
Slovenia has experienced "the biggest natural disaster" in its history, after disastrous floods inflicted damage estimated at US$550 million, killed three people, and wrecked highways, bridges, and residences.
"Fortunately, last night was easier than the one before," Prime Minister Robert Golob, said following a meeting of the country's National Security Council on Saturday, adding that two-thirds of the small Alpine nation's territory had been damaged.
Torrential rains on Friday forced rivers to expand quickly and overflow into houses, crops, and towns, causing floods. A month's worth of rain poured in less than a day, according to Slovenia's weather agency.
According to experts, climate change is contributing to extreme weather conditions. During the summer, parts of Europe experienced record temperatures and battled wildfires.
Officials stated that road and energy infrastructure, as well as hundreds of homes and other buildings, were particularly heavily impacted. Thousands of people were forced to flee their homes, and many were rescued by helicopters or firefighters on boats.
Slovenia's army has joined the relief operation, sending troops to isolated districts in the north to assist.
Photos from the scene showed entire communities submerged, outdoor camping areas devastated, cars trapped in muck, and children's toys piled up against fences.
According to Aljazeera, major roads in Slovenia were partially closed on Saturday due to flooding, including the country's principal highway. Dozens of bridges have also collapsed, and authorities have advised people not to travel until the damage has been completely assessed.
Following the reports of three weather-related deaths on Friday, Slovenian media claimed on Saturday that one more person had died in the city, Ljubljana. Police have yet to confirm the report.
Earlier last summer, several severe storms in Slovenia knocked apart roofs and felled thousands of trees.
Saturday's storms are only the latest in a season that has seen catastrophic heatwaves, flooding, and landslides across Europe.
On Saturday, Austria, which borders Slovenia, experienced flash floods. Around 80 residents in the southern Carinthia province were forced to flee their houses.
Officials announced on Saturday that a landslip killed at least 16 people and left scores missing in Shovi, a vacation town in northeastern Georgia known for its wide woods and mineral water springs.
The landslip happened on Thursday in Georgia's mountainous northwest.
"Sixteen bodies have been found in the disaster area, and their identification is underway," stated Teimuraz Mghebrishvili of the interior ministry.
Images showed rescue workers rummaging through wreckage while teams sought to shift the earth.
Three people died in Serbia last month following another terrible storm that ripped over the Balkans.
Slovenia is a small, picturesque country located in Central Europe. It borders Italy to the west, Austria to the north, Hungary to the northeast, Croatia to the south and southeast, and the Adriatic Sea to the southwest. Its capital and largest city is Ljubljana.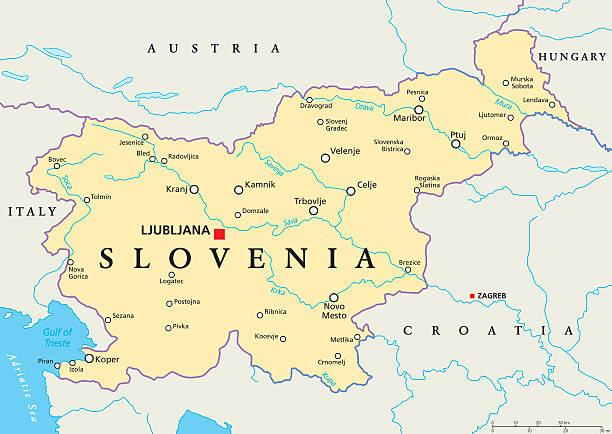 Here are 7 key facts about Slovenia:
1. History: Slovenia has a rich history that dates back to ancient times, with various tribes and civilizations inhabiting the region. In the Middle Ages, it was part of the Holy Roman Empire, and later, the Habsburg Monarchy. In 1991, Slovenia declared independence from Yugoslavia, and since then, it has emerged as a sovereign nation.
2. Nature and Geography: Slovenia is known for its stunning natural landscapes, which include the Julian Alps, the Karst region, and the Adriatic coastline. The country is relatively small, covering an area of around 20,273 square kilometers (7,827 square miles), making it one of the smallest European countries.
3. Language: Slovenian is the official language of the country. It belongs to the South Slavic group of languages and is closely related to Croatian and Serbian.
4. Economy: Slovenia has a developed and diverse economy. It is known for its industrial output, which includes automotive manufacturing, pharmaceuticals, and machinery. The country also has a strong service sector, particularly in tourism, where visitors are attracted by its natural beauty, historic sites, and cultural heritage.
5. Culture: Slovenian culture is influenced by various historical factors and neighboring countries. Traditional Slovenian music, dance, and cuisine have their distinct characteristics. The country has a vibrant arts scene, and Slovenian literature, film, and visual arts have gained recognition both nationally and internationally.
6. Tourism: Slovenia is a popular tourist destination, attracting visitors with its pristine landscapes, charming towns, and historical sites. Some famous tourist spots include Lake Bled with its iconic island and castle, the historic coastal town of Piran, and the Postojna Cave, among others.
7. Political System: Slovenia is a parliamentary democratic republic. The President is the head of state, elected by popular vote, while the Prime Minister is the head of government. The Slovenian Parliament consists of the National Assembly and the National Council.
Slovenia's integration into the European Union in 2004 has further strengthened its ties with neighboring countries and contributed to its economic and political stability. The country has a high standard of living and is known for its excellent healthcare and education systems.