Prayers And Screams At Gaza Hospitals As Anesthetics And Medicines Run Out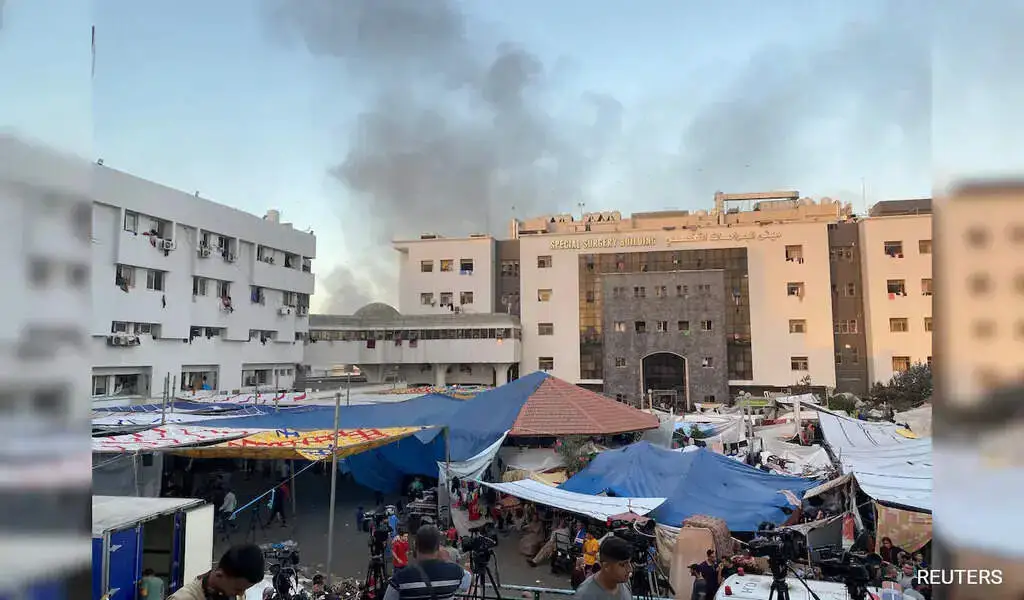 (CTN News) – At Al Shifa Hospital in Gaza City, the nurse stitched up the little girl's head wound without anesthetic because none was available at the time.
As nurse Abu Emad Hassanein described the struggles to deal with an unprecedented influx of wounded people and a shortage of pain relief medication since Gaza's war began a month ago, that was one of his worst moments.
Hassanein said that sometimes they are given sterile gauze to bite on to help reduce their pain.
"The pain they feel is more than anyone could imagine, beyond what someone their age could endure," he said, referring to the girl with the head wound.
When he arrived at Al Shifa for a dressing change and disinfectant application to a wound on his back caused by an air strike, Nemer Abu Thair, a middle-aged man, said he didn't receive any pain relief.
In response, he said, "I kept reciting the Koran until they finished.".
Hamas gunmen broke through the Gaza Strip's border fence with southern Israel on Oct. 7. According to Israel, 1,400 people were killed and 240 abducted.
According to Gaza health officials, more than 10,800 Palestinians have been killed as a result of Israel's air, sea, and ground assault on the densely populated, Hamas-controlled enclave.
Mohammad Abu Selmeyah, the director of Al Shifa Hospital, said that when large numbers of injured people arrive at once, they have to be treated on the floor without adequate pain relief.
According to him, 250 injured people arrived at Al Shifa, which has only 12 operating rooms, immediately after an explosion at Al Ahli Arab Hospital on Oct. 17.
"Waiting to operate on them one by one would have cost us many wounded."
During the surgery, we had to use simple anesthesia or weak painkillers to save lives.
Abu Selmeyah said Al Shifa staff have amputations, stitches up serious wounds, and treated serious burns under such circumstances.
OR DEATH OR PAIN
A patient either suffers pain or dies, so it's hard for the medical team.
Israel blamed a failed rocket launch by Palestinian Islamic Jihad for the blast at Al Ahli Arab Hospital. Palestinian Islamic Jihad and Hamas blame an Israeli air strike.
The United States, Israel's ally, said its own intelligence assessment supported Israel's explanation.
During the early days of the war, Nasser Hospital in Khan Younis, in the south of the Gaza Strip, ran out of anesthetic supplies completely until aid trucks began to arrive.
According to Zaqout, some procedures were performed without anaesthesia, including Caesarian sections on women, and some burns were also operated on without anesthesia.
The staff did their best to alleviate patients' pain with other, weaker medications, but this was not enough.
"This isn't the ideal solution for a patient inside an operating room, who we want to operate on under full anesthesia," he explained.
Aid was not allowed into Gaza for the first 12 days of the war. The first convoy of aid trucks crossed the Rafah Crossing into the Gaza Strip early on Oct. 21. There have been several convoys entering in recent months. Still, the assistance provided is nowhere near enough to mitigate the situation.
According to Zaqout, the shortage of anesthesia at his hospital has been alleviated by aid deliveries, but there is still a severe shortage at Al Shifa and Indonesian Hospital, located in the north of the strip that has been heavily bombarded.
SEE ALSO:
Spending On United Airlines Credit Cards Results In Frequent Flyer Points