3 Women Escape Human Slavery in Myanmar After Being Lured Via TikTok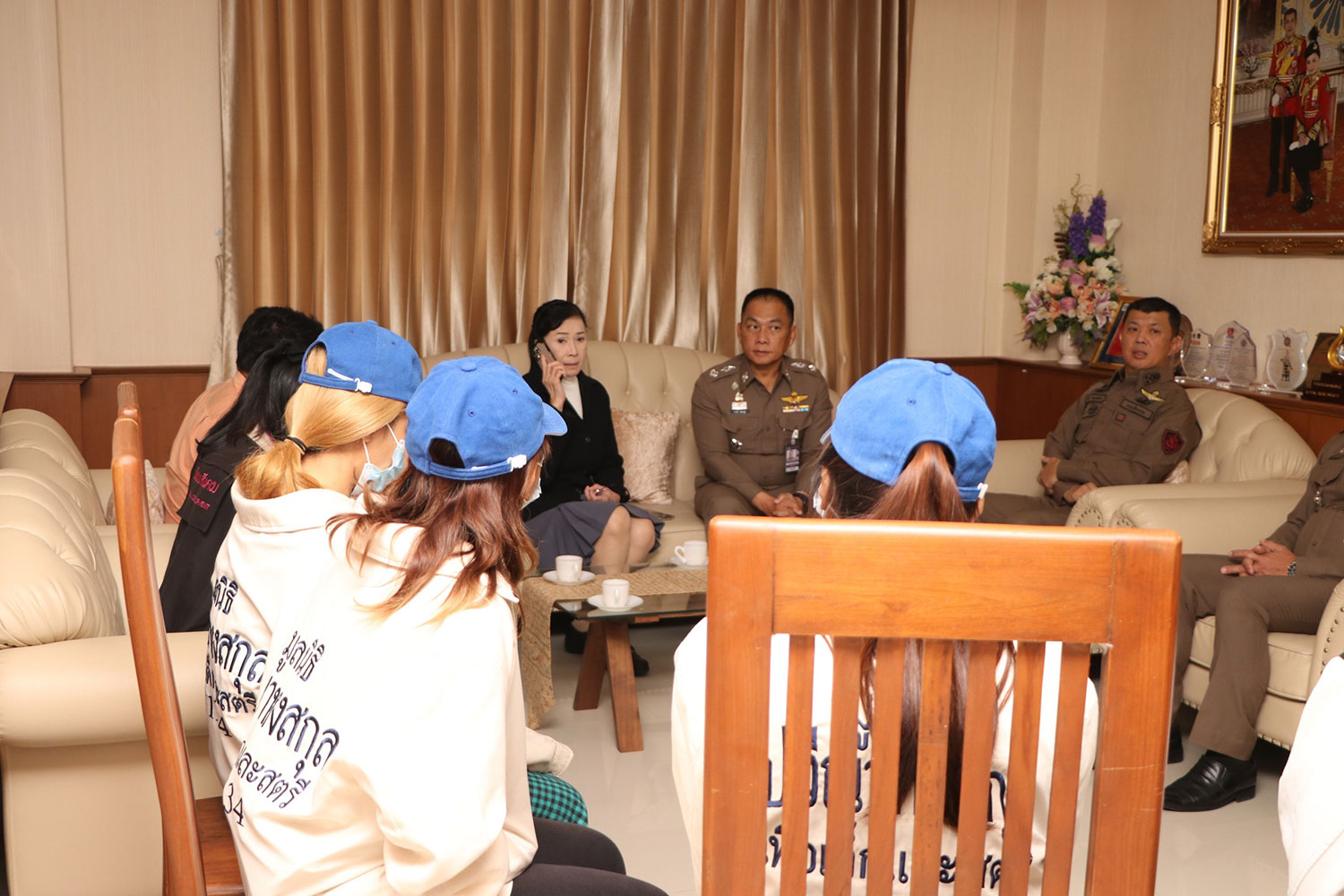 Three Thai women who were deceived into prostitution on TikTok by Chinese gangs in Myanmar have been repatriated, the founder of the Pavena Foundation for Women and Children told a media briefing.
Ms. Paveena Hongsakul stated that the foundation escorted Ms Mai, the mother of a 23-year-old victim and native of Chiang Rai, to Mae Sai the police station so she could meet two other young women and her daughter.
Ms. Paveena said she was informed that on May 18, a Ms. Mai was duped into travelling to Kengtung state in Myanmar by a TikTok advertisement; however, she was ultimately sold by Chinese gangsters in Mong Nawng, a hamlet in Shan state.
Her passport was seized, and she was forces into engaging in prostitution and substance use. Refraining would result in physical punishment.
Additionally, the tourism advertisement for Kengtung deceived the other two women into engaging in prostitution at Mong Pawk.
As a result of Ms. Mai's relatives contacting the foundation for assistance, Ms. Paveena coordinated with Myanmar police and Thai consular officials to provide aid to the Thai women.
Following their transportation to the police station, the three individuals were required to wait until a vehicle arrived to collect them. They opted to take motorcycle taxis to a border town in Chiang Rai in order to avoid the delay; however, the drivers of the motorcycle taxis held them captive for a total ransom of 5 million baht.
A male educator at the school where the women escaped the Chinese gang members escorted them to the police station in order to lodge a report. The police filed complaints and fined each of the three women 4,000 baht for unauthorised entry into the Shan State.
They subsequently spent three months in prison. The foundation expedited their repatriation to Thailand and provided financial assistance upon the conclusion of their term.
Myanmar a Base for Chinese Gangs
The Thai-Myanmar border is where Chinese organised criminal organisations employ trafficked "human slaves" to commit their crimes, according to a new report that implicates these groups in online scams and financial fraud that threaten internet users around the globe.
Chinese authorities have expelled these organisations from China, and they are currently active in Southeast Asian countries bordering China, including Laos, Cambodia, and Myanmar.
The expansion of these illicit enclaves has remained largely unimpeded, notwithstanding the "global security threat" characterization in the report.
Online schemes and fraud, which were previously directed at Chinese citizens, are now being directed at audiences around the world.
Scammers operate from Shwe Kokko, a recently constructed town in Karen state, Myanmar, which is situated on the border with Thailand. It seems that an autonomous development zone has been established in the area in recent years. A 31-mile stretch of the Moei River along the Myanmar border with Thailand is home to an estimated 5 million square metres of criminal office space," according to the USIP report, which identifies "at least 17 discrete crime zones."
The region is under the joint control of Chinese criminal investors and the Border Guard Force (BGF), a militia comprising Karen ethnic minorities that is subject to military authority in Myanmar. The report states, "Not only Shwe Kokko, but the entire region is changing into a series of criminal enclaves."
Following the departure of Chinese labourers from the region and their subsequent return to Beijing amidst the COVID-19 pandemic, criminal organisations "enticed international job seekers with enticing high-tech positions" before "trafficking them into cyber slavery across borders to participate in fraudulent financial schemes."
China has stated that it has been collaborating with the junta of Myanmar to combat illicit activity along the border. Chinese Foreign Minister Qin Gang arrived in Myanmar on May 2 and conferred with Senior General Min Aung Hlaing of the junta in the nation's capital, Naypyidaw.
After their meeting, Qin urged the Myanmar authorities "to take concrete measures to combat internet fraud, coordinate efforts with various departments to continue advancing the China-Myanmar-Thailand joint combat operation, and promptly rescue Chinese nationals who have become trapped," according to a post on the website of the Chinese Foreign Ministry the day after their meeting.