SUV Bursts into Flames, 3 Migrant Workers and Driver Burnt to Death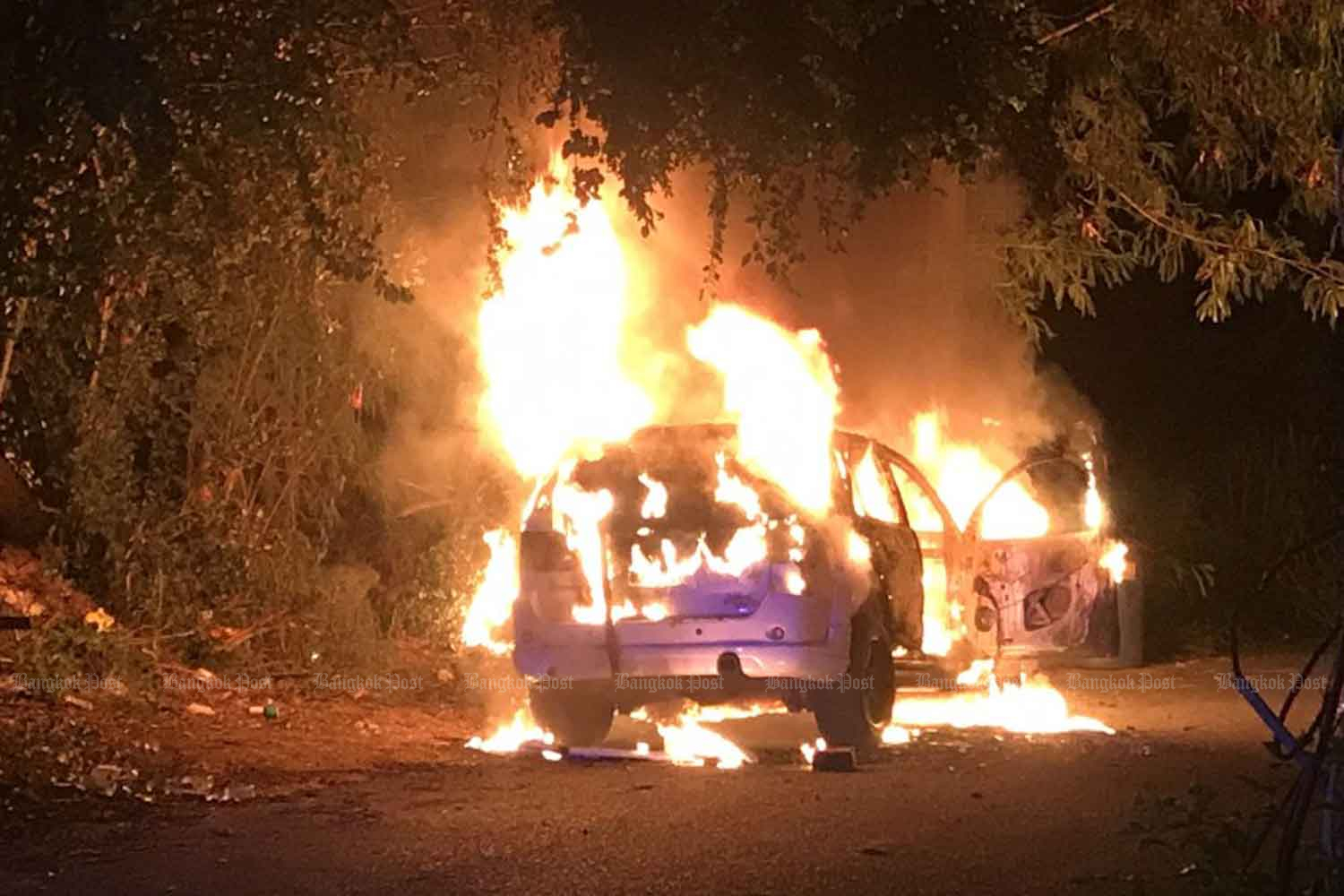 At 12.20 a.m. on Thursday, four individuals were killed when a Bangkok-bound SUV transporting migrant workers through the Bang Pa-in district crashed and burst into flames.
The event occurred on Highway 32, directly in front of Chiang Rak Noi School in tambon Chiang Rak Noi. The SsangYong Musso SUV, which was registered in Bangkok, fell over and caught fire shortly after residents heard an explosion.
Six critically injured migrants, three men and three women, were able to flee the van immediately before the explosion. They were transferred to the hospitals at Wang Noi and Bang Pa-in.
The fire that consumed the vehicle killed four others, including three migrant women and a Thai male driver. According to accounts, all of the migrants from Myanmar had entered Thailand illegally.
Police believe the driver was speeding and lost control of the SUV near Phahonyothin Highway. Screeching sounds were also recorded by witnesses, followed by a huge crash.

Pickup Crashes Killing Migrant Worker
Meanwhile, one migrant worker was killed and ten others were captured late Wednesday night after a pickup truck carrying them toppled in Sangkhla Buri district. A police officer was also hurt when one of three pickup trucks transporting migrant workers collided with him.
Around 10 p.m., a joint team of troops, police, and local authorities observed three suspected pickup vehicles rushing down a local road in Sanehpong village, Moo 3, in tambon Nong Lu.
Officers gestured for the vehicles to come to a halt for a search, but the drivers accelerated and fled. One of the vehicles struck and injured Pol Capt Pathiphan Yawan, the deputy crime suppression chief of the Sangkhla Buri police station. The cop was sent to Sangkhla Buri Hospital in critical condition.
Shortly after, the team received word that a pickup truck had crashed into a roadside ditch near a Nong Lu homestay.
When the officers arrived, they discovered that the vehicle was one of three vehicles involved in the smuggling operation. One victim was discovered dead inside the wreckage.
Officers searched the area and discovered a group of persons hiding in a nearby woodland. All were confirmed to be illegal migrant workers. They were made up of eight males and two women. Zaw Leng Gu, 22, was later identified as the deceased.
All migrants were handed over to Sangkhla Buri police station for legal proceedings.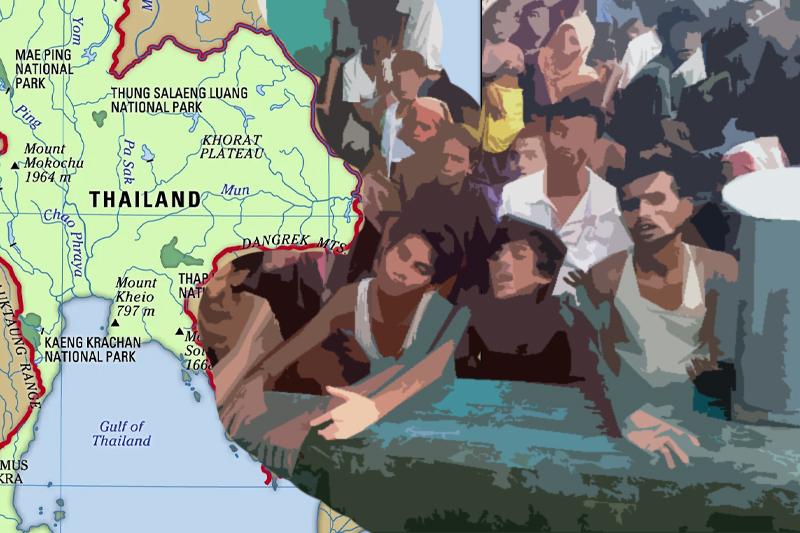 Migrant Workers Thailand
Illegal migration of migrant workers is a delicate and difficult subject that affects many countries, including Thailand. I can supply some generic information as an AI language model, but it's crucial to note that precise specifics and policies addressing illegal migrants in Thailand may have altered since my knowledge cutoff in September 2021. For the most up-to-date and dependable information, always examine current and trustworthy sources.
Thailand has long been a destination for migrants seeking better economic prospects and fleeing political upheaval or persecution in neighbouring countries such as Myanmar, Cambodia, and Laos. However, not all migrants enter Thailand legally, resulting in the presence of illegal migrants within the country.
To curb illegal migration, the Thai government has established a variety of laws and procedures. Border controls, immigration enforcement, and rare crackdowns on unauthorised migrants are among these measures. In the past, there have been cases of illegal immigration raids and detentions in Thailand.
In addition, the Thai government has taken attempts to resolve the issue through bilateral agreements and initiatives with neighbouring countries. Thailand, for example, has worked with Myanmar on the National Verification (NV) process to check and legalize the status of undocumented Myanmar migrants.
It is critical to recognise that the situation for illegal migrants might be difficult. They are frequently exploited, have limited access to essential services, and are always in risk of arrest and deportation. Human rights organisations have expressed concern about Thailand's treatment of illegal migrants, emphasising the importance of fair and humane immigration rules.
It is important to note that migration policies and approaches can change over time, so the most accurate and up-to-date information about the situation of illegal migrants in Thailand should be obtained from official sources or organisations working in the field of migration.