Indian Supreme Court's Refusal to Legalize Same-Sex Marriage: Impact on LGBTQ+ Rights
(CTN News) – Three bodies were found in the Sabarmati River in Ahmedabad, a large city in the western Indian state of Gujarat, in the summer of 2018.
As well as Asha's three-year-old daughter, two women, ages 30 and 28, had taken their own lives. The two girls scribbled a note in red lipstick on a wall by the river before they jumped in.
The inscription said, "We are leaving the world which will never allow us to be one," in Gujarati.
Both of the ladies had settled down with men and started families. Later, authorities discovered that they had met at the same workplace. Their family frequently fought once their friendship grew romantic.
They planned to make a lifelong commitment to one another. However, they were not permitted to do so by society or the law.
The news of the two women's deaths shocked 25-year-old Rohin Bhatt, a student at the National Law University in Gujarat. He felt a tremor in his moral compass.
Five years later, Bhatt was one of the leading proponents arguing for the legalization of same-sex marriages before India's Supreme Court, which last week declined to rule on the subject in a "heartbreaking setback" for the LGBTQ community.
The five-judge bench led by Chief Justice DY Chandrachud acknowledged that the LGBTQ community faces discrimination from the state, but it refused to engage in "judicial lawmaking" on same-sex marriage, stating that the issue was beyond the court's purview and should be taken up by the Indian Parliament. It also found that gay couples who are not married should not be allowed to adopt.
For the LGBTQ community in India, this verdict was a major setback. Many people were counting on the Supreme Court to finally let them marry the person they love.
We have been told that we do not merit full citizenship. We are unable to wed for legal reasons. Bhatt told Al Jazeera that "the buck has been passed to the government," which is "hostile to queer rights." As a lawyer and a queer person, I am personally affected by this ruling.
Last year, Bhatt and his partner, who wished to remain anonymous, met on Twitter (now X).
That first glance sealed the deal. We both indeed want to tie the knot, but we're in a bind," he told Al Jazeera.
At this point, everything is bound to change. It's not just about getting hitched. It's about the diversity of rights that spring up as a result of being acknowledged. People today gaze at us and treat us unfairly.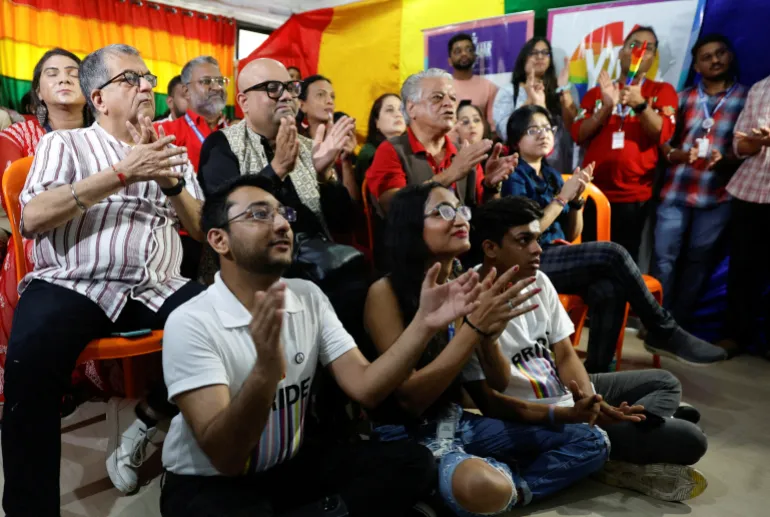 To us, people talk nonsense. A large number of solicitors pleaded these points of discrimination in court. However, the court ultimately decided against us.
Section 377 of the Indian Penal Code made it illegal to be a homosexual in India. This regulation was passed down from the British, who controlled India until 1947.
Consensual homosexual sex between adults has been illegal in India since 2001, when the Naz Foundation, an HIV/AIDS and sexual health charity, petitioned the Delhi High Court to change the law. The Supreme Court declared Section 377 unconstitutional in 2009.
Unfortunately for the LGBTQ community, in 2012 the Supreme Court reversed the Delhi High Court's judgement.
However, Prime Minister Narendra Modi's government argued before the Supreme Court that the demand for marriage equality was a "urban elitist" concept that had no place in a court of law in its objection to same-sex marriages.
When asked how same-sex marriages compared to the "Indian family unit concept of a husband, a wife, and children," the administration responded that they did not.
The ideological foundation of Modi's BJP, the Rashtriya Swayamsevak Sangh (RSS), was ecstatic over the Supreme Court's ruling minutes after it was announced.
Another extreme Hindu group, the Vishwa Hindu Parishad (VHP), expressed "satisfaction" with the court's decision that marriage between two homosexuals did not qualify for registration.
They have no such right under the Constitution. The VHP statement also lauded the decision to deny gays the chance to adopt a child.
Pooja Kumari (not her real name out of concern for her safety) is 25 years old and originally from the Bhiwani region of the northern Indian state of Haryana. She told Al Jazeera that same-sex relationships are especially fraught in rural parts of India.
You have no idea how challenging it is to justify my behavior to others. Women and men in the countryside only know how to do one thing: get married and have children. "In their eyes, my background means nothing," she explained.
Kumari is an urban dweller of western India, far from her own relatives.
My more educated older sister has a vague notion of my sexual orientation. Because I am a woman, I have been told, I must eventually marry a male. Marriage offers are made to them for me. So, what do I say to them? No one backs me up. She explained that she only received encouragement from the LGBT community.
Nitin Karani, a 52-year-old bank executive in Mumbai, was mentioned in Bhatt's plea to the Supreme Court.
In 2019, Karani wed New York City consultant Thomas Joseph. They had argued for the Special Marriages Act of 1954, which permits marriage between people of different religions or castes in India, to recognize their marriage or to allow them to remarry.
However, the Court has stated that it cannot create laws but "only interpret it and give effect to it."
The court ruled that if it "reads down" or "inserts words into the Special Marriage Act to give marriage rights to members of the LGBTQIA+ community," it would be going into the legislative domain.
Many LGBTQ people feel "left at the mercy" of Modi's governing BJP at this point.
Everyone knows the government doesn't care about giving us these freedoms. Not even a committee has been formed. Is there any chance? This is what Karani remarked.
Anish Gawande, a 27-year-old activist, is the founder and director of Pink List India. His organization tracks the steps that politicians in India have taken to support the LGBTQ community.
The truth is, this battle has only intensified. It's not really clear what needs to happen next. Which ones of them do we approach first? The court has failed to do its job. Bread was on the menu today. They haven't even left us a scrap of bread," he complained.
"It's important to realise that a slew of other liberties accompanies the freedom to wed. When a couple gets married, they have more protection from their relatives and the law than they did before. Marriage is more than just a social status symbol.
As a bonus, it shields the helpless from harm. The denial of this safeguard affects the most vulnerable members of society and is a far larger problem.
One of the petitioners before the Supreme Court, Rituparnah Borah, director of the queer feminist resource group Nazariya, told Al Jazeera that LGBTQ rights "do not start or end with marriage."
The point of life is not marriage. Safety from harm is… They need to pass legislation against discrimination, she remarked.
Our petition was about much more than that, though. The film also addressed the issue of homophobic violence within straight families. Unless there is legislation protecting us from discrimination, being married won't alleviate our difficulties.
The next day after the ruling, lawyer Utkarsh Saxena and PhD student Ananya Kotia got married in front of the Supreme Court building in New Delhi. Kotia posted a picture to Instagram of Saxena proposing to him on one knee.
Yesterday was painful. Utkarsh Saxena and I returned to the court that ruled against us today and legally married each other by exchanging rings. According to the photo's caption, "this week wasn't about a legal loss but our engagement."