Thai Farm Worker in Israel Watched Hamas Kill 6 of His Companions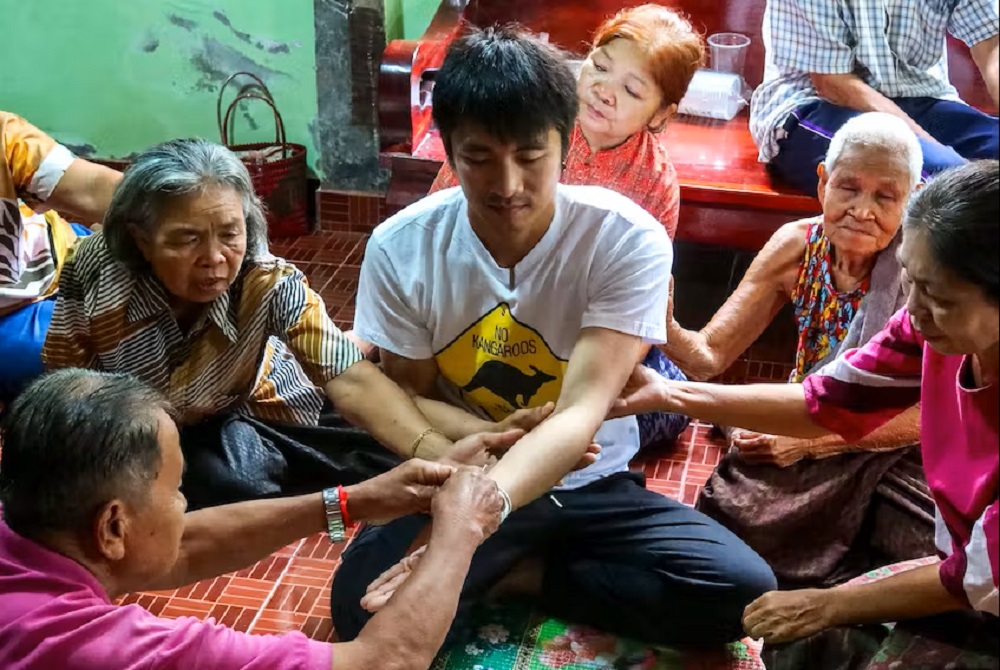 It was the "scariest day of my life," a farm labourer from Thailand who saw the murder of six of his companions when Hamas militants assaulted the Israeli kibbutz (village) where he was working.
Kittipong Chaiyako, 34, had been working for a year on an avocado field at the Kissufim kibbutz in southwestern Israel, close to the Gaza Strip, when sirens drove him to take shelter in a bomb bunker last Saturday.
About an hour later, Hamas fighters came and began opening fire on the kibbutz's inhabitants.
To hear the army and terrorists open fire on each other was the scariest thing I've ever experienced. During a customary homecoming ritual on Friday, Kittipong's loved ones tied threads to his wrist and sang to him as they welcomed him back to the province of Nong Bua Lamphu in the northeast of Thailand. "They were fighting and I had to duck and crawl to escape," he told Reuters.
The conflict was unfolding before my very eyes. Israeli forces opened out with heavy fire as Hamas approached. I saw the trucks go up in smoke as bullets ricocheted off the ground and towards our camp.
Hamas Murdered Thai Farm Workers
Though I was unaffected by what I saw, the faces of the six friends who lost their lives in the attack will never leave me. The loss is beyond words. Kittipong claimed he fled with only the clothes he was wearing and a mobile phone, leaving behind his things (including his passport).
Noopan Chaiyako, Kittipong's mother, sobbed as she hugged her son. She is 62 years old.
"We sent our son to work abroad to earn money to improve the family and then the war erupted," according to her. "If my son had been killed, how would I be able to live?"
Kittipong returned to Thailand with the first group of Thais repatriated from Israel earlier this week. The agricultural sector in Israel employs over 30,000 Thais, the vast majority of whom hail from the country's northeast.
On Saturday, at least 24 Thai people were killed, 14 were injured, and 16 were taken prisoner, according to the Thai foreign ministry's Friday statement. There are around 7,000 Thais that want to return home.
After witnessing the murder of his buddies in front of his eyes, Kittipong vowed he would never go back to Israel.
"We ate together, we joked around together, we worked together and had great times," he commented.
"Then this happened, I can't wrap my head around it."
Since Hamas's massive attack on Israel on October 7, three more Thai workers have been killed, and about 7,000 Thais have indicated a desire to return home.
Twenty Four Thai Killed in Israel
On Saturday, Prime Minister Srettha Thavisin announced that 24 Thais have lost their lives as a result of Israel's battle with the Palestinian Islamist Hamas.
Mr. Srettha stated, before departing the military airport in Bangkok's Don Mueang district for Phitsanulok province, that the number of Thais kidnapped and injured stood at 16.
He reassured the public that the government will keep working with relevant groups to quickly evacuate Thai nationals from the Middle Eastern country.
On Saturday morning, the prime minister reported that there were 7,000 Thais who had indicated their desire to return to Thailand.
He expressed appreciation to the commercial airlines, namely Thai Airways International (THAI), Nok Air, and Thai AirAsia, for their assistance in safely transporting Thai nationals back from Israel.
Mr. Srettha assured the public that the Thai government is still working to assist with evacuations. To help evacuate Thais, he personally reached out to the private sector, which had access to aircraft through China's airline. Each flight might bring 300 Thai people home.
He has already tasked the Department of Foreign Affairs with working with the private sector to achieve their shared goals.
According to the prime minister, Thailand is not involved in the dispute in Israel and has taken a neutral stance. He claimed it was his responsibility to mediate the conflict and ensure the safety of the Thai people.
The airport of Suvarnhabumi was expecting 57 Thai employees on Saturday night.
The Thai embassy assisted in the evacuation of 19 male workers, while the remaining workers paid for their own transportation.
A 35-year-old man named Boonchai Sae Yang, who was among the Thais who purchased tickets home, said he had worked roughly 7 km away from the attacked workers' camp.
Mr. Boonchai expressed his sadness over the death of a family member who had been employed at the camp.
Thai woman in Israel being held captive
Meanwhile, Thai national Natthawaree Mulkan's family is pleading with the government to locate and bring her home. It is believed that she is currently in Israeli captivity.
Boonyarin Srichan stated on Saturday that she had not heard from her daughter since she and her boyfriend Boonthom disappeared immediately after violence broke out in Israel the previous weekend.
The family has not heard anything from Thai officials, according to Ms. Boonyarin, 56. Avoiding news reports about Thai hostages in the conflict zone has been a priority for her.
People have been sending me these videos, but I just can't bring myself to watch them. She firmly stated, "I don't want to see it."
There have been 24 verified deaths and 16 confirmed injuries among Thai citizens since hostilities began.
On October 11th, Ms. Boonyarin received a video message from a Thai worker in Israel named Art, a close friend of Mr. Boonthom, in which Art recognised Ms. Natthawaree as a woman in a white blouse curled up in a caravan.
Mr. Art claims that Hamas members filmed the incident and then circulated it among Thai employees in Israel. Mr. Art informed us that Boonthom and Natthawaree had ridden their motorcycles away from camp in search of extra employment just before their capture.
"We are so worried, but there's not much we can do," Ms. Boonyarin added. We pray to the gods for their safe return, and we do good deeds in exchange. In seven months, her contract would have ended and she would have been free to return home.
According to rumours, Mr. Boonthom was living and working illegally in Israel. Ms. Boonyarin stated that the couple intended to wed once they returned to Thailand.
During her media appearance, she called Mr. Art, who introduced himself as Pichai Silueang and spoke with the journalist.
Mr. Art claimed that he had been evacuated from the farm where he was working in southern Israel and relocated further north, where there is no fighting.
He stated that he did not plan on going back to Thailand at this time, but that he would sign up for repatriation if he no longer felt secure there.