Hamas Kills 3 More Thais in Israel, Kidnaps Another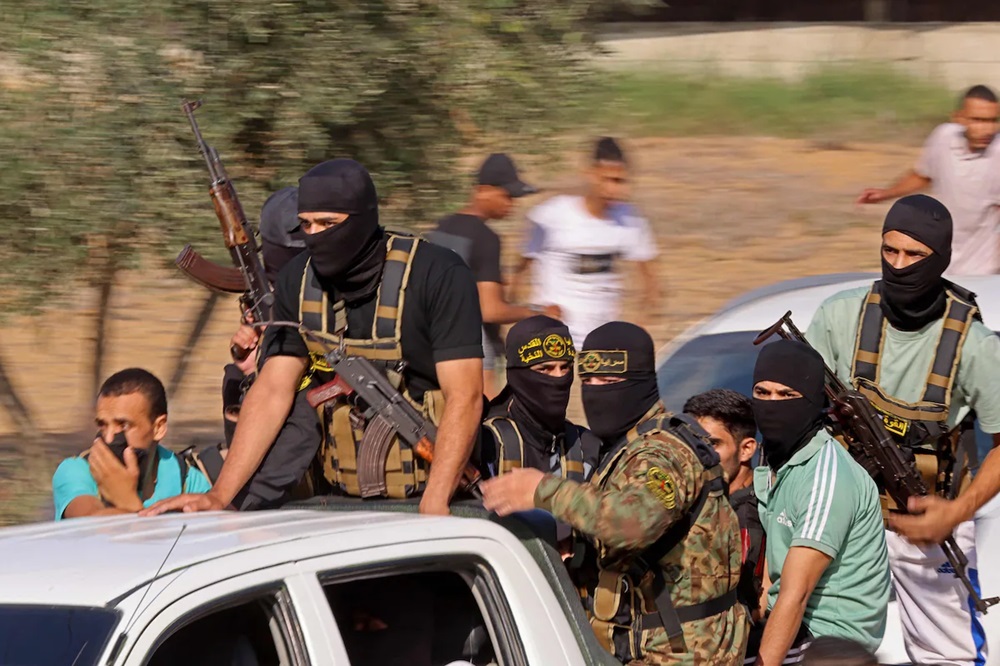 Thailand's Ministry of Foreign Affairs reports two more Thais citizens working in Israel have been confirmed dead, and another Thai worker has been kidnapped by Hamas terrorists.
Since Hamas terrorists launched their large-scale onslaught on Oct. 7, they have killed 34 and abducted 24 Thai citizens. According to the government, the number of Thais injured stands at 19.
The Thai government has been aggressively exploring a number of channels in its attempt to return hostages when it is safe to do so from Gaza.
Negotiation teams have met with Iran, Qatar, and Hamas representatives, and Prime Minister Srettha Thavisin spoke directly with Israeli Prime Minister Benjamin Netanyahu on Tuesday.
In a similar incident, the Thai embassy in Tel Aviv has shuttered its evacuation centre due to a significant decrease in the number of Thai personnel who have confirmed their desire to return home.
The embassy announced in a Facebook post that 35 evacuation flights have taken place since October 15, and the Tel Aviv facility was closed after the last flight departed on Friday.
It stated that returned Thai workers might claim reimbursement by presenting their evacuation aeroplane tickets to their local employment agency in Thailand.
The latest evacuation aircraft, operated by the Israeli carrier Arkia, arrived at Suvarnabhumi airport on Friday morning with 90 Thais aboard, according to the Ministry of Foreign Affairs.
It stated that from now on, evacuation flights will be given based on the amount of Thai employees ready to go to Tel Aviv to join an aircraft.
Prime Minister Srettha Thavisin has approved a 50,000 baht support award for returning Thai workers, along with extra 15,000 baht from the foreign workers' fund, according to Pairote Chotikasathien, permanent secretary of the Ministry of Labour.
Mr Pairote stated that approximately 700 Thai people had signed up to work in Israel but had been unable to travel there due to the conflict.
Thailand Readies Mass Evacuation plan for Israel
Meanwhile, Prime Minister Srettha Thavisin stated the government is considering a large evacuation of Thais in Israel as the Israel-Gaza conflict escalates.
He was speaking after chairing his first National Defence Council meeting on Thursday.
He stated that he had been warned that the war is likely to escalate into a regional confrontation in the Middle East, and that numerous countries whose residents were evacuated from Israel to Jordan and Lebanon had discussed measures to return their citizens home.
Thailand would also assess the situation and notify Thais in Israel if the war escalates, Mr Srettha said.
"We've learned that cyber warfare will be used, as well as drones." "We are concerned that the conflict will spread to [Israel's] neighbouring countries," he warned.
He went on to explain that practically all Thais who filed for repatriation in Israel have already returned home.
However, he stressed that the government is still concerned about individuals who chose to remain.
"Things are also becoming more complicated because the number of Thai workers who choose to stay in Israel is unknown." According to security officials, there are a significant number, many of them are illegal workers.
"However, that isn't a big deal. "Our primary concern is to locate them and inform them of the gravity of the situation," the prime minister stated. "We are willing to bring them home even though they are illegal workers."
"For those who remain in Israel, we want to ensure that we can communicate directly with them to inform them of the gravity of the situation."
"I will instruct the Ministry of Foreign Affairs and the Labour Ministry to find their names and telephone numbers," he stated.
He added that he visited cabinet ministers in charge of economic affairs and energy to discuss how to deal with the potential economic impact of a larger war.
According to Phairoj Chotikasatien, the Labour Ministry's permanent secretary, around 20,000 Thai workers desire to continue working in Israel because they are not in danger zones.
"We cannot force them to return home, but the government does not want any Thais there to risk their lives," he went on to say.
According to Israeli police, over 60 bodies remain unidentified.
"The Israeli authorities only said they are Asians, and we hope there are no Thais among them."
According to the Labour Ministry's Facebook page, 21,229 Thai workers are still in Israel, with 8,637 having returned as of yesterday. Twenty-three people were kidnapped, 18 were injured, and 34 were slain. There have now been 26 repatriations.
Meanwhile, Foreign Affairs Minister Parnpree Bahiddha-Nukara met Egypt's Foreign Minister Sameh Hassan Shoukry in Cairo on Wednesday.
The two sides reiterated their shared request for an immediate and long-term humanitarian truce with the international community.
They also expressed support for constructive conversation between Israelis and Palestinians in order to establish a peaceful and long-term solution.
Mr. Parnpree requested assistance from his Egyptian counterpart in determining how to facilitate the immediate release of the hostages, including Thai and foreign nationals, as well as access to the Rafah border crossing for released Thai hostages.
They discussed regional problems of mutual concern, and Thailand praised Egypt's strong engagement in the global arena.
The two sides also talked about their long-standing collaboration, with a focus on the 70th anniversary of bilateral diplomatic relations in 2024.
They confirmed their willingness to promote cooperation in a variety of areas using existing structures for mutual benefit.
Mr Srettha posted on X, formerly known as Twitter, that his Malaysian counterpart had called him to express concern about the Thai captives detained by Hamas.
He stated that Malaysia was willing to assist the Thai government in safely repatriating all Thai workers.