The Magic KumKumadi Oil For Various Skin Issues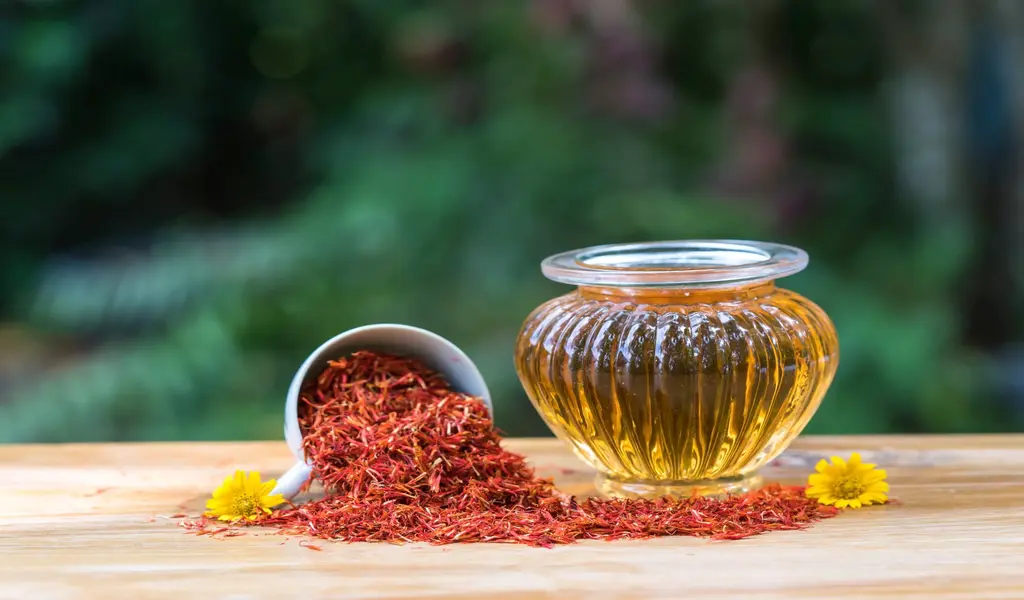 The Kumkumadi oil, also known as Kumkumadi Tailam, is a herbal oil that is highly regarded for its effectiveness and formulation when used as an Ayurvedic facial massage oil. Kumkumadi oil contains many effective herbs (plants, flowers, fruits, and milk extracts) which can soften, lighten, and brighten the skin. Kumkumadi oil has an antibacterial trait. Therefore, it is used as an antiseptic herbal oil in addition to its antibacterial properties.
Regardless of our skin types, concerns, or ages, Kumkumadi oil is one product we should and can use. It is an excellent skincare product.. This ayurvedic recipe maintains skin health and treats skin issues like acne, acne scars, pigmentation, dark spots, dark circles around the eyes, oily skin, fairness, wrinkles, fine lines, and anti-ageing. A healthy way of radiant and beautiful skin is by using Kumkumadi oil.
In addition to being packed with natural antioxidants, Kumkumadi oil is one of the best skincare products to prevent skin aging. Besides removing wrinkles and fine lines, Kumkumadi oil also keeps mature skin supple and supple by containing saffron with healing properties.
What Is Kumkumadi Oil?
Kumkumadi oil is a well-known Ayurvedic herbal oil highly regarded for its effectiveness in facial massages. Kumkumadi oil contains several potent herbs, including lightening and softening the skin. Kumkumadi oil has antibacterial properties, so it is often used as a herbal antiseptic oil.
This oil has been used for centuries for skincare, and it has been proven that this oil has a whole host of benefits, including treating acne, acne scarring, pigmentation, dark spots, dark circles under the eyes, oily skin, fairness, wrinkles, fine lines, and anti-aging. Kumkumadi oil leaves the skin looking and feeling youthful.
Kumkumadi oil contains a high concentration of natural antioxidants, which aids in preventing wrinkles and fine lines associated with aging. Saffron also appears to aid in the prevention of wrinkles.
How Does Your Face Become Dull And Lack Glow?
The accumulation of dead skin cells as a result of poor lifestyle habits and poor lifestyle habits leads to skin problems, and your skin doesn't have its glow. It is believed that dull skin has an uneven tone and feels rough and dry. According to Ayurvedic science, dull skin is a sign of vitiation of your body's doshas, and certain factors may affect these doshas.
When the skin is exposed to air pollutants, it appears dull and free radicals accumulate, damaging it and resulting in premature wrinkles, pigmentation, and uneven skin tone.
Your skin can become deflated and dull as the moisture beneath its surface decreases, especially as you age, developing fine lines and wrinkles that are even more noticeable.
Having excess dead skin cells make your skin look dull and lackluster. Our skin constantly sheds millions of dead cells, but some may not fall off naturally. Therefore, your complexion becomes dull, lackluster, and unhealthy.
A person's skin can be irregularly colored (pigmented) due to sun damage and pollution.
A variety of factors can affect your skin's health, including stress, lack of sleep, and what you eat. The good news is that you can transform dull skin into glowing skin without using a lot of skincare products. If you adopt healthy habits and use Kumkumadi face glowing oil as your Ayurvedic oil blend, you can treat all these skin problems. This oil rejuvenates your skin from the inside when applied overnight and enriched with pure herbal ingredients.
In What Time Frame Does Kumkumadi Oil Start Delivering Results?
Kumkumadi oil is made to maintain a healthy and radiant complexion. If you desire to see the best results, you will have to use it for as long as you wish to maintain your healthy skin. In the event you ask for the time to make use of this product, you will begin to see positive results within the first month of using it.
Are Kumkumadi Oils Spf Protected?
With Saffron and lotus Extracts, Kumkumadi Sunscreen provides the skin with protection, moisturizer, and natural illumination while providing antioxidants. This sunscreen contains antioxidant-rich Saffron and lotus Extracts that help to keep the skin healthy, hydrated and glowing. Alongside, protecting the skin from UVA/UVB rays and sun damage, it also contains SPF 50 PA++++.
Kumkumadi Oil Benefits For The Skin
There are a number of herbs handpicked from nature's gardens that make up Kumkumadi Oil or Kumkumadi Thailam. These ingredients contribute to the body's capacity to regenerate and ensure healthy skin.
1. Enhanced Skin Complexion
Kumkumadi Tailam is an excellent treatment for dark spots and pigmentation because of its healing and rejuvenating properties derived from sandalwood, saffron, turmeric, and milk. After years of research, its formula has been developed to improve skin texture and complexion.
2. Better Skin Tone and Natural Radiance
Kumkumadi Oil is formulated with saffron, which gives your skin an added youthful glow and boosts blood circulation. Additionally, the herbs present in this oil possess antioxidant properties.
3. Regular Skin Care
A good skin care routine should include Kumkumadi Thailam's skin-brightening herbs, known as Kantivardhaka. It helps rejuvenate your skin, improve your complexion, and restore youth to your skin.
4. Reduces Pigmentation Marks
In addition to treating pigmentation problems, Kumkumadi oil also acts as a toner for the face. It helps alleviate pigmentation problems, dark spots, and uneven skin tone caused by Vyanga. As a result of inhibiting melanin production (natural pigment in the skin), it lightens the skin and removes dark spots. Licorice root extract is also added to the oil, a potent herb that inhibits an enzyme responsible for pigmentation caused by exposure to the sun.
5. Reduces Signs Of Aging
Aside from its anti-ageing effects, this oil is also praised for its elasticity and firmness. Regular use reduces early signs of aging, giving your skin a youthful appearance. By regenerating skin cells, this oil helps to prevent dark spots, fine lines, wrinkles, and other signs of premature aging. It also increases the skin's firmness and elasticity.
Three Simple Steps To Use Kumkumadi Oil
There are three steps to using Kumkumadi Tailam as our Kumkumadi Oil-based night serum. Follow the steps below to lighten and refresh dull, pigmented, damaged and aging skin with a treatment that is based on Kumkumadi Oil.
1. Pre-Oiling
It is recommended to wash your face at night after cleansing it with Pure Rose/Mogra/Lavender/Vetiver water as usual. Once you have washed your face, moisten your skin with water.
2. Facial Oiling
Kumkumadi Night Serum should be applied over the face with fingertips after you have taken two to three drops of the product from your palm, gently massaging the serum into the skin until it has been absorbed fully.
3. Post-Oiling
If you are looking for the best results, you should allow the Kumkumadi Night Serum to work overnight. You should wash it the following morning with a mild natural cleanser.
When Is The Best Time To Use Kumkumadi Oil?
Kumkumadi Face Oil has been proven to have great therapeutic qualities, but you must apply it overnight to fully experience its benefits. This rejuvenating oil deeply penetrates the skin layers and works like magic all night to give you healthy skin that looks youthful and radiant.
When it comes to oily skin, wash it after 3 hours after it has been applied.
Where To Find The Best Kumkumadi Oil For Skin?
1. Shubhr Kumkumadi Skin Glow Oil (Body Polishing and Nourishing)
In addition to providing a radiant complexion, Shubhr Kumkumadi Skin Glow Oil also helps to reduce stretch marks after pregnancy and improve the appearance of scars. In addition to giving an even skin tone and moisturizing and nourishing the skin, this light-textured oil is also enriched with vitamins A, C, and E. Kumkumadi Oil and Almond Oil are rich sources of vitamins A, E, and C, bringing life to dull, tired skin. Skin Glow Oil is an amazing product that will make you fall in love with its aromatic aroma and quick-absorbing texture.
Key Benefits
Using pure Kumkumadi oil, the creamy lotion nourishes and enriches skin's natural beauty, enhancing its natural glow, while helping to keep it hydrated and soft.
Luxurious Saffron & Sandalwood Aroma
It is characterized by a mild, soothing aroma that is complemented by the natural warmth that comes from Saffron and Sandalwood; these herbs are also known for their rejuvenating abilities.
Reduces Stretch Marks and scars
The skin-repairing oil promotes a healthy and balanced complexion by providing natural hydration, helping to alleviate the appearance of stretch marks and scars. It also gives the skin a toned and even glow.
Ease of Use
You can use Blue Nectar Kumkumadi Skin Oil regularly for 15-20 minutes to moisturize your skin and make your skin smell wonderful because of the presence of Almond oil and Olive oil.
1. Kumkumadi Tailam Face Serum For Glowing Skin (Pure Sandalwood & Saffron)
The Kumkumadi Tailam face serum contains 26 Ayurvedic herbs and is a 100% Ayurvedic formula for glowing skin. Kumkumadi face brilliant oil, as its name suggests, helps brighten the skin and reduce pigmentation marks, which makes it the best skin brightening oil. In addition to helping firm the skin, Kumkumadi T serum also prevents signs of aging. The Kumkumadi Face Serum has been tested by 100% of consumers and has been proven to produce younger-looking, brighter and healthier skin. Kumkumadi Serum does not contain any chemicals, preservatives, or mineral oils and it was reported to deliver results within 28 days.
Key Benefits
As the Kumkumadi serum moisturizes the skin, it works to eliminate pigmentation marks as well as dark spots on the face as well as boost the skin's natural elasticity by moisturizing the skin.
Kumkumadi Face Glowing Serum helps improve skin radiance and brightness. It is even clinically proven to increase skin brightness in 28 days.
Clinical studies have proven that Kumkumadi serum reduces wrinkles in 28 days. 94% of participants felt their skin was firmer and younger after taking the serum.
Final Thought –
It has been revered and time-tested in Ayurvedic tradition for centuries as a beauty elixir. In addition to improving skin complexion and reducing blemishes, it rejuvenates and nourishes the skin with its potent blend of natural ingredients. Kumkumadi oil is a versatile and reliable choice for addressing specific skin concerns as well as improving your skin's overall health and radiance. Nevertheless, it's important to note that individual results may vary, so performing a patch test before using it extensively is recommended.