Breast Cancer Screening With AI Is As Good As 2 Radiologists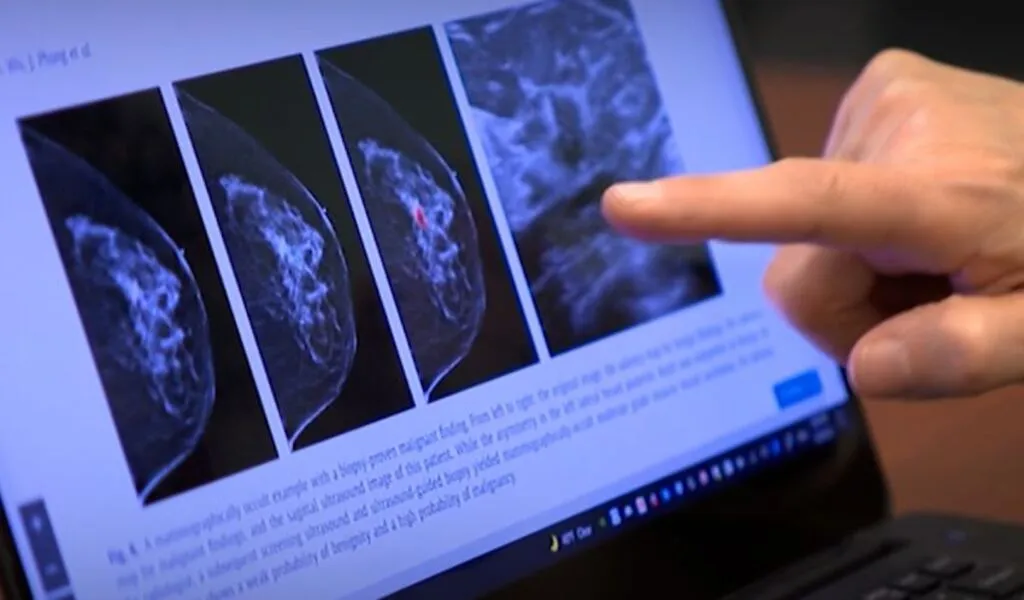 (CTN News) – According to the world's most comprehensive trial, using artificial intelligence for breast cancer screening is safe and can almost halve radiologists' workload.
Globally, more than 2.3 million women get breast cancer every year, according to the World Health Organization.
Screening can improve prognosis and reduce mortality by catching breast cancer early. AI screening is as good as two radiologists working together, doesn't increase false positives, and almost halves the workload.
A randomised controlled trial involving more than 80,000 women published interim safety analysis results in Lancet Oncology.
The previous studies on AI and mammograms looked at scans that clinicians had reviewed retrospectively.
A new study compared AI-supported screening directly with standard care in women from Sweden aged 54 on average.
The scans were assessed by two radiologists, while the other half were screened by AI, then interpreted by one or two radiologists.
With AI-supported screening, 244 women (28%) had cancer compared to 203 (25%) with standard screening. AI helped detect 41 more cancers, 19 of them invasive and 22 in situ.
AI didn't increase false positives, where scans are misdiagnosed as abnormal. Both groups had a false-positive rate of 1.5%.
In the AI group, radiologists read 36,886 fewer screens than in the standard care group, resulting in a 44% reduction in their screen-reading workload.
The final results, which will determine whether AI reduces interval cancers – cancers detected between screenings that have a worse prognosis – and whether AI is justified for screening, won't come out for a while.
According to the interim analysis, AI-supported mammography screening had a similar cancer detection rate as standard double-reading.
We still need to understand what this means for patients' outcomes, like whether it can help detect interval cancers that are often missed by traditional screening, as well as how cost-effective it is.
"AI's greatest potential right now is that it could allow radiologists to read less.
"While our AI-supported screening system requires at least one radiologist to detect, it could potentially eliminate the need for double-reading of most mammograms, lowering workloads and allowing radiologists to do more advanced diagnostics while reducing patient wait times."
He hailed the "high quality" study, but said AI-driven increases in breast cancer detection might include overdetecting relatively harmless lesions. Duffy, a professor of cancer screening at Queen Mary University of London, was not involved in the trial.
The results of this paper include a higher detection rate of ductal carcinoma in situ, which may be overdiagnosed, he said.
Breast Cancer Now's research communications head Kotryna Temcinaite says final trial results will determine whether AI can improve breast cancer screenings.
"Urgent issues" in breast screening programmes, such as outdated IT systems, must be addressed, she said.
According to NHS England, the research is "very encouraging" and they're already exploring how AI can speed diagnosis for women and detect cancer earlier.
Dr Katharine Halliday, the president of the Royal College of Radiologists, said: "AI holds huge promise and could save clinicians time by maximising our efficiency, supporting our decision-making, and helping identify and prioritise the most urgent cases."
SEE ALSO:
The COVID-19 Reports For New Mexico Show An Overall Decrease