Future Of Streaming: How Extra Incentives Can Shape The Industry's Trajectory?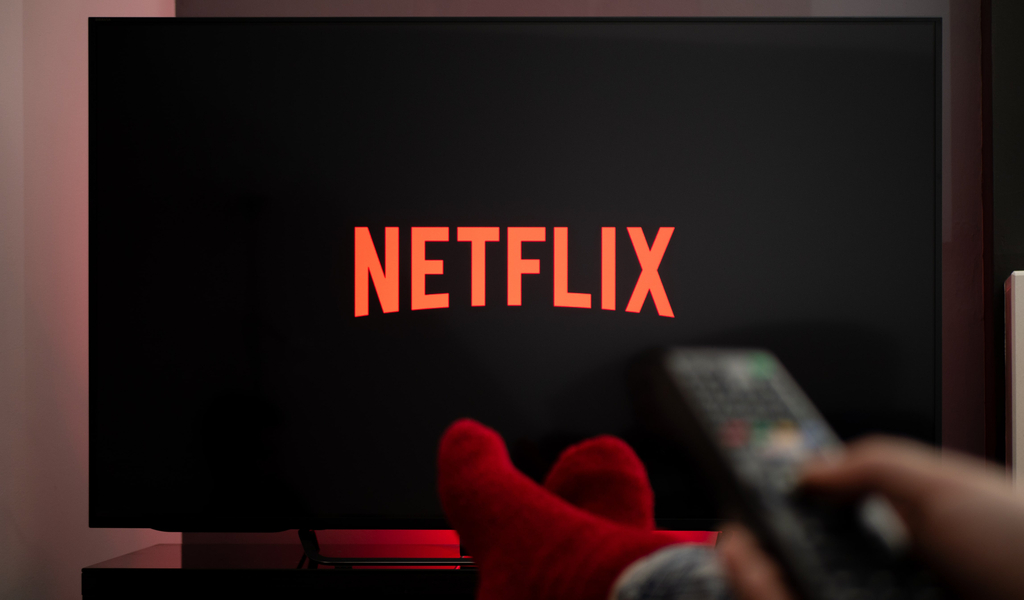 (CTN NEWS) – With the continually rising costs of streaming services, one might wonder if we have reached a saturation point where the only way forward is a decline in subscriptions.
However, a recent study conducted by Ernst & Young, titled "Decoding the Digital Home" (as reported by Insider), suggests that there are strategies to entice consumers to subscribe to even more services.
These strategies involve offering attractive extras, such as discounts, complimentary products, and bundled offerings.
Effective Incentives for Streaming Service Subscriptions: Discounts and More
According to the study's findings, the most effective incentive for persuading individuals to subscribe to a streaming service is to include discounts on shopping or e-commerce.
A significant 50% of respondents expressed their willingness to subscribe if such discounts were offered.
In a joint second place, with 48% of participants showing interest, were two compelling incentives. The first is bundling the streaming service with a broadband or internet subscription, and the second is providing discounts for various events.
For 45% of those surveyed, the inclusion of an additional streaming platform subscription or pass would be a convincing reason to sign up. Meanwhile, 40% indicated their preference for a service that offers discounts on consumer technology products.
As expected, the least appealing incentive among respondents was the offer of free digital products such as NFTs or digital art, which garnered interest from just 28% of those surveyed.
While many streaming services emphasize their exclusive content, such as Netflix's "Stranger Things" and Disney+'s "The Mandalorian," it appears that offering supplementary perks alongside subscriptions can be just as enticing as accessing these unique shows.
In the United States, a significant 59% of survey respondents expressed interest in streaming packages that include additional streaming services or broadband/internet services.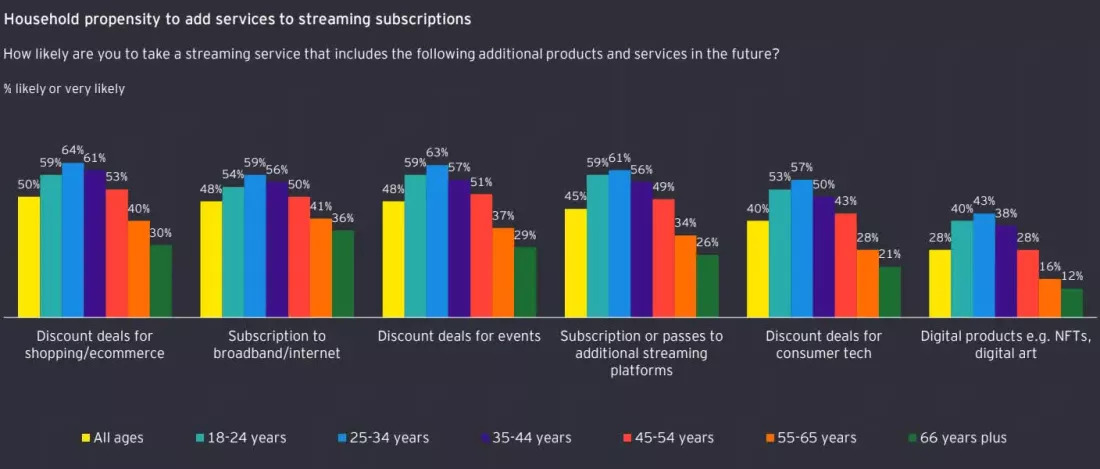 Streaming Services with Extra Offerings: A Growing Trend Among 25-34-Year-Olds
Interestingly, the study revealed that the age group most inclined to embrace streaming services bundled with extra offerings is the 25-34 demographic.
Several companies have already ventured into the realm of subscription bundles that encompass multiple channels. For instance, Disney provides bundles that encompass Disney+, ESPN+, and Hulu, albeit at an additional cost.
It's worth noting that Disney, like many others, has recently raised its subscription prices. The cost of subscribing to the top US streaming services now stands at $87 per month, marking a $14 increase from the previous year's $73.
Nevertheless, despite these price hikes, people continue to embrace streaming while reducing their reliance on traditional cable TV.
A recent Nielsen report indicated that linear TV viewership among US audiences has dropped below 50% for the first time in history.
The Ernst & Young study conducted its research online, surveying 21,000 households during March and April. Participants hailed from various regions, including the United States, United Kingdom, Canada, and several countries in the European Union and Asia.
RELATED CTN NEWS:
PayPal Unveils "On And Off-Ramps" For Web3 Payments And Enhanced Digital Currency Access
MGM Resorts Faces Extensive Operations Disruption Due To Major Cybersecurity Incident
X (Formerly Twitter) To Begin Biometric Data Collection And Expand User Information Gathering