2024 Toyota Land Cruiser Makes Resounding Comeback To North America With A Fresh Retro-Inspired Design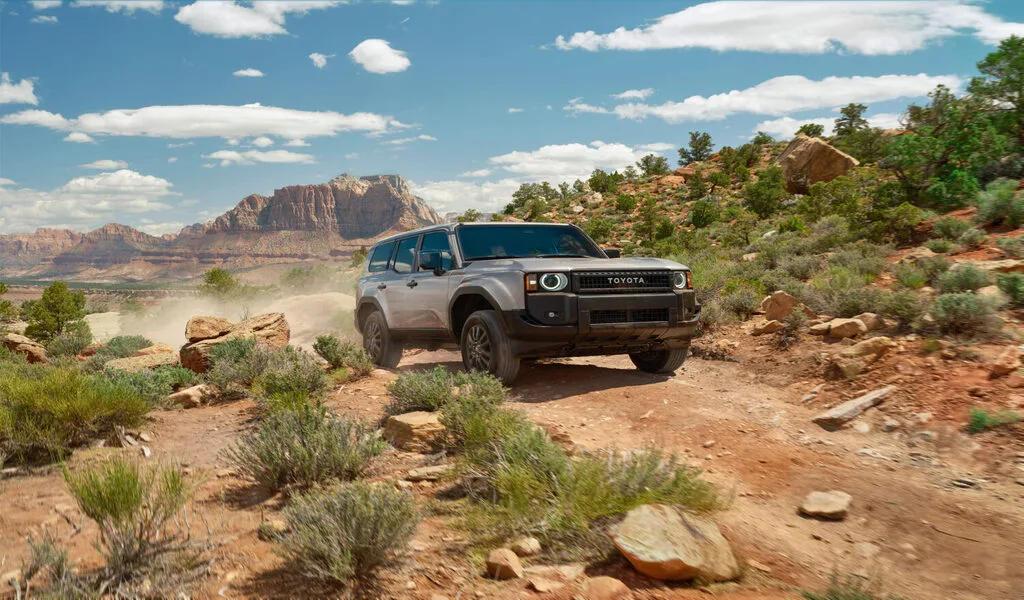 (CTN NEWS) – In a remarkable resurgence, the Toyota Land Cruiser is set to make its return to the North American market a mere three years after its discontinuation, sporting an entirely fresh, retro-inspired design.
Beyond its captivating aesthetics, the revamped Land Cruiser will boast a more affordable price tag compared to its previous iteration.
This development aligns with the prevailing trend of enhancing off-road capabilities in modern vehicles, and there has been a significant surge of interest in vintage truck-like SUVs.
Notably, Ford capitalized on this enthusiasm by reviving the Bronco off-road SUV in 2021, drawing from its own legacy. Similarly, the Toyota Land Cruiser enjoys a devoted and fervent fan base.
The all-new Land Cruiser presents a slightly more compact form than its predecessor, which was last available for purchase in the United States during the 2021 model year.
The prior version shared a close kinship with the luxurious Lexus LX SUV and was renowned for its opulence, commanding an entry price of over $80,000.
However, the upcoming Land Cruiser's starting price is anticipated to hover around $55,000, accentuating its roots as a robust off-road warrior rather than a mere comfortable city dweller. As per the current projections, it is slated to hit the US market in the spring of 2024.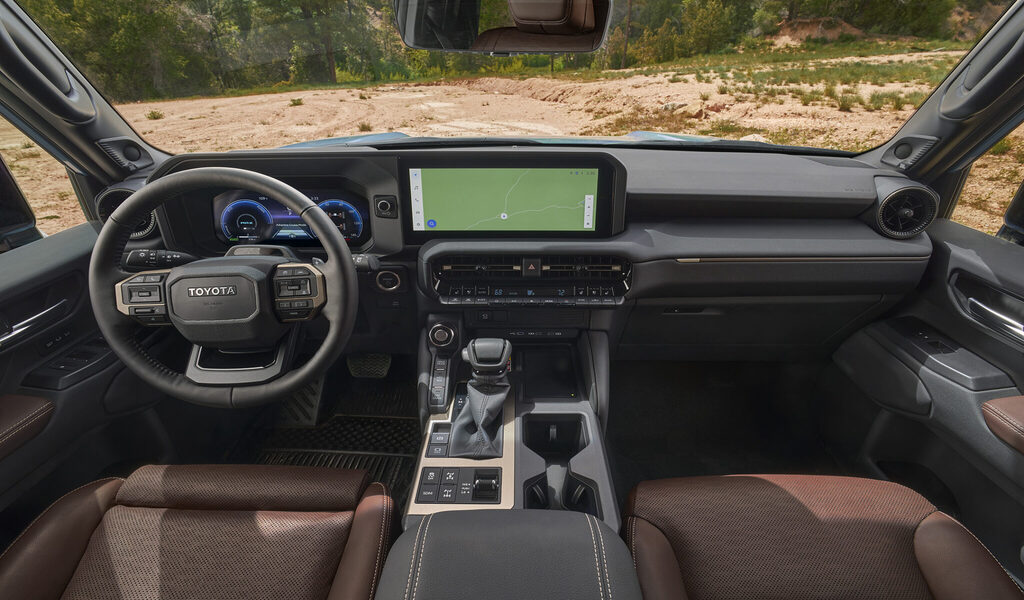 Toyota Land Cruiser 1958 Edition: A Fusion of Classic Heritage and Modern Hybrid Power
For those enthusiasts yearning to delve into the illustrious history of the Land Cruiser, Toyota is offering a special treat in the United States: the Land Cruiser 1958 Edition, commemorating the very year when this iconic model was first introduced to the American market.
This exclusive edition will showcase timeless design elements, such as round headlights in lieu of the conventional narrow, rectangular lights.
Additionally, a limited production run of 5,000 First Edition models will be made available, featuring alluring two-tone paint and augmented off-road equipment.
Although embracing a classic appearance, the 2024 Land Cruiser will be equipped with modern hybrid power.
This SUV will harness the collaborative force of a 2.4-liter four-cylinder gas engine and an electric motor, synergizing to unleash an impressive total output of up to 326 horsepower. Further details about its fuel economy will be disclosed by Toyota at a later date.
In an era where fully electric vehicles are gaining prominence, Toyota remains steadfast in its commitment to hybrids, viewing them as pivotal in the collective effort to curtail global carbon emissions.
Coinciding with the grand unveiling of the Land Cruiser, Toyota shared the jubilant news of nearly doubling its quarterly profits, an achievement attributed to heightened production and sales, along with favorable currency exchange rates.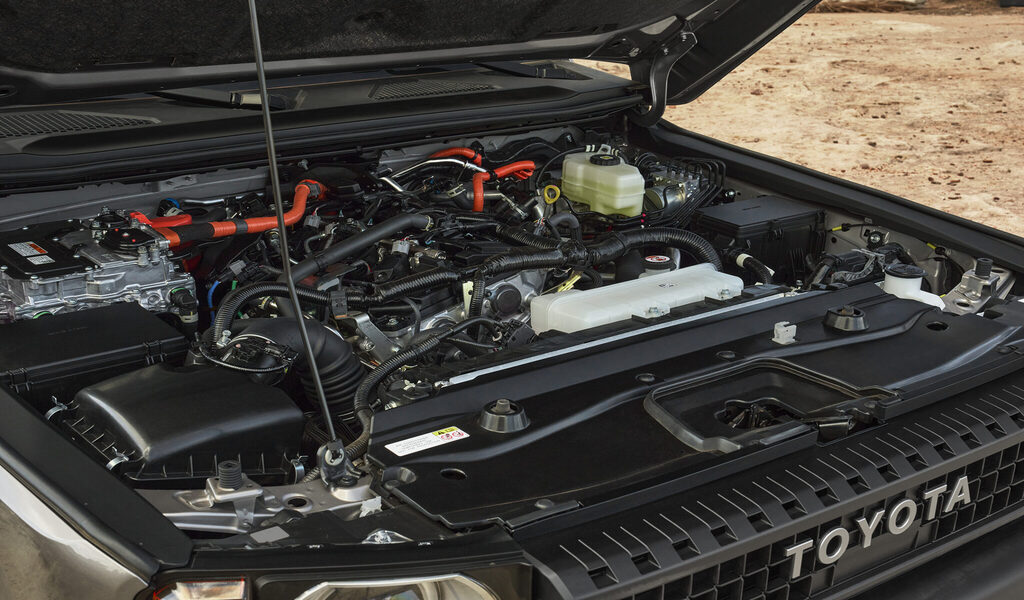 Unveiling the Land Cruiser: A Journey Through History and Unyielding Resilience
The grand revelation on Tuesday coincides with a significant date often regarded as the Land Cruiser's birthday.
The Land Cruiser's origins can be traced back directly to the early days of the Korean War when the US military sought a companion vehicle to work alongside their renowned Jeeps in the Korean peninsula.
Notably, Toyota had previously manufactured four-wheel-drive vehicles, including large amphibious landing craft, for the Japanese military during World War II.
The endeavor led to the creation of a prototype known as the Jeep BJ, and the first production model rolled off the assembly line on August 1, 1951, as shared by Kurt Williams, a director of the Land Cruiser Heritage Museum in Salt Lake City.
While the initial vehicle failed to secure the military contract, Toyota recognized the potential of this compact off-roader and continued refining its design. By 1955, it was officially named the Land Cruiser, a moniker symbolizing its versatility in conquering any terrain.
Upon its introduction to the US market in 1958, only a solitary Land Cruiser was sold in its inaugural year. However, a subsequent version with improved off-road capabilities and enhanced build quality emerged around 1960.
Thanks to Toyota's expanded US dealer network, known as the Series 40, this Land Cruiser became the best-selling Toyota model in the US for five consecutive years.
To this day, many American drivers are familiar with its iconic features, such as round headlights and the distinguished "Toyota" lettering on the grille.
Across various corners of the world, especially in regions with challenging roads and limited service centers, Toyota Land Cruisers have become ubiquitous.
Despite lacking the advanced technology and luxury amenities found in many contemporary vehicles, these rugged Land Cruisers are highly sought after for their durability, ease of repair, and remarkable ability to traverse treacherous conditions, as described by Williams.
"Some individuals rely on it as their sole vehicle due to its adaptability to myriads of environments," he explained.
"Whether managing a coffee plantation in Latin America or operating a mine in remote Australia, the Land Cruiser consistently ensures a safe commute to and from work or a secure journey back home every night."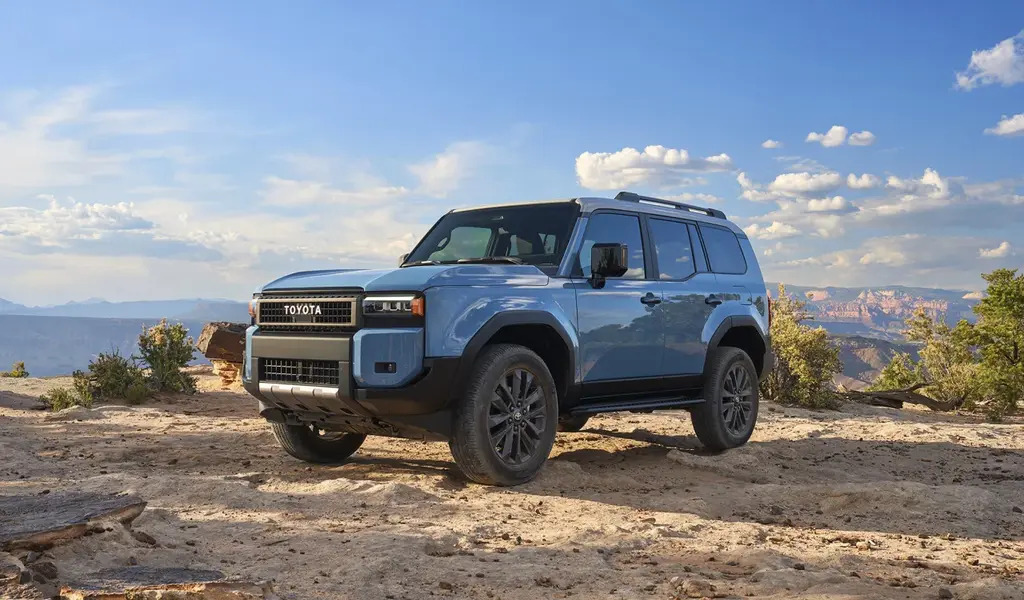 Classic Land Cruisers: A Steady Rise and Sustained Collector's Appeal
According to Brian Rabold, the vice president of automotive intelligence at Hagerty, a leading company in monitoring collectible vehicles, early Land Cruisers, and other vintage SUVs have garnered immense popularity in the collector market.
Toyota Land Cruisers, in particular, were among the pioneering SUVs that experienced a remarkable surge in value.
During the period from 2010 to 2015, classic Land Cruisers emerged as one of the first older SUVs to be valued at over $100,000.
While the values of Land Cruisers and other vintage SUVs have slightly leveled off in recent years, there remains a keen interest in these timeless vehicles.
As evidence of their enduring appeal, a customized 1970 Land Cruiser, equipped with modern enhancements, was recently auctioned on the website BringATrailer, fetching an impressive price of $270,000.
Such noteworthy transactions underscore the unwavering allure and desirability of these iconic SUVs in the collector's market.
RELATED CTN NEWS:
Subway Launches "Free Sandwiches For Life" Contest, Asks Fans To Change Their Name To "Subway"
Indonesia Unveils Pioneering State-Backed Cryptocurrency Bourse To Foster Crypto Market Growth
India's IPO Frenzy: Small Firms Steal The Show With Impressive Offerings Upto Sub-$100 Million In 2023