Russia Fired 36 Cruise Missiles At Ukraine, Killing 1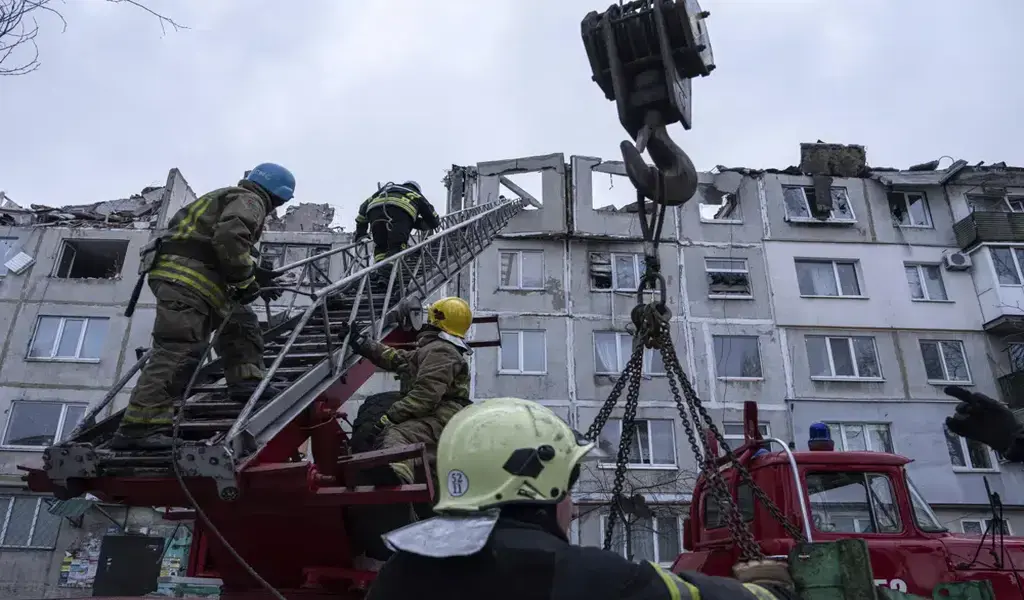 (CTN NEWS) – KYIV, Ukraine –  On Thursday, Russia fired 36 cruise missiles over Ukraine following the discovery of six radar-reflecting balloons.
Several missiles were fired from land and sea, killing a woman and damaging critical infrastructure.
Referencing the balloons above Kyiv, Ukraine noted a change in Russian tactics. A majority of the balloons were shot down, Kyiv's military said, adding the wind propelled them.
Social media images show an unsophisticated design, with a radar-reflecting cross-shaped structure trailing under the balloon.
Recently, reflector-equipped balloons have also been spotted over Dnipropetrovsk's eastern region.
"These objects may contain radar reflectors and certain reconnaissance equipment," said Yurii Ihnat, an air force spokesman. To detect and exhaust our air defense forces, the balloons were launched.
As well as in Ukraine, high-altitude balloons have raised tensions recently. An object resembling a weather balloon was spotted at around 11,000 feet (3,350 meters) earlier this week, causing Romania to scramble fighter jets.
Moldova briefly closed its airspace due to the unidentified object.
The balloons appear to be an addition to Russia's aerial use of cruise missiles and cheaper Iranian drones as the first anniversary of the Russian invasion of Ukraine approaches.
Balloons have the potential to confuse radar systems and entice the Ukrainian military to launch very expensive surface-to-air missiles (SAMs) at fake targets.
According to the air force spokesman, Ukrainian radar could identify the balloons correctly and, on at least two occasions, destroy them with bullets instead of wasting missiles.
However, the balloons could also be used as decoys. Ground-based radars, many of which are part of Ukraine's own Soviet-era Sam systems and modern equivalents supplied by the West, continuously scan the skies for Russian aircraft and missiles.
According to the Ukrainian military, reflectors on the balloons would entice Ukrainian aircraft defenses to lock on to them.
Russian fighters, bombers, cruise missiles and attack drones will be able to strike Ukrainian targets relatively unhindered if the balloons can absorb as much of the missile defense as possible.
Radar energy is reflected from Ukrainian radars that "paint" the balloons. It is possible that floating in high winds at altitude, the balloons may appear to be real Russian aircraft or helicopters, coaxing Ukrainian defenses to engage them.
According to Russian military expert Andrei Klintsevich, Russia uses the same strategy to protect the bridge over the Kerch Strait to Crimea.
In past conflicts, sophisticated decoys have been used to confuse air defenses. In 1982, Israel used them against Syrian Sams in the Bekaa Valley and US aircraft in the opening hours of Desert Storm in 1991.
Nasams, Iris-T, and Patriot, modern Sam systems sent to Ukraine, may be able to distinguish balloon drones from real threats. The Russians, however, will see any distraction as a worthwhile tactic.
According to the Ukrainian air force spokesman, the balloons may be used for surveillance and must be thoroughly investigated.
RELATED CTN NEWS:
Norway Plans To Give Ukraine $7 Billion Over Five Years
Russia Continues To Bombard Ukraine Amid An Eastward Push