Three Ukraine Pilots Training to Fly F-16s Killed in Mid-Air Crash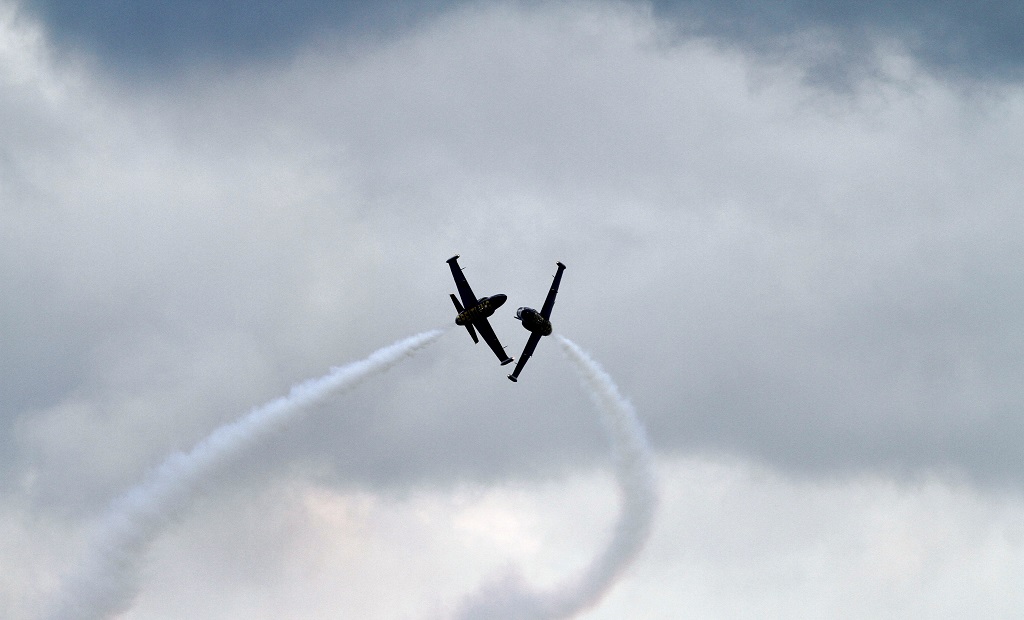 Three Ukraine military pilots, one a "mega talent" who aspired to fly F-16s, were killed after two L-39 combat training aircraft crashed on Friday over a location west of Kyiv, the air force said on Saturday.
President Volodymyr Zelenskiy, who is counting on his Western allies to quickly train crews to fly up to 61 F-16 fighter jets, said in his nightly video address that the three men included Andriy Pilshchykov, callsign Juice, "a Ukrainian officer, one of those who greatly helped our state."
Yuriy Ihnat, an air force official, hailed Pilshchykov, who was 29 years old and fluent in English when Reuters interviewed him in December, as a "mega talent" and reform leader.
"You can't even imagine how much he wanted to fly an F-16," Ihnat stated on his Facebook page. "But now that American planes are actually on the horizon, he will not fly them."
The prosecutor general's office in Ukraine announced a criminal investigation investigating whether flight preparation laws were broken.
"It is too early to get into specifics." "Without a doubt, all circumstances will be clarified," Zelenskiy stated.
The air force revealed the collision on its Telegram app. "We extend our heartfelt condolences to the victims' families." "This is a heartbreaking and irreversible loss for all of us," it said.
The third Saturday in August is also Ukrainian military and commercial aviation's professional day, according to Zelenskiy, and the introduction of F-16s would represent a "new level" for military aviation.
"This will also bring civil aviation back to the Ukrainian skies, as it will move us closer to victory and provide Ukraine with greater security," he stated.
Radio Svoboda broadcast video showing burned, twisted aeroplane remains being hauled from a field distance from the frontlines near Sinhury, around 10 kilometres (6 miles) south of Zhytomyr and about 150 kilometres (90 miles) west of Kyiv.
An unidentified individual indicated in the video that he heard an explosion in the air over the school building, followed by two planes crashing in smoke and flames. A woman recounted seeing two planes flying at a distance from one another, then getting closer and closer before colliding.
In an interview with Reuters, military analyst and veteran pilot Roman Svitan stated that the incident was "most likely" caused by formation flying. He stated that the typical distance was 50-70 metres, but that planes sometimes flew nearly on top of each other at 3 to 4 metres.
He said that the L-39 was a fighter, an attack jet, a bomber, and a trainer plane all at the same time, but that in formation flight, especially at low altitudes, "there's no time for ejection."
"Ukraine will never forget anyone who defended Ukraine's free skies," Zelenskiy said, expressing condolences to the pilots' families.
Second plane had no connection to Wagner group
Meanwhile, the CEO of the aircraft operator company told Reuters that a second jet linked to Wagner mercenary head Yevgeny Prigozhin has no relation to the mercenary group and has never had one.
According to Russia's aviation authority, Prigozhin was on board a private Embraer plane that crashed on Wednesday evening northwest of Moscow, leaving no survivors. Although an inquiry is ongoing, Russian President Vladimir Putin has offered condolences to the families of the ten individuals on board.
Russian media, primarily associated with the Wagner organisation's Telegram channel Grey Zone, had linked a second business jet with the tail number RA-02748 to the mercenary group and said that it was also in the air at the time of the disaster.
However, the plane operator, Russian corporation Jetica LLC, denied any such connection to Reuters.
"Neither the plane nor its passengers are related to Wagner and have never been," said Jetica CEO Sergey Trifonov.
This jet had not been rented, according to Trifonov, who declined to identify the owner.
The RA-02748 was landing in St. Petersburg on a flight from Moscow on Wednesday evening when the jet suspected to be carrying Prigozhin crashed, according to flight monitoring data. It then returned to Moscow roughly 20 minutes later.
Keywords: Russian invasion of ukraine, president of ukraine, flag of ukraine