Ukrainian Drones Execute Coordinated Nighttime Assaults on Russian Military Installations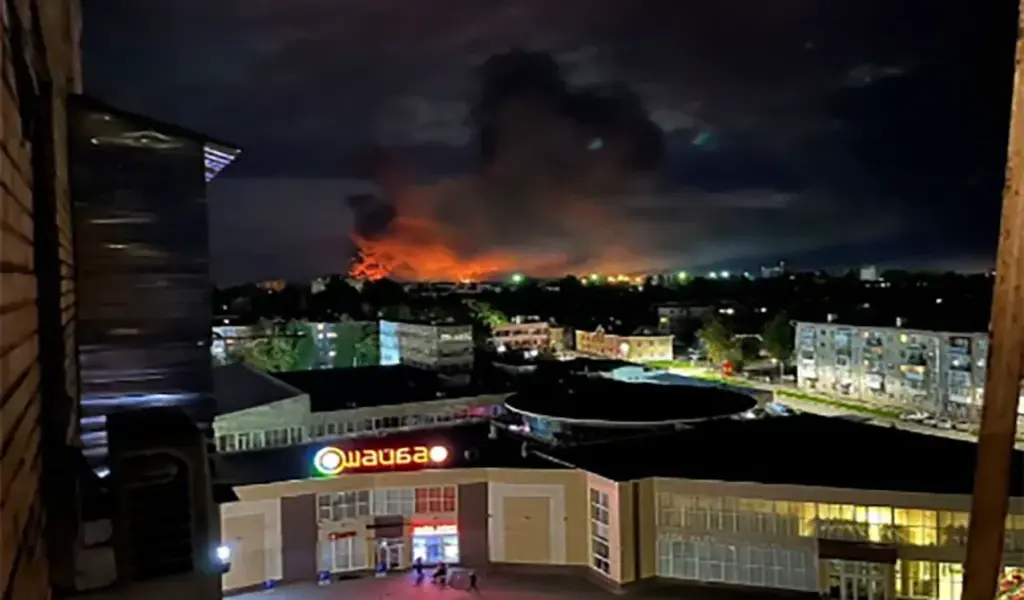 (CTN News) – In a series of nighttime assaults lasting over four hours, Ukraine deployed a fleet of drones deep into western Russia, targeting military installations, as confirmed by Russian officials and media sources on Wednesday.
The drones struck an airport located near Russia's border with Estonia and Latvia, igniting a substantial blaze and causing significant harm to four Il-76 military transport aircraft.
These planes possess the capacity to transport heavy machinery and troops. Emergency authorities, as cited by the Russian state news agency Tass, detailed the extent of the damage.
This coordinated attack reached across a minimum of six regions within Russia, marking it as the most expansive employment of Ukrainian drones on Russian territory since the commencement of the conflict eighteen months prior.
Accusations from the Kremlin have been recurring, asserting that the Ukrainian military has engaged in cross-border forays into Russia's Belgorod region and has dispatched drones towards Moscow.
While Ukrainian authorities remained silent initially, typically disavowing any responsibility for incursions into Russia, the Kremlin's forces launched a retaliatory assault on Ukraine's capital using drones and missiles.
This overnight offensive, termed a "massive, combined attack" by Ukrainian officials, resulted in the loss of two lives.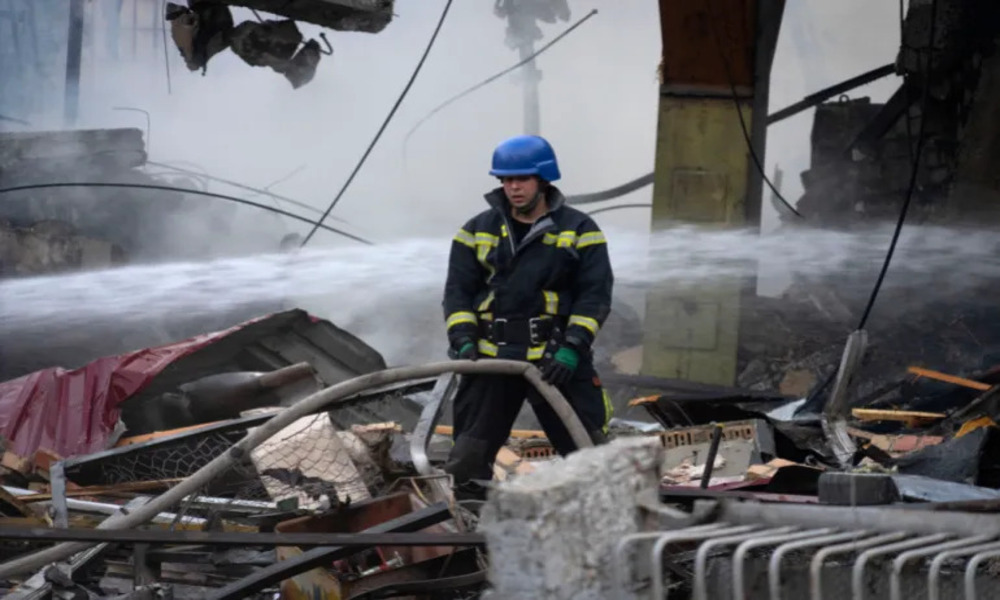 Escalation of Aerial Drones Attacks and Targeted Strikes: Ukrainian Military's Counteroffensive Against Russian Forces
In recent months, the frequency of aerial assaults on Russia has intensified, as the Ukrainian military undertakes a counteroffensive to expel Moscow's forces from its territory.
Ukraine's focus has increasingly shifted towards targeting Russia's military installations located behind the front lines in the eastern and southern regions of the invaded nation.
Reports have also emerged claiming Ukraine's utilization of maritime drones against Russian vessels in the Black Sea.
Ukrainian sources have alleged that these drones were employed by Kyiv saboteurs, who, just last week, successfully struck bomber aircraft stationed at air bases deep within Russian territory.
Russian authorities have not officially documented any casualties resulting from the onslaught that took place on Wednesday.
The airport situated in the Pskov region, positioned approximately 700 kilometers (400 miles) north of the Ukrainian border and an equal distance west of Moscow, bore the brunt of the damage.
Unverified accounts from various media outlets have suggested that up to 20 drones may have been involved in targeting this facility.
Images shared on social media depicted thick smoke enveloping the city of Pskov, the capital of the region sharing its name.
Videos captured intense explosions illuminating the night sky, accompanied by the sound of air defense systems engaging and tracer rounds ascending into the darkness.
In response to the situation, Governor Mikhail Vedernikov of Pskov issued orders to cancel all flights to and from the airport for the day, to facilitate damage assessment during daylight hours. Fortunately, no casualties were reported, and the fire was ultimately extinguished.
Russian media report a drone attack on an airfield in Pskov, Russia. It hosts both civilian and military aircraft. Some sources report that at least two military aircraft were destroyed. pic.twitter.com/YANZ0r1Vzy

— Anton Gerashchenko (@Gerashchenko_en) August 29, 2023
Additional areas that came under the barrage included Oryol, situated 400 kilometers (240 miles) south of Moscow; Ryazan, positioned 200 kilometers (120 miles) southeast of Moscow; Kaluga, lying 200 kilometers (120 miles) southwest of Moscow; as well as Bryansk, which shares a border with Ukraine, and the regions surrounding the Russian capital.
The Defense Ministry of Russia acknowledged minor damage in these regions.
Consequently, three major airports in the Moscow region, namely Sheremetyevo, Vnukovo, and Domodedovo, temporarily suspended incoming and outgoing flights.
The source of the launched drones remains unconfirmed, with The Associated Press unable to verify whether they originated from Ukraine or within Russia itself.
Advancements in Ukrainian Drone Capabilities and Ongoing Tensions with Russia
Ukraine's Minister of Digital Transformation, Mykhailo Fedorov, shared that his country now possesses drones with an operational radius of up to 500 kilometers (300 miles).
However, he did not claim responsibility for the attacks inside Russia or on Crimea, the latter of which was annexed by Russia from Ukraine in 2014.
Fedorov stated in a recent interview with The Associated Press, "If you closely follow recent news, you'll notice a recurring theme of long-range drones targeting various objectives, both in Russian-occupied Crimea and within Russian territory.
Consequently, it's safe to say that a kind of mass production of these drones has emerged."
Meanwhile, Russia has also employed drones and missiles in a significant bombardment of Ukraine's capital, marking the most substantial attack in months, as per Ukrainian authorities.
Serhiy Popko, the head of the Kyiv military administration, reported that falling debris resulted in the tragic deaths of two security guards aged 26 and 36, while another individual sustained injuries.
Exploding Shahed drones were deployed at various angles towards the city by Russia, followed by missile strikes from Tu-95MS strategic aircraft.
Although the exact number of deployed drones remains unclear, Popko characterized this assault as the most substantial against the capital since the spring season.