US President Biden Scrambles to Find Money for Ukraine War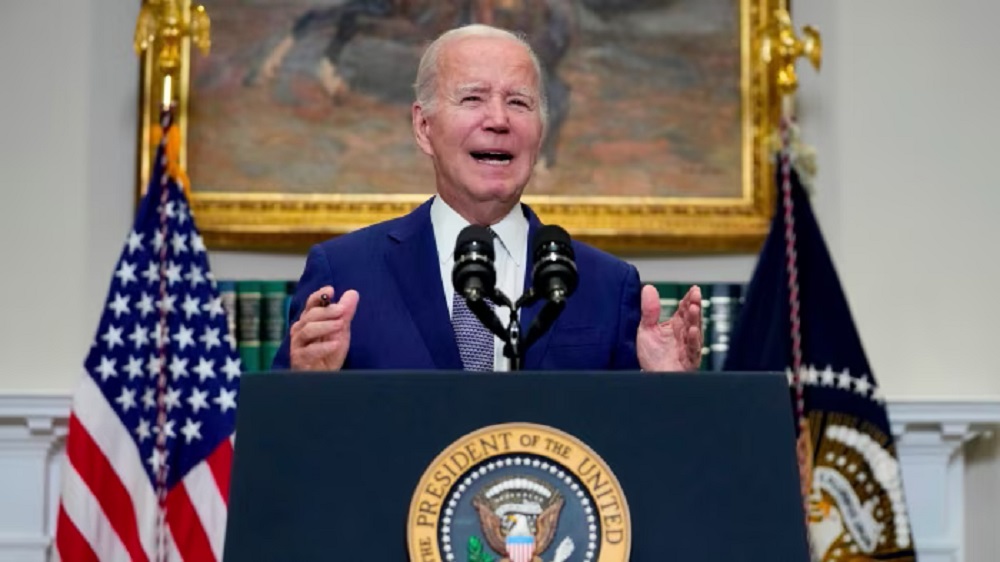 President Joe Biden is currently scrambling to rally backing for a fresh aid package for the war-torn Ukraine, despite Republican pessimism in a bitterly divided Congress. Hardline Republicans pushed through a vote on Tuesday that resulted in the ousting of the party's own House of Representatives speaker, Joe McCarthy.
What does this mean for Ukraine? Is the United States, the country's most steadfast ally to date, poised to reduce its massive aid packages? Will others back down, given its role in gathering support across the West?
Recent events, in which Congress abandoned provisions for more funding to avoid a government shutdown, sent shockwaves across the Atlantic. Biden is now urging members of Congress to support a separate agreement for Ukraine assistance. He was banking on McCarthy's support, which he lost on Tuesday.
McCarthy had already raised members' concerns about accountability involving cash given to Kyiv prior to his sudden departure. With some of his potential successors strongly in favour of continuing funding and others strongly opposed, who succeeds him could influence the flow of US aid to Ukraine – and potentially the direction of the war that began in February 2022 with Russia's full-fledged invasion of its eastern neighbour.
In the midst of the bizarre drama, Biden told Congress on October 1 that the "vast majority" of both parties in the Senate and Congress supported Ukraine's battle against Russia's "brutal aggression."
While senators from both parties have showed bipartisanship on the issue, with many attending a meeting with Ukrainian President Volodymyr Zelenskyy during his September visit to Washington, the House is more polarized. Republicans hold a slim 221-212 majority in the chamber.
On Monday, October 2, entrepreneur Elon Musk slammed Kyiv on his X social media platform (previously Twitter), tweeting a meme of Zelenskyy with the caption: "When it's been 5 minutes and you haven't asked for a billion dollars in aid."
— Elon Musk (@elonmusk) October 1, 2023
Ukraine's parliament retaliated on its official X account, tweeting a Musk meme with the words: "When it's been 5 minutes and you haven't spread Russian propaganda."
Last month, Russian President Vladimir Putin praised Musk as a "outstanding person" following disclosures that the entrepreneur thwarted a Ukrainian attack on Russian-occupied Crimea last year by ordering the shutdown of his Starlink satellite communications. Musk supposedly feared that Moscow would respond with nuclear weapons.
So far, the United States has been a key supporter of Kyiv, delivering approximately $113 billion in military, humanitarian, and economic help. Military spending, which amounts for more than half of US aid, pays for drones, tanks, and missiles vital to Ukraine's ongoing fight.
Humanitarian aid delivers medical supplies and necessities such as food and safe drinking water to the displaced population.
Republican opponents of aid believe that the money should be spent on domestic issues such as border security, law and order, and relief for climate-related natural disasters that are becoming more common in the United States.
Aid to Ukraine accounts for a sizable portion of the $773 billion defence budget request for 2023. It is significantly more than the $25 billion earmarked for border security this year, a major irritant for conservatives.
Last month, DoD Comptroller Michael McCord attempted to sway McCarthy, arguing that the Pentagon had already reduced its assistance. In a letter dated September 29, he emphasised the impact of foreign security aid on jobs and output in congressional districts, citing facilities in Tuscon, Arizona, and Camden, Arkansas.
The money is running out. According to McCord, the DoD has only $1.6 billion to replenish military stocks moving to Ukraine and only $5.4 billion in Presidential Drawdown Authority (PDA). The Ukraine Security Assistance Initiative (USAI) is now over.
However, as the presidential race heats up, such pleas are likely to go unnoticed. Military assistance is simply not considered a winning political strategy.
Hardline Republicans like Gaetz, a supporter of Donald Trump, who is running for re-election to the White House next year, are ready to continue their anti-aid campaign in the coming months.
The White House said on October 3 that Biden has spoken with the leaders of partner countries about sustaining coordinated support.
Last month, in his annual address to the United Nations General Assembly, Biden attempted to address war fatigue in Europe, particularly in Poland and Slovakia.
"Russia believes that the world will grow weary and allow it to brutalize Ukraine without consequence," he stated. "But I ask you this: If we abandon the core principles of the United States to appease an aggressor, can any member state in this body feel confident that they're protected?"
None of this would have surprised Zelenskyy, who is fighting to repel Russian forces before another hard winter arrives. During a visit to Washington last month, he reportedly characterised the situation to Senate Majority Leader Chuck Schumer in the harshest of terms.
Ukraine Taking Devastating Casualties
Meanwhile, according to a renowned US defence analyst, Ukraine has lost approximately 40,000 soldiers in the last month since the counteroffensive began, and roughly an equivalent number have been wounded since the war began in February 2022.
The analyst also accused the United States for pulling Kyiv into an unneeded war by continuing to arm it. If the situation worsens, it risks including the North Atlantic Treaty Organisation (NATO), and Washington is badly equipped to confront Russia militarily in this scenario.
Colonel Douglas Macgregor, a former US Army Armoured Corps officer, claimed this in an interview with Tucker Carlson, a US media figure. Macgregor, a former adviser to President Donald Trump, has been outspokenly critical of US and NATO policy in the war, which he believes inflamed Russia.
He claims that the mainstream media has purposefully concealed Ukraine's massive losses and Russia's irreversible advances, military might, and overall strategic solidity.
According to Macgregor's claims, The EurAsian Times stated in February of this year that Ukraine had 400,000 wounded and 1,57,000 killed. That essay emphasised the socioeconomic factor, where the country's population losses were severe due to low birth rates in recent years.
As a result, the scenario threatens to precipitate an impending economic crisis. The estimates, however, cannot be independently verified due to Ukraine's ban on publishing casualty counts and Russia's typical reticence about revealing the numbers of its losses.
Ukraine's Counteroffensive Failed, Costing 40,000 Lives.
According to Macgregor, 40,000 soldiers were killed in July 2023 alone, when Ukraine was at the height of its counteroffensive to "sweep the battlefield." There are an equal number of amputees, for which Macgregor does not specify a time frame, but it is safe to conclude that it corresponds to the full duration of the war.
"We know the hospitals are full and that Ukrainian units at the Company and Platoon level (150 to 200 men) are in piecemeal fashion surrendering to the Russians," he stated.
"Not because they don't want to fight, but because they can't." Commanders declare, 'If I can't remove my wounded, I'll surrender because the wounded will die.' So they phone the Russians on the radio, speak in Russian, and say, 'I have 50-60 wounded, and I'm surrendering because I don't want them killed.'"
The Russians have treated surrendering and captured Ukrainian soldiers fairly from the start, and they know they will not be abused (and) will be exchanged for Russian detainees in the future, according to Macgregor.