Thai Police Seize Methamphetamine Pills and other Narcotics worth $8.15 million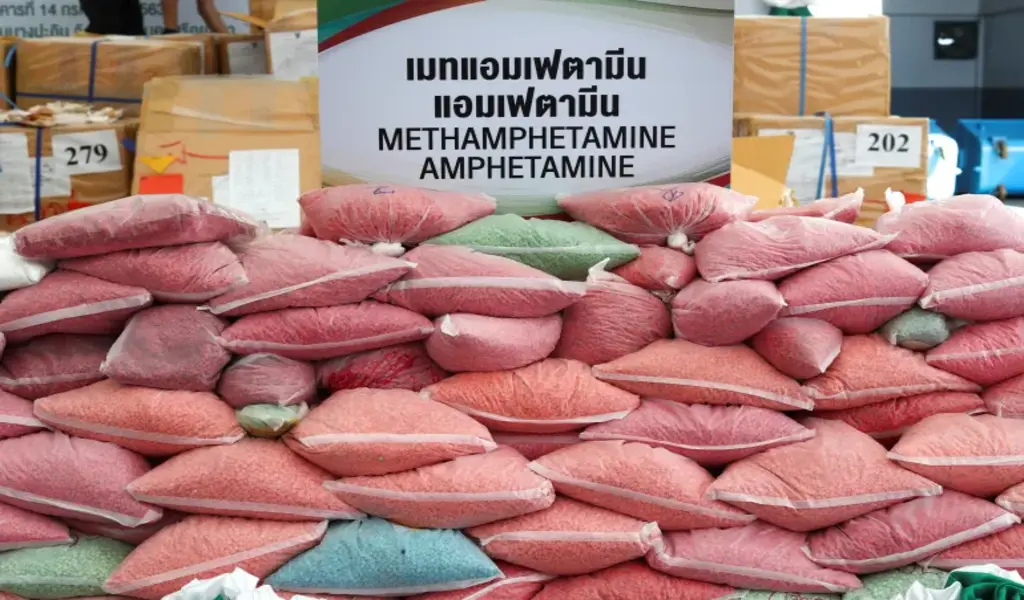 (CTN News) – Thai police seized more than 15 million methamphetamine pills and other illicit substances valued at 300 million baht ($8.15m) in one of the year's largest drug seizures, according to authorities.
Thursday, four individuals were arrested in connection with the seizure of 420 kilograms (926 pounds) of crystal methamphetamine and heroin from a residence in Nakhon Pathom province, north of Bangkok.
Justice Minister Tawee Sodsong told reporters, "This is one of the largest drug storage facilities in the middle of Thailand, in a residential area."
General Torsak Sukvimol, the incoming police commander, stated that the total street value of the drugs seized was 300 million baht and that they were manufactured in a neighboring country.
This is the Golden Triangle
The United Nations stated in a report earlier this year that the trafficking of synthetic drugs in East and Southeast Asia is on the rise, with large quantities of methamphetamine still being produced in the Golden Triangle region between Myanmar, Thailand, and Laos.
The region has a long history of illegal drug production and has recently served as a massive production center for amphetamine-type stimulants, particularly methamphetamine, utilized by Asian crime syndicates with distribution networks reaching as far as Japan and New Zealand.
Also on Thursday, Myanmar authorities announced that they had seized over $4 million worth of crystal amphetamine. In the early hours of Sunday, security forces stopped a motorbike and van in a forest in the northern Mandalay region, according to a statement from Myanmar's Central Committee on Drug Abuse Control.
The search led to the seizure of 435 kilograms of crystal meth (ICE) valued at 8.7 billion kyats ($4.14 million), according to the statement. According to the UN, the Shan state of Myanmar is the principal source of  methamphetamine in Southeast Asia; authorities are conducting further investigations.
According to analysts, the military that overthrew the elected government and seized power in 2021 is not sincere about putting an end to the lucrative trade.
In a rare admission earlier this year, the head of Myanmar's CCDAC stated that its efforts to halt the multibillion-dollar trade were having no effect.
Related CTN News:
Thai-UAE free trade deal is 80% complete, which may improve Thai GDP