Thai Police Bust Major Drug Syndicate, Seize Over 300 Million Baht in Narcotics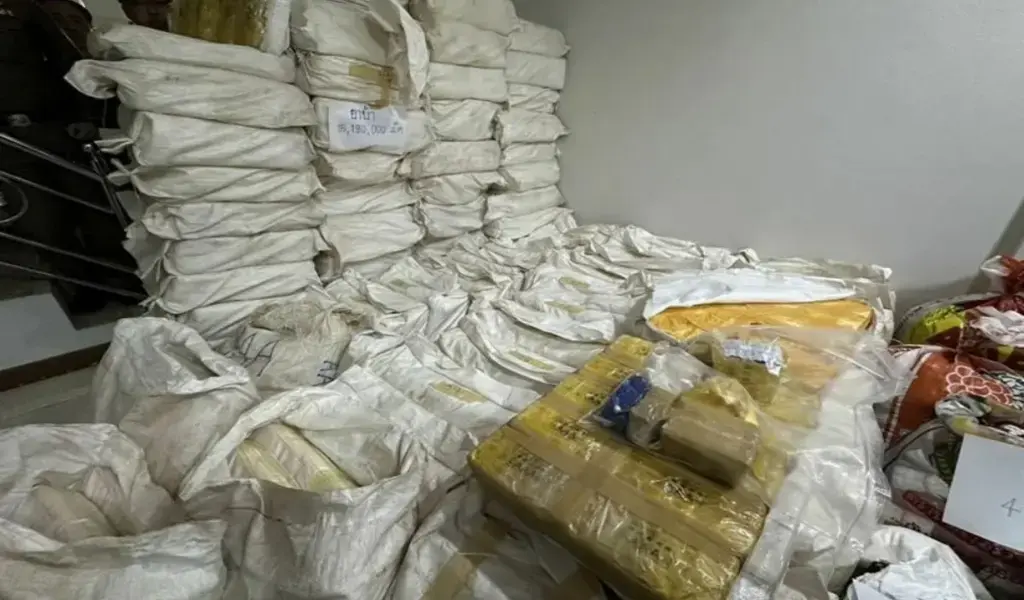 In a significant operation led by Deputy Commissioner Tor Sak Sukvimol and Assistant Commissioner Samran Nuanma, the Thai Police have successfully dismantled a major drug syndicate. This operation marks a major crackdown on drug-related activities in Thailand and is one of the largest drug seizures to date.
Seizure of Massive Drug Haul
During the raid, which took place in Nakhon Pathom, law enforcement officials seized a staggering quantity of narcotics. The confiscated items included 15 million methamphetamine pills, 443 heroin bars, 420 kilograms of crystal meth, as well as a substantial quantity of illicit substances known as "Happy Water" and "Five Five" drugs. The estimated street value of these seized drugs exceeds 300 million baht.
Arrest of Key Suspects
The operation also resulted in the arrest of four suspects who are believed to be key figures in the drug syndicate. Among them are 39-year-old Chalit Kiewpray, 38-year-old Apichat Ekajin, 38-year-old Charan Kiewpray, and 36-year-old Watchara Kiewpray. These individuals are now in custody and will face charges related to the possession and distribution of narcotics.
Government's Commitment to Combat Drug Problem
Deputy Commissioner Tor Sak Sukvimol emphasized that this operation aligns with the government's policy to intensify efforts in combating the widespread drug problem in Thailand. The National Police Office has been tasked with taking decisive action against drug syndicates and their illicit activities.
Smuggling and Distribution Network Unveiled
Assistant Commissioner Samran Nuanma revealed that the drug syndicate sourced its narcotics from a neighboring country and smuggled them into Thailand. Initially, they used a house in a neighboring province as a storage facility. However, after the arrest of a suspect named Warawut Inklai on money laundering charges, the syndicate relocated their stash to the house in Nakhon Pathom for distribution to smaller agents.
Legal Action and Ongoing Investigations
The initial charges against the arrested suspects include the illegal possession and sale of category 1 and 2 narcotics without permission. They will be transferred to the Anti-Money Laundering Office for further investigation and to uncover any financial links to their drug-related activities.
This successful operation under new leadership demonstrates Thailand's commitment to tackling the drug epidemic, and it serves as a significant blow to the drug trade in the region. The Thai Police continue to work tirelessly to dismantle drug syndicates and safeguard the well-being of the community.
On Wednesday night, police in Thailand's Nakhon Pathom province made four arrests and seized the greatest single haul of illegal drugs in Thai history.
On Thursday, 11.30 p.m., the police in the Muang district of Nakhon Pathom, under the direction of Deputy National Police Chief Pol Gen Torsak Sukwimol, raided a residence at 20/15 Soi Lamphaya-Bosco 2 Road.
Four males were arrested and a large amount of drugs were taken from the two-story home during the operation.
Apichart Ekchin, 38, Chalit Khiaophrai, 39, and his brothers Charan Khiaophrai, 38, and Watchara Khiaophrai, 36, were all named as suspects in the case.
Fourteen hundred and forty-three heroine bars, 420 kilogrammes of crystal methamphetamine, 15 million methamphetamine pills, and an unknown quantity of "happy water" and "five-five" were among the drugs confiscated.
With an estimated 300 million baht in street value, Pol Gen Torsak called this the largest drug seizure in the country.
He claimed that after the initial arrest of a member of the gang, detectives spent around two years trying to track down the remainder of the gang.
According to Pol Gen Samran Nuanma, assistant national police commander, the gang moved their narcotics operation to the residence in Nakhon Pathom after the earlier arrest of Warawut Inkhlai, 36. He further said that the drugs were kept there before being given to less serious drug dealers.
Allegedly laundering money from the sale of drugs and illegal gun possession led to Mr. Warawut's detention. According to Pol Gen Samran, the gang imported drugs from nations bordering northern Thailand.
Thailand to toughen rules on meth possession
Meanwhile, Experts worry that Thailand's recent crackdown on methamphetamine possession, which labels everyone found with pills as a drug distributor, could roll back narcotics reform by putting punishment ahead of public health.
Possession of even a single methamphetamine or "yaba" pill is now considered to be that of a drug dealer rather than a user, and as such, could lead to harsh penalties, including incarceration, according to a regulation published by the Thai health ministry.
There is currently a maximum prison sentence of 15 years for drug dealers, and a sentence of between 2 and 20 years for those caught selling to minors. Small-time offenders may be eligible for therapy or rehabilitation instead of jail time.
The Ministry of Health proposed last year that only those in possession of more than 15 tablets should be considered dealers.
"The changes to the ministerial regulation are to address social problems in a definitive and effective way and to curb the spread of yaba pills," stated Health Minister.
He also clarified that police officers could use their judgement on a case-by-case basis. The latest rulemaking is awaiting approval from cabinet.
In 2021, parliament enacted a bill emphasising prevention and treatment over punishment for small-time drug users; experts warn the new approach risks rolling back these improvements.
The government claimed that thanks to new laws, nearly 50,000 convicted felons had their sentences reduced.
According to Jeremy Douglas, UNODC's representative for Southeast Asia and the Pacific, "if a one-tablet limit goes ahead, already overcrowded prisons will endlessly fill, there will be no space to hold the people classified as dealers."
Meth is everywhere, now is not the time to roll down drug laws.