Hundreds of Thousands Rally in Global Cities to show Support for the Palestinians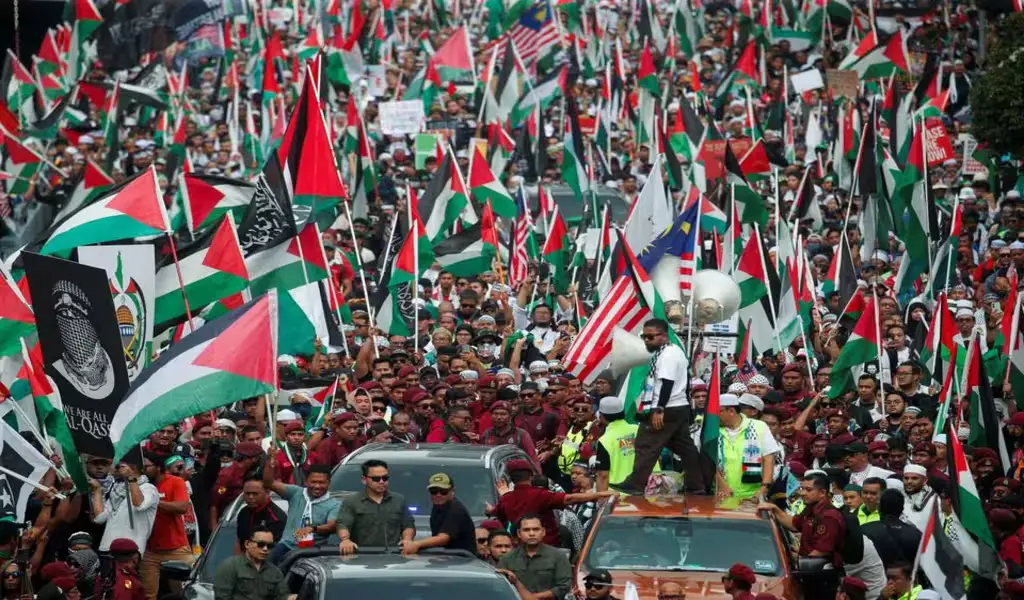 (CTN News) – On Saturday, as Israel's military expanded its air and ground offensive on the Gaza Strip, hundreds of thousands of people protested in cities around Europe, the Middle East, and Asia to demonstrate support for the Palestinians.
Large people marched through the heart of London demanding Prime Minister Rishi Sunak call for a truce, as shown in overhead footage from one of the largest marches.
The superpowers currently involved are not doing enough to solve the problem. Camille Revuelta, one of the protesters, explained why they were there: "We're calling for a ceasefire, calling for Palestinian rights, the right to exist, the right to live, human rights, all our rights."
Hamas is not the focus here. She further emphasised that the issue was one of "protecting Palestinian lives."
Sunak's government has followed Washington's lead and refrained from calling for a ceasefire, instead advocating temporary halts in fighting to allow humanitarian aid to reach the people of Gaza.
Israel claims that Hamas militants killed 1,400 people, largely civilians, on October 7. Britain has expressed its support for Israel's right to self-defense in the wake of this attack.
Palestinian health officials have been reporting daily that the death toll in Gaza has risen to 7,650 since Israel's assault began three weeks ago, with the majority of victims being civilians.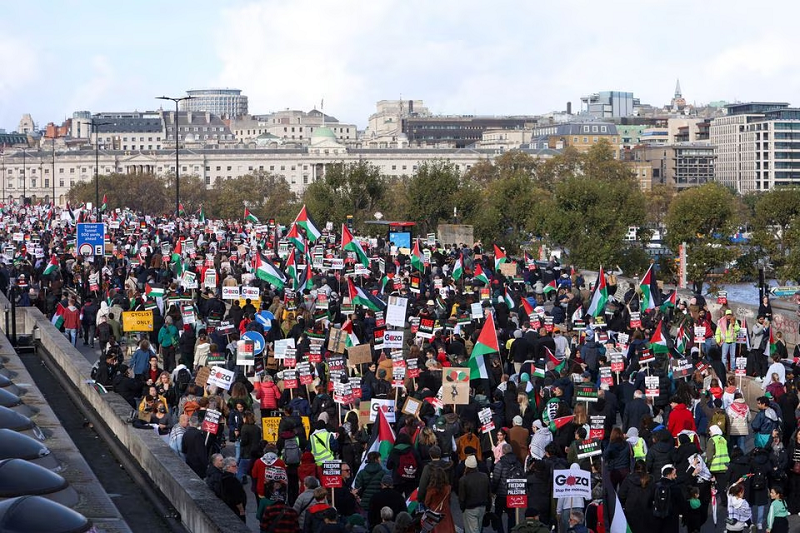 Western governments and many citizens have expressed their support and compassion for Israel in the wake of the Hamas attacks, but the Israeli reaction has been met with fury, especially in Arab and Muslim countries.
Protesters in Kuala Lumpur, Malaysia, gathered in huge numbers and protested outside the American embassy.
Turkey's President Tayyip Erdogan spoke to tens of thousands of supporters at a massive gathering in Istanbul, where he called Israel an invader and reiterated his position that Hamas is not a terrorist outfit.
Erdogan's use of the term "freedom fighters" to describe the extremist group earned a strong rebuke from Israel this week.
On the same day that Iraqis rallied in Baghdad, Palestinians in Hebron, Israeli-occupied West Bank, called for a global boycott of Israeli products.
"Don't contribute to the killing of the children of Palestine," the demonstrators sang.
People also flocked to the streets in Copenhagen, Rome, and Stockholm elsewhere in Europe.
Since the conflict began, some French cities have prohibited gatherings out of fear that they could inflame social tensions, but on Saturday, a tiny rally went ahead in Paris despite the ban. In Marseille, a southern city, several hundred people marched as well.
Wellington, the capital of New Zealand, was the site of a large demonstration in which hundreds of protesters carrying Palestinian flags and signs reading "Free Palestine" made their way to Parliament House.
Protests near the Israeli Embassy in London were subject to rigorous regulations.
While the march on Saturday was peaceful for the most part, law enforcement reported making nine arrests due to public order violations and assaults on police officers.
The police anticipated a crowd size of 50,000 to 70,000.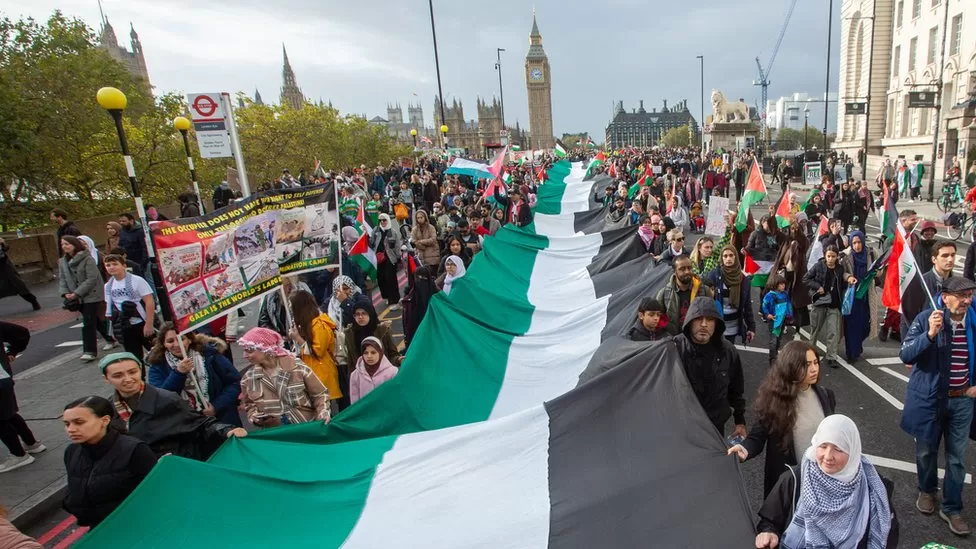 Some 100,000 people attended a second pro-Palestinian march in London last week, and the police have come under fire in recent days for not being stricter on protestors who chanted anti-Semitic slurs.
A pro-Palestinian march drew tens of thousands to St. Peter's Square, near Manchester's Central Library.
The mayor of the area, Andy Burnham, called for "a ceasefire by all sides and for the hostages to be released unharmed" on Friday, echoing similar appeals from around the world.
Three thousand demonstrators met in Belfast's downtown and marched down Royal Avenue to the city hall.
In the heart of Glasgow, thousands of Palestinian flag-bearers gathered in George Square to demand an immediate ceasefire. There were reports of people climbing up on monuments and statues.
Ten people were arrested at demonstrations in London last weekend, which attracted a comparable number of police officers.
The Metropolitan Police stated that they "had not identified any offences arising from the specific clip" after a video surfaced online showing a pro-Palestinian demonstrator yelling "jihad" during a smaller protest near the major march last weekend.
Met Police Commissioner Sir Mark Rowley was questioned by Suella Braverman on the lack of arrests.
The police have warned that they will take action if demonstrators chant "jihad" during this weekend's demonstrations.
The Arabic word "Jihad" means "effort" or "struggle" in English. The primary meaning of "jihad" in Islam refers to an individual's internal fight to uphold their religious beliefs.
An outer conflict or war must be waged for the purpose of self-defense and within Islamically established parameters.