Police say 100,000 people gathered in London for Palestine during the crisis in Gaza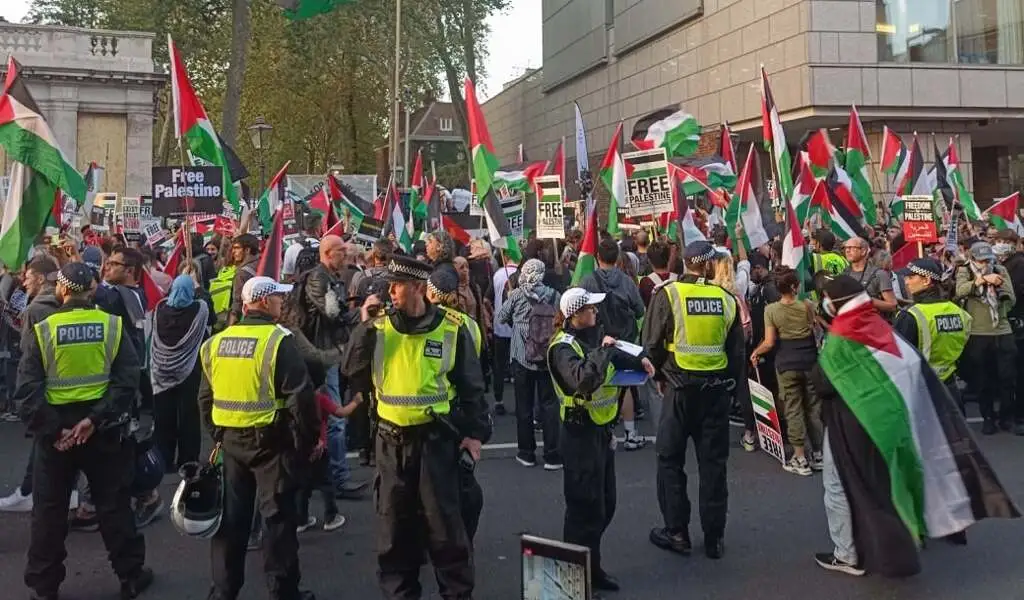 (CTN News) – A large gathering took place in the heart of London, with thousands of people rallying in support of Palestine and asking for an end to Israel's attacks on Gaza.
On the afternoon of the event, the Metropolitan Police estimated that 100,000 people participated in the demonstration, which began at Marble Arch and went towards Whitehall. Demonstrators were seen brandishing placards that read "Free Palestine," while others raised a big Palestinian flag and fired green smoke flares.
The protest coincided with the opening of the Rafah border crossing, which allowed humanitarian aid from Egypt to enter Gaza. Foreign Secretary James Cleverly has termed the relief shipments a "lifeline," despite UN authorities claiming that they are insufficient to solve the "catastrophe" unfolding in Gaza.
Palestine will be free
Following the unexpected terror attack by Hamas on October 7th, demonstrators in London demanded an end to Israeli bombings on Gaza. As the demonstration progressed, cries of "from the river to the sea, Palestine will be free" filled the air, a slogan that has generated debate about its interpretation.
Suella Braverman, the Home Secretary, has called the slogan antisemitic, claiming that it is widely taken as a demand to destroy Israel. Those who endorse the term, on the other hand, claim it is a long-standing protest chant demanding a Palestinian homeland.
Jewish organizations have asked for legal clarification on whether yelling this phrase is a criminal offense. During the protest, the police reported incidences of disruption and hate speech, however, the majority of the event was done legitimately and without incident.
Since the beginning of October, there has been a considerable spike in antisemitic and Islamophobic hate crimes, according to the Metropolitan Police. Ade Adelekan, Deputy Assistant Commissioner, stated that such behavior is inappropriate and promised that such cases would be thoroughly examined.
Related CTN News:
India Successfully Completes Crucial Test In Gaganyaan Crewed Space Mission After Lift-off Delay