Motorola Edge 40 Review: A Premium MId-Ranger To Beat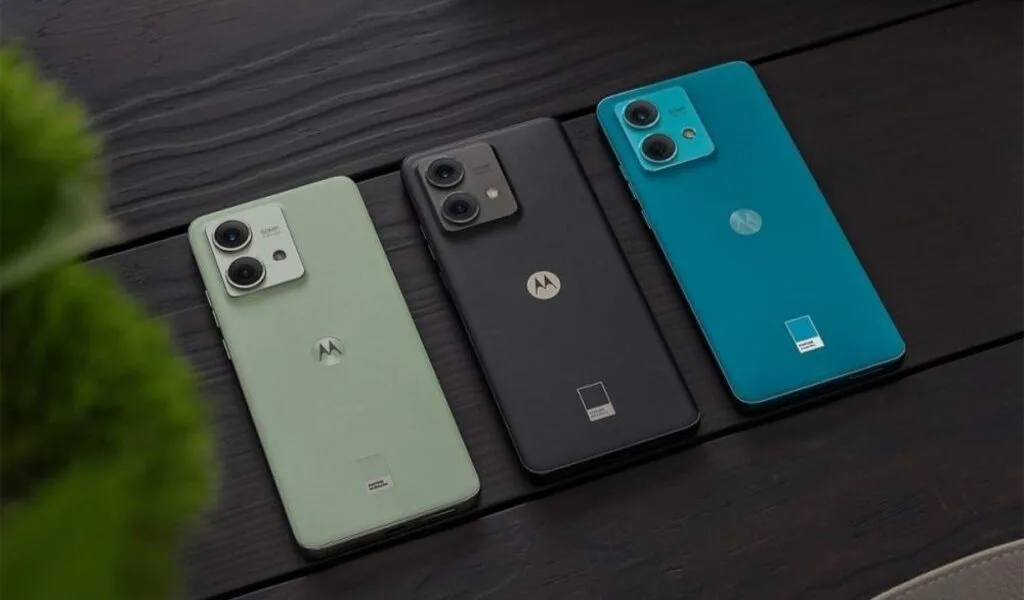 (CTN NEWS) – The Motorola Edge 40 Neo presents a strong proposition in the 400$ segment, thanks to its robust specifications that closely resemble the more expensive Motorola Edge 40 smartphone.
Notably, this device distinguishes itself as one of the few in its category to offer both an IP68 rating for water and dust resistance and a high-refresh-rate 144Hz display.
Furthermore, it operates on a near-stock Android OS and is equipped with the new MediaTek Dimensity 7030 SoC.
To discover if these promising specifications on paper translate into equally impressive real-world performance, delve into our in-depth Motorola Edge 40 Neo review.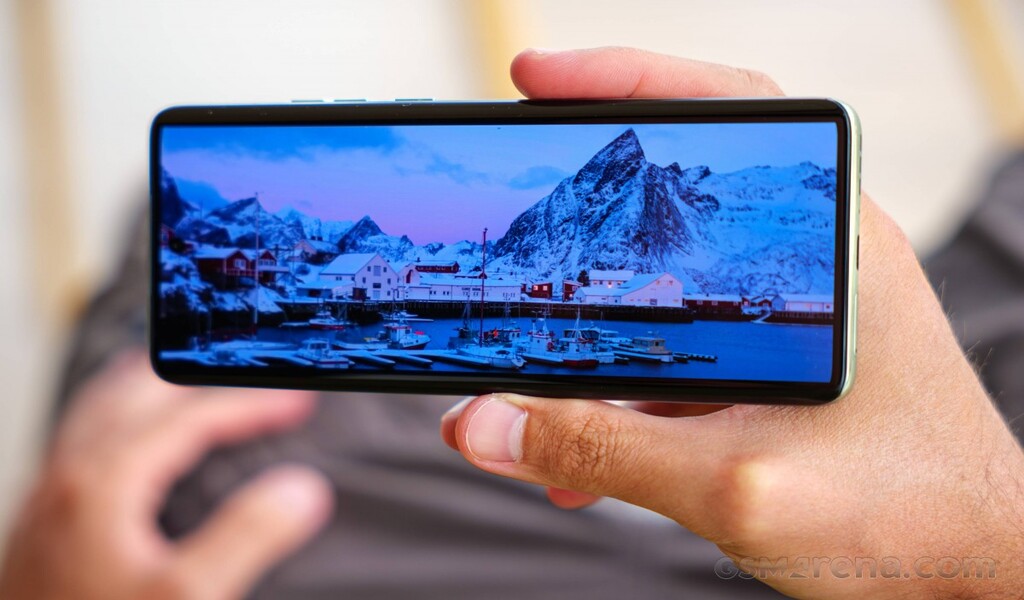 Design and Display
The Moto Edge 40 Neo maintains the same design aesthetics as its predecessor, the Edge 40, featuring a premium vegan leather back, gracefully curved edges, and a slim frame.
Although the frame is crafted from plastic, it's essential to highlight that this choice of material does not compromise the device's overall durability.
What sets this handset apart is its exceptional IP68 certification for water and dust resistance, making it a standout feature within its segment.
The handset impresses with its slim profile, measuring a mere 7.9mm in thickness and weighing only 172 grams.
This lightweight and slender design ensure that it's easy to carry without straining your wrist.
While the rear panel may not offer the same level of refinement as its more expensive counterpart, the Edge 40, it still catches the eye with its well-contrasted metal camera platform and the tastefully centered Motorola logo.
The handset offers a choice of three distinct color options: Caneel Bay, Soothing Sea, and Black Beauty. Notably, the Black Beauty variant differs from the others as it lacks the vegan leather finish on the back
For this review, I had the opportunity to test the Caneel Bay variant, which boasts a somewhat vibrant and attention-grabbing appearance
However, if you lean towards a more understated and subtle aesthetic, the Soothing Sea variant is a worthwhile option to consider.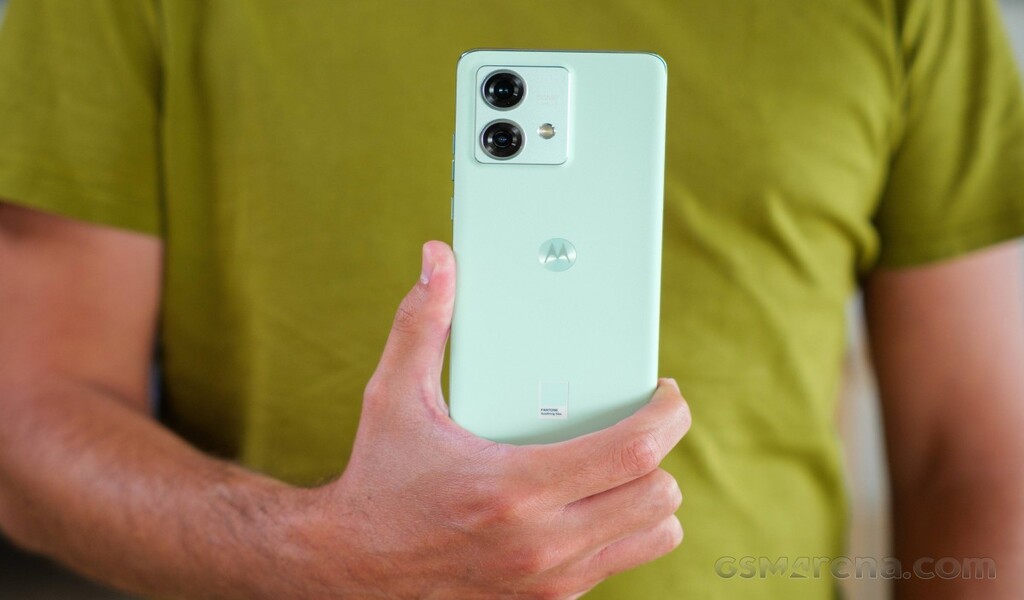 Located at the bottom edge of the phone, you'll find the USB Type-C port, which serves both for charging and data transfer.
This section also houses a speaker grille and the SIM card ejector tray. On the right spine of the device, you'll notice the volume and power buttons, although they may require a bit of finger dexterity to reach comfortably.
The front of the device showcases a gracefully curved 6.5-inch 144Hz pOLED display, featuring FHD+ resolution, support for DCI-P3 color space, DC dimming, HDR10+ compatibility, and an impressive peak brightness of 1300 nits.
The viewing experience on the Moto Edge 40 Neo is comparable to its pricier counterpart, the Moto Edge 40 smartphone.
It delivers vibrant and sharp colors, with deep blacks that enhance content quality. Additionally, the phone features an impressive peak brightness, ensuring comfortable outdoor visibility.
The screen's adaptive 144Hz refresh rate contributes to smooth touch responsiveness and fluid animations.
To address concerns about battery life, users have the flexibility to adjust the refresh rate to 120Hz or 60Hz, balancing performance and power efficiency according to their preferences.
The Moto Edge 40 Neo's speakers enhance the overall audiovisual experience admirably.
Equipped with stereo speakers featuring Dolby Atmos support, the phone delivers clear and potent audio output.
In terms of security, the device incorporates an in-display fingerprint scanner that operates with impressive accuracy, swiftly unlocking the phone for users.
Cameras
The Motorola Edge 40 Neo closely resembles its counterpart, the Edge 40, when it comes to the camera configuration.
The device is equipped with a dual rear camera setup, consisting of a 50MP primary sensor with optical image stabilization (OIS) and a 13MP ultra-wide lens with a generous 112-degree field of view (FoV). In favorable lighting conditions, this camera setup shines.
Both the main and ultra-wide cameras offer swift autofocus and shutter speeds, resulting in images that are abundant in detail.
However, it's worth noting that the colors in the images may appear somewhat over-processed, deviating from the actual scenery.
Nevertheless, the captured images are well-suited for social media sharing, boasting ample dynamic range to enhance their visual appeal.
Furthermore, there is minimal distortion around the edges of the frame in ultra-wide shots.
The device's ultra-wide sensor also doubles as a macro sensor, and it excels at capturing close-up shots, surpassing the performance of the dedicated 2MP macro camera found in some other devices.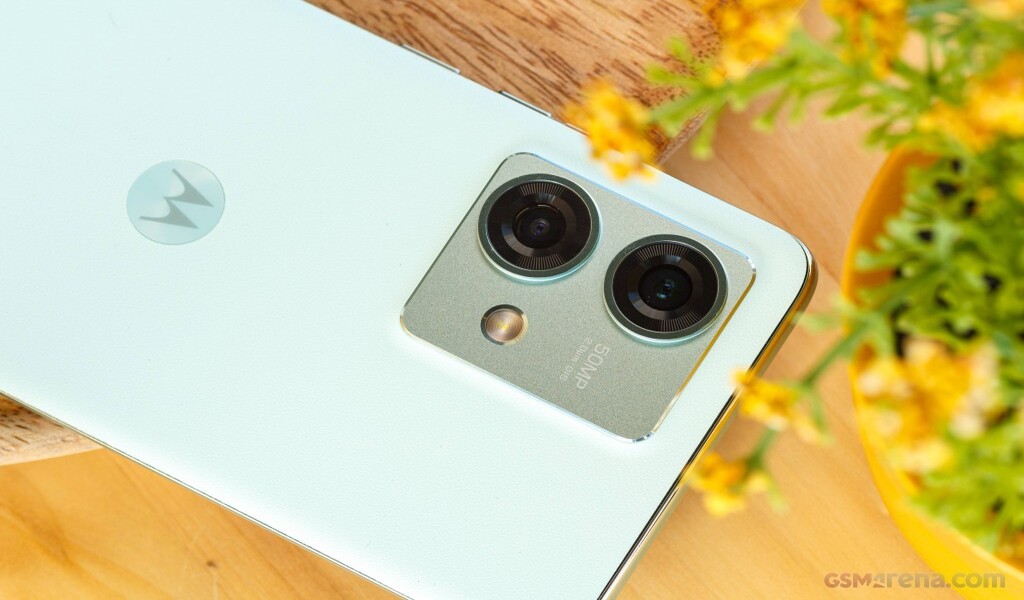 In low-light conditions, the primary sensor, in particular, impresses with its performance.
It produces pleasing shots considering the device's price range, showcasing a commendable level of sharpness and detail.
Additionally, users have the option to utilize the night mode to further reduce noise and enhance low-light photography.
For selfies and video calls, the Moto Edge 40 Neo features a 32MP front-facing camera housed in a punch-hole cutout.
In well-lit environments, this sensor performs admirably, capturing selfies with a commendable level of detail.
However, there is a tendency toward oversharpening facial features, although overall, the selfie results appear promising.
When it comes to portrait mode, which relies on computational techniques to distinguish the subject from the background, there is room for improvement in terms of edge detection accuracy.
Performance & Software
The Motorola Edge 40 Neo is powered by the MediaTek Dimensity 7030 SoC at its core.
This newly introduced 6nm mid-range chipset supports 5G connectivity and incorporates two Cortex-A78 cores along with six power-efficient Cortex-A55 cores.
Thanks to this chipset, the smartphone delivers commendable real-world and synthetic benchmark performance.
In the Geekbench tests, the Moto Edge 40 Neo achieves a score of 1,048 points in the single-core test and 2,538 points in the multi-core test.
Its AnTuTu score is notably missing the GPU component, resulting in a seemingly low score of 4,40,956 points.
However, this is due to the app's inability to measure the phone's GPU performance.
During the CPU Throttle test, the device reports a 30 percent decrease in performance from its peak while running 50 threads for half an hour.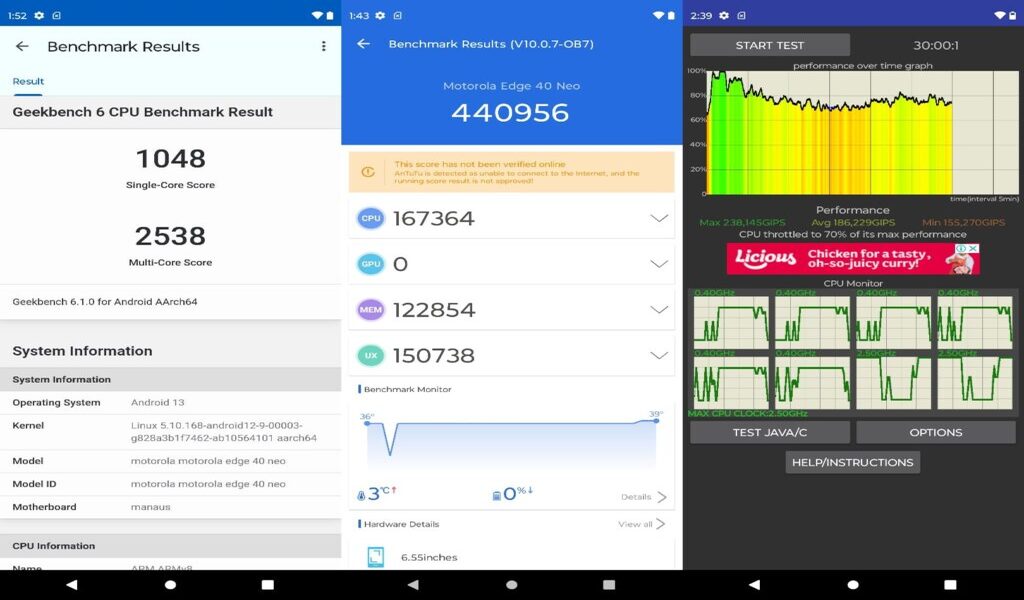 In everyday usage, the Moto Edge 40 Neo performed admirably without encountering any struggles or throttling.
It efficiently launched applications, provided smooth screen transitions, and effortlessly handled multitasking.
Moreover, the device offered a pleasing gaming experience, running BGMI with HDR graphics and high frame rates smoothly.
However, it's worth noting that prolonged gaming sessions may lead to some heating and subsequent performance throttling.
While this could be a concern for heavy users, it should not be a significant issue for regular users, as the device's performance remains more than satisfactory for typical tasks.
The Motorola Edge 40 Neo runs on the MyUX skin, which is layered over Android 13 right from the start.
The device is guaranteed to receive at least two major software updates in the future.
The current user interface (UI) maintains a close resemblance to the stock Android design, offering a clean and minimalist appearance with minimal bloatware.
However, there are still several customization options available to allow users to personalize their smartphone according to their preferences.
Like other Motorola devices, the Moto Edge 40 Neo offers a range of gesture-based commands, including actions like twisting the phone to launch the camera app and performing a double chopping motion to activate the flashlight.
Additionally, Motorola has introduced an Edge light feature on this smartphone, which uses different light patterns on the edges to signal notifications.
This feature is especially useful when the phone is placed face down, providing a visual indicator of incoming notifications.
Battery & Charging
The Motorola Edge 40 Neo comes with a substantial 5,000mAh battery, offering sufficient power to comfortably last a full day on a single charge.
With moderate usage, I consistently obtained slightly over six hours of screen-on time, which is quite respectable.
However, in the PCMark battery test, the device recorded a score of 8 hours and 13 minutes, which falls on the lower side compared to its usual performance.
When it comes to charging, the Motorola Edge 40 Neo offers quick charging capabilities with its 68W fast charger.
It can fully charge the device from 0 to 100 percent in under an hour, providing convenient and speedy recharging.
MORE RELATED NEWS:
U.S. Government Shutdown Potential Impact: What Stays Open And What Shuts Down?
Five Key Takeaways From New York Judge's Ruling On Trump's Financial Fraud Case
The Impact Of The COVID-19 Pandemic: Sharp Decline In Cancer Diagnoses In The U.S.