Global Protests in Support of Palestinians Amid Israeli-Gaza Conflict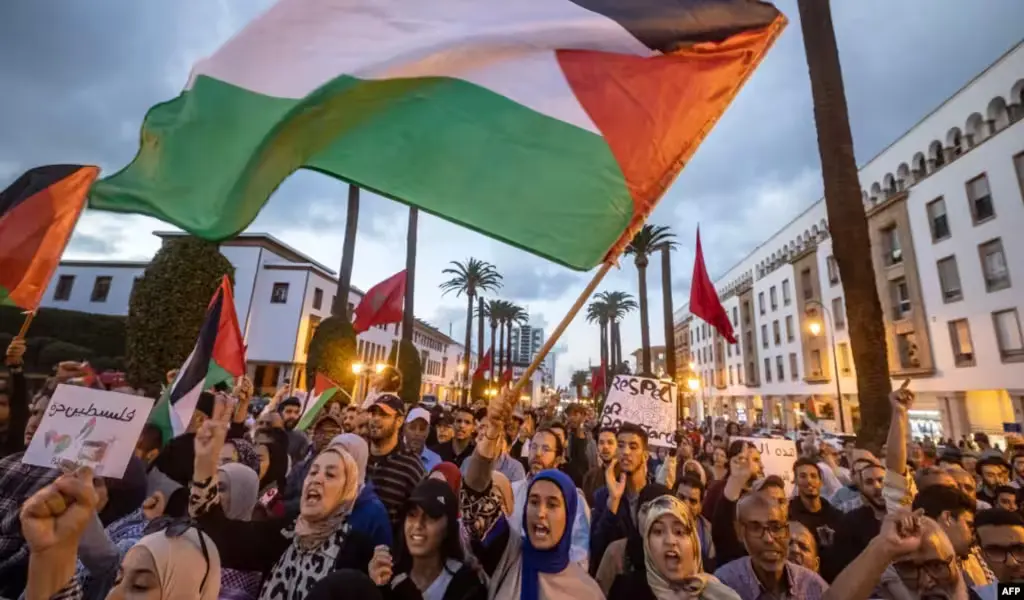 (CTN News) – In response to an attack by Hamas terrorists, Israel has been launching airstrikes on the Gaza Strip, and on Friday, tens of thousands of people in Muslim countries demonstrated in support of Palestinians in the Gaza Strip.
In addition to the Arab world, protests were held in Turkey, Iraq, Jordan, Yemen, Morocco, Malaysia, and Indonesia.
Thousands of Egyptians came to the streets in Cairo and other cities to vent their frustration, defying the military's regular prohibition on public meetings.
Protesters chanted, "The people want the fall of Israel," which was a rephrasing of a popular chant from the Arab Spring, "The people want the fall of the regime."
Protesters in Bahrain, which has established diplomatic ties with Israel, numbered in the thousands and chanted, "No to normalisation!"
After a surprise Hamas strike on October 7 killed at least 1,400 people, mostly civilians, Israel began its war in Gaza two weeks later, prompting the protests.
More than 4,100 Palestinians have been killed in the ongoing Israeli attacks, according to the Hamas-run health ministry.
While most Muslim countries have urged a quick ceasefire, many Western nations have supported Israel's military campaign.
During a brief visit to Tel Aviv this week, Vice President Joe Biden assured Israeli Prime Minister Benjamin Netanyahu that the United States will continue to guarantee Israel's qualitative military edge.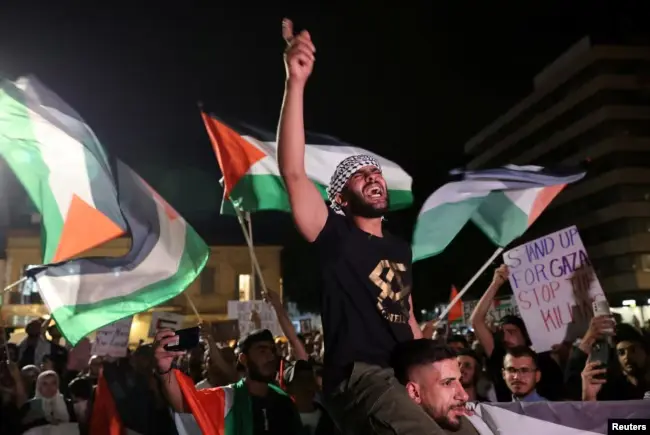 Biden pushed Congress to approve over $100 billion in aid for Israel, Ukraine, and Taiwan in a prime-time speech on Thursday night.
U.S. resoluteness in the face of Hamas and Russian President Vladimir Putin, he argued, was an issue of national security since both men were attempting to "annihilate a neighbouring democracy."
Palestinians in Ramallah, West Bank, voiced their displeasure with Vice President Joe Biden and the Obama administration for siding with Israel.
Hanin (who requested anonymity) is 29 years old and a journalist who told VOA that Joe Biden is "not even neutral about the war."
He has the power to put an end to it all with a few simple actions, but he… doesn't desire peace. Both [Biden] and [Israeli Prime Minister Benjamin] Netanyahu are at the helm of the current situation. Everything that has happened here may be traced back to them.
Hamza (also 20 years old), who asked that his last name not be used, said he thought the president's statements demonstrated that he considers Palestinians to be terrorists based on what Biden had stated.
Saying, "We are not terrorists. They're attempting to spin the attack in their favour. He told VOA they wanted to get freed from the occupation troops.
As Friday afternoon prayers concluded in the major cities of the occupied West Bank, protests erupted. Israeli security officers responded to stone and tyre burning by shooting tear gas and live ammunition.
The leaders of Muslim countries have also been vocal about the rising animosity in their country.
The Israeli attacks on Gaza, according to Turkish President Recep Tayyip Erdogan on Friday, constitute genocide.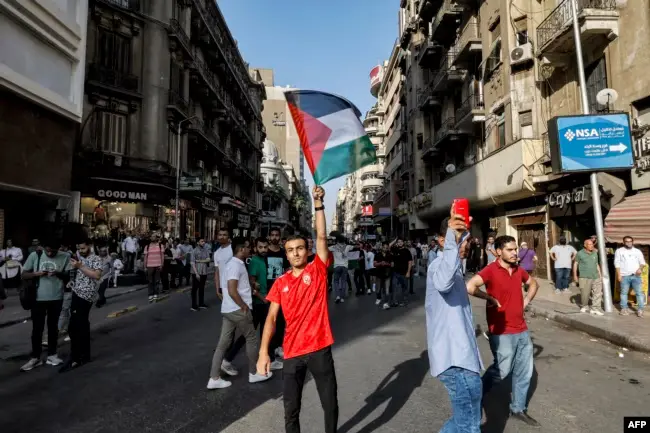 On X (formerly known as Twitter), Erdogan said, "I repeat my call for the Israeli leadership to never expand the scope of its attacks on civilians and to immediately end its operations amounting to genocide."
Turkey first criticised the civilian deaths in Israel following the Hamas attack and appealed for moderation.
Ankara, which maintains diplomatic ties with Israel despite the humanitarian situation in Gaza, has taken a more hardline approach.
Turkish President Recep Tayyip Erdogan called Egyptian President Abdel Fattah el-Sissi on Friday, with the words, "The savagery towards Palestinian lands was deepening," as reported by Erdogan's office.
El-Sissi told visiting U.S. Secretary of State Antony Blinken this week that Egypt "unequivocally condemns" Hamas attacks on Israel, but that militants are driven by Palestinians' terrible situation.
"We need to understand that this is the result of accumulated fury and hatred over four decades, where the Palestinians had no hope to find a solution," according to him.
On Saturday, amid rising concerns of a wider Middle Eastern war, Egypt will host a meeting on the Gaza issue. Officials from Arab and European countries will meet at the Cairo Peace Summit, but high-level representation from the United States and Israel has been conspicuously absent.
As reported by Reuters on Thursday, Jordan's foreign minister expressed concern that the worst was yet to come and that the war will have "catastrophic repercussions."
Thousands of demonstrators marched through the streets of Amman, Jordan's capital, and rallied near the Israeli Embassy to show their solidarity with the Palestinian cause.