China's Plan to Destabilize Europe Already in Action, G7 Vows Tough Stance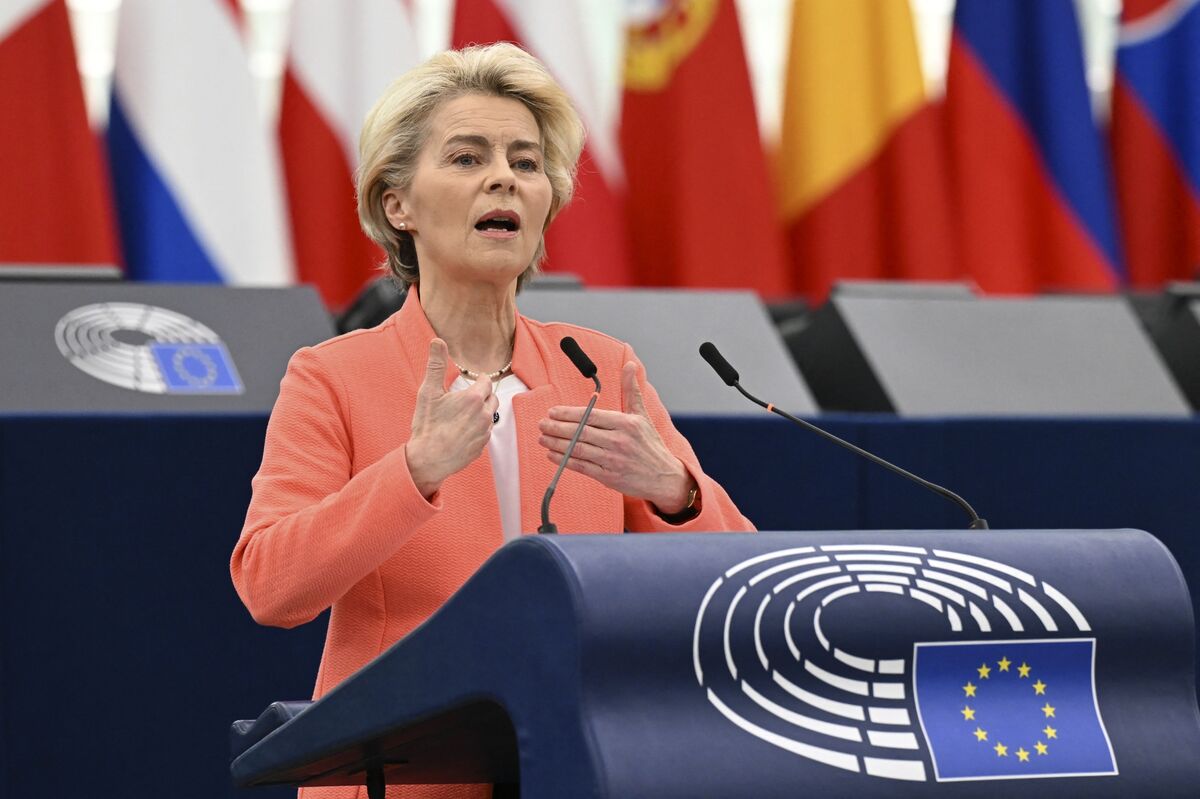 China's intention to push European Union members against one another in order to achieve its own geopolitical goals is already "in action," according to the president of the European Commission Ursula Von Der Leyen in a recent critical speech.
The president's cautious statements come nearly two weeks after her joint trip to Beijing with French President Emmanuel Macron.
At the end of his visit, Macron sparked outrage by suggesting that the EU not become "America's follower" in the conflict between China and the US over Taiwan, a democratic island that the Chinese Communist Party considers a breakaway province and has vowed to reunite with the mainland.
"Is it in our best interests to hasten [the Taiwan crisis]?" No. The worst thing would be for us Europeans to believe that we must become followers on this issue, taking our cues from the US agenda and a Chinese overreaction," Macron said in an interview with Politico Europe and Les Echos, referring to the concept of "strategic autonomy."
Macron's remarks sparked a fierce backlash from Eastern European and American officials, who accused the French president of endangering the transatlantic partnership.
Ursula Von Der Leyen, speaking before the European Parliament on Tuesday morning, carefully avoided the topic while issuing a sharp caveat on what Beijing is attempting to do.
"A strong European China policy relies on strong coordination between member states and EU institutions, as well as a willingness to avoid the divide and conquer tactics that we know we may face," Von Der Leyen added, quoting from a previous address.
"We've already seen those tactics in action in recent days and weeks," she continued.
"And it is now time for Europe to act as well." Now is the opportunity to display our collective determination, to define success together, and to showcase the togetherness that makes us powerful."
Peace and stability" in the Taiwan Strait
Von Der Leyen emphasized the EU's adherence to the One China policy, which recognizes the People's Republic of China as China's sole government, but emphasized the importance of maintaining "peace and stability" in the Taiwan Strait.
Western allies have long accused Beijing of launching a full-scale military incursion to seize control of the island, a calamity that would almost certainly disrupt semiconductor supply chains and bring the global economy to a halt.
"We are vehemently opposed to any unilateral change in the status quo, particularly through the use of force," Von Der Leyen added.
During her speech, the European Commission chief said the world has changed "enormously" since the bloc's previous single policy on China was revealed in 2019, and she asked member states to come up with a new, cohesive plan, "one that we can all rally around."
However, this attempt has been impeded by significant divisions among EU countries over how to engage with China, a split that is plainly reflected in the harsh reaction to Macron's remarks.
Beijing's stance on the Ukraine war, which the West regards as unduly ambiguous and biassed in favour of Moscow, has exacerbated the policy dilemma.
"I believe we can – and must – carve out our own distinct European approach that also allows us to collaborate with other partners," Von Der Leyen said, implying Macron's long-held desire for strategic autonomy.
"And the starting point for this is the need to have a shared and very clear-eyed picture of the risks and opportunities in our engagement with China."
Von Der Leyen then reiterated her suggestion, which is based on "de-risking" some parts of EU-China relations, such as renewable energy, raw materials, emerging technologies, and defence, which are now more vulnerable to undue meddling as a result of "China's explicit fusion of its military and commercial sectors."
The president also stated that her services would be used to create a new tool to oversee outbound investment in a "very small number but sensitive technologies," which she did not specify.
"We must ensure that the capital, expertise, and knowledge of our companies are not used to enhance the military and intelligence capabilities of those who are also our systemic rivals,"That simply cannot be," Von Der Leyen warned.
G-7 United on Chinese threats to Taiwan
Meanwhile, top diplomats from the Group of Seven affluent democracies vowed a united front against Chinese threats to Taiwan and Russia's aggressiveness in Ukraine, declaring at the end of their discussions on Tuesday that they were determined to strengthening and enforcing strong sanctions against Moscow.
The G-7 declaration outlining their agreements also featured strong comments against North Korea's unprecedented string of missile testing. The three-day summit in this hot springs resort town, however, was emphasized by China's growing aggressiveness in Asia and Russia's invasion of Ukraine.
"There can be no impunity for war crimes and other atrocities, such as Russia's attacks against civilians and critical civilian infrastructure," the ministers stated.
"We remain committed to intensifying sanctions against Russia, coordinating and fully enforcing them," the communique read, adding that the US would stand by Ukraine "for as long as it takes" to protect itself.
The foreign ministers' communique was written as a blueprint for global leaders to adopt at the G-7 summit in Hiroshima next month, and it mentioned Iran, Myanmar, Afghanistan, nuclear proliferation, and other "grave threats."
However, two crises stood out: China's rising threats and military maneuverings surrounding Taiwan, the self-governing democracy that Beijing claims as its own, and Russia's invasion of Ukraine. Russia's current offensive is mostly stopped, and Ukraine is preparing a counteroffensive, but the Russian leader's frequent threats to deploy tactical nuclear weapons have sparked considerable global concern.
"Russia's irresponsible nuclear rhetoric and its threat to deploy nuclear weapons in Belarus are unacceptable," the ministers added.
Wests response to Russian and Chinese aggression
The G-7 envoys from Japan, the United States, the United Kingdom, France, Germany, Canada, Italy, and the European Union have emphasized that their meeting in Karuizawa comes at a critical juncture in the world's response to Russian and Chinese aggression, both of which are viewed as threats to the post-World War II rules-based international order.
Global efforts to address the issues at the United Nations have been thwarted by Chinese and Russian obstinacy on the Security Council.
G-7 leaders and foreign ministers have recently ended visits to China, most recently France and Germany, and there is growing concern after China recently sent planes and ships to practise an encirclement of Taiwan. Beijing has also been swiftly acquiring nuclear warheads, toughening its stance on its claim to the South China Sea, and creating a picture of approaching conflict.
According to The Associated Press, the G-7 ministers stated that peace and stability in the Taiwan Strait between China and Taiwan are "an indispensable element in the international community's security and prosperity," and they called for "the peaceful resolution of cross-Strait issues."
"There is clear unanimity in the approach we are taking," US Secretary of State Antony Blinken said of his talks with other ministers in Karuizawa. "What I heard was a remarkable convergence on concerns related to (China) and what we're doing to address those concerns," he said.
Concerning stalling talks with the Chinese, Blinken stated that the US prioritized maintaining communication channels open, as President Joe Biden and Chinese leader Xi Jinping agreed to last year.
"My expectation is that we will be able to move forward on that," Blinken added, "but it does require China to make clear its own intentions in doing so."
The communique also encouraged China to "refrain from using threats, coercion, intimidation, or force." We continue to be deeply worried about the situation in the East and South China Seas… There is no legal foundation for China's vast maritime claims in the South China Sea, and we reject China's militarization of the region."
G-7 interfering in China's internal affairs
Foreign Minister Wang Wenbin of China claimed in Beijing that the G-7 had "grossly interfered in China's internal affairs and maliciously slandered and smeared China."
"The communique is full of arrogance, prejudice, and sinister intentions against China," he stated. We strongly reject and condemn this, and have submitted formal concerns with the Japanese side, the meeting's host country."
Despite indications, including comments from French President Emmanuel Macron, that the G-7 is divided on China, US officials said in Karuizawa that there is a shared concern among G-7 nations about China's actions, as well as a desire to maintain a coordinated approach to working with Beijing even as nations face Chinese coercion and attempts to water down or circumvent international trade and commerce rules.
Japan's concern about China may be seen in its efforts to depart from its post-World War II self-defense-only ideals, which include efforts to acquire preemptive strike capabilities and cruise missiles.
"We noted in a statement for the first time as the G-7 our commitment to a rules-based, free and open international order and our strong opposition to unilateral attempts to change the status quo anywhere in the world," Japanese Foreign Minister Yoshimasa Hayashi told reporters.
He stated that Japan, as Asia's lone G-7 member, focused on the Indo-Pacific region.
Aside from China, North Korea has conducted around 100 missile tests since the beginning of last year, including intercontinental ballistic missiles capable of reaching the US mainland and a variety of other shorter-range weapons that threaten South Korea and Japan.
"We demand that North Korea refrain from any further destabilizing or provocative actions, including any further nuclear tests or launches using ballistic missile technology," the communique said, adding that any future actions "must be met with a swift, united, and robust international response, including additional significant measures to be taken by the UN Security Council."
"It is critical that sanctions be fully and scrupulously implemented by all states, and that they remain in place for as long as North Korea's WMD (weapons of mass destruction) and ballistic missile programmes exist," the ministers said.