French President Macron To Visit China For Russia-Ukraine Peace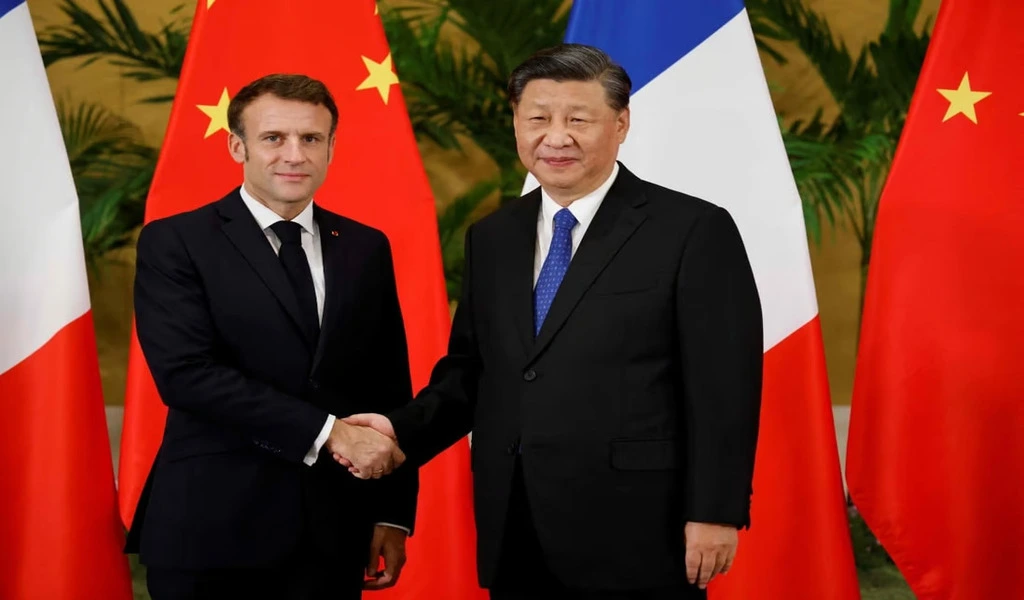 (CTN NEWS) – PARIS – A day after Beijing unveiled a peace plan, French President Emmanuel Macron said that he will travel to China in April and encouraged it to put pressure on Russia to stop the war in Ukraine.
In an effort to maintain its tight ties with Moscow, China published a 12-point position document on Friday that urged for immediate peace talks and a "political settlement" to put an end to the conflict.
On Friday, Volodymyr Zelensky, the president of Ukraine, expressed interest in meeting his Chinese counterpart Xi Jinping and referred to it as "essential for international security."
On Saturday, Macron announced that he would travel to China in "early April" and urged Beijing to help "put pressure" on Moscow to put a stop to the conflict.
On the position paper, Macron remarked on the sidelines of a Paris agricultural exhibition, "The fact that China is involved in peace efforts is a good thing."
Alexander Lukashenko Of Belarus To China
In order to achieve peace, he continued, "Russian aggression must end, forces must depart, and the territorial sovereignty of Ukraine and its people must be respected."
On Saturday morning, the Chinese foreign ministry announced that President Xi had invited Alexander Lukashenko of Belarus to undertake a state visit to China from February 28 to March 2.
Vladimir Putin's longtime supporter Lukashenko permitted his nation to be used as a base for Moscow's invasion of its pro-Western ally on February 24 of last year.
Given that Belarus and Ukraine announced the formation of a unified regional force in October, Kyiv has expressed fear that Belarus would once more aid Moscow in its military endeavors.
During a phone call with Minsk on Friday, Chinese Foreign Minister Qin Gang informed his Belarusian counterpart Sergei Aleinik that Beijing is eager to cooperate with Minsk to increase mutual political trust.
According to Qin, China will keep assisting Belarus in preserving its national security and will fight any efforts made by "foreign forces" to meddle in Minsk's domestic affairs or impose "illegal" unilateral sanctions on the city.
Exposed Diplomatic Rifts
On Saturday, the G20 finance ministers failed to agree on a united statement on the global economy as China tried to soften references to the Ukraine crisis.
This exposed the diplomatic gulf between Beijing, Moscow, and the West.
Russia claimed that by attempting to impose their "diktat," the United States, the European Union, and the G7 "destabilised" the discussions in India.
All parties were asked by the Chinese position document to "help Russia and Ukraine in working together and restarting direct engagement as soon as possible."
Following Putin's warning to use Moscow's nuclear arsenal in the battle, it also made plain that it was opposed to the deployment of nuclear weapons and the threat to do so.
Macron Hoping For 'peace' From China To End Russia-Urakine Conflict
The ideas were rejected by a number of Western nations, who also cautioned against Beijing's tight connections to Moscow. China has denied that it was "considered sending lethal support" to Russia, as claimed by US Secretary of State Antony Blinken.
Macron urged Beijing "not to supply any arms to Russia" and enlisted its assistance in applying pressure to "guarantee that Moscow never uses chemical or nuclear weapons and that it ceases its aggression before to discussions."
Zelensky voiced hope on Friday that China would back a "fair peace" in Ukraine and that Beijing would refrain from arming Russia, but he did not say when or where talks with Xi would take place.
The commander of Russia's Wagner mercenary group reported that his troops had on Saturday taken control of a new settlement near the eastern Ukrainian city of Bakhmut, which is a key battleground.
In the conflict for control of the eastern Donbas region, Yevgeny Prigozhin claimed to have taken the city of Yagidne, which is close to the center of Bakhmut.
RELATED CTN NEWS:
President Xi Jinping of China Proposes 12-Point Peace Plan for Ukraine