Record-Breaking Heat Wave Sweeps Asia: Extreme Temperatures in Thailand and China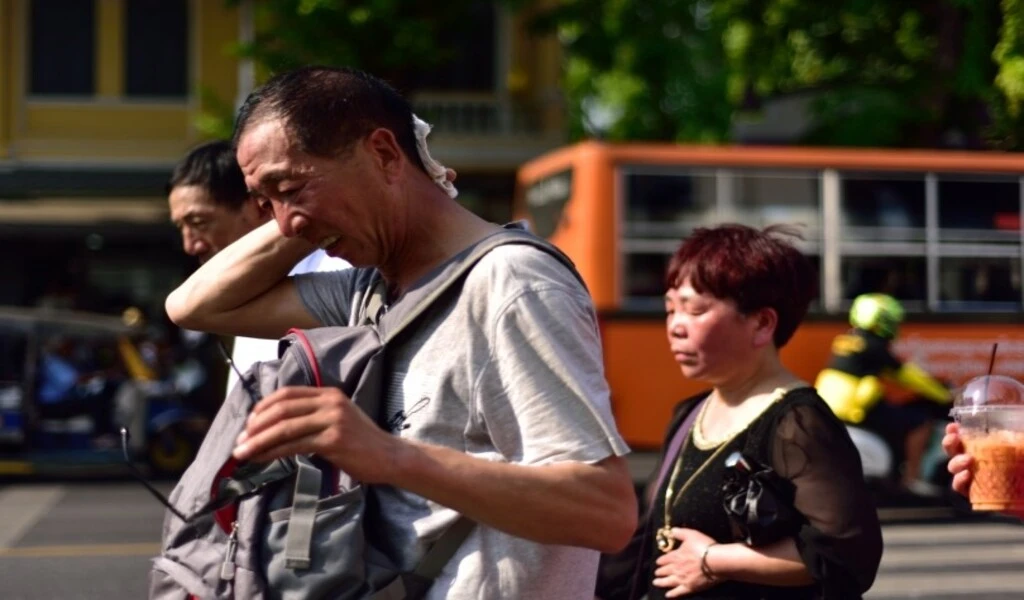 (CTN News) – As the country continues in the grip of a potentially blistering heat wave, numerous heat records have been smashed recently, with Thailand, in particular, experiencing abnormally harsh circumstances. The "worst April heat wave in Asian history," described by weather expert Maximiliano Herrera.
April and May are usually the hottest months in Thailand, but the heat pushed the country to its record high late last week.
During the New Year's celebrations on Friday, the temperature in Tak reached 114 degrees Fahrenheit (45.4 Celsius), a new record for the country.
Several national temperature records were broken, so it was recommended that people stay inside to avoid heat stroke.
Thailand Sets All-Time Hottest Temperature in History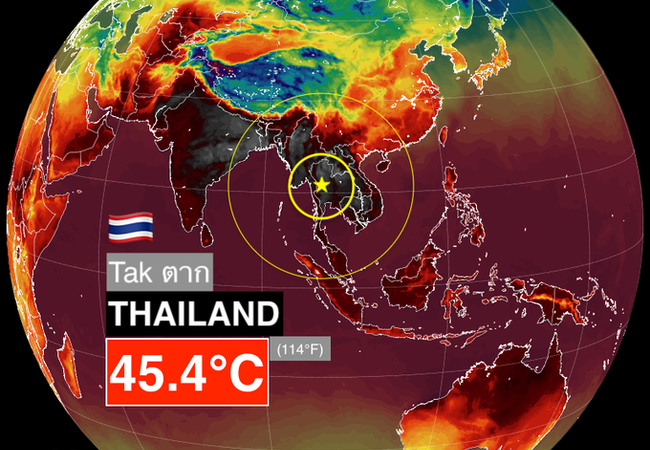 The previous high temperature in Thailand was 112 degrees (44.6 Celsius), recorded in 2016 in Mae Hong Son province, according to Arabiaweather.com, a private weather organization based in Jordan. Temperatures of 112 degrees (44.6 Celsius) were recorded at Tak Airport in Thailand on Friday, and 110 degrees (43.5 Celsius) were recorded in Phetchabun.
Thailand 🇹🇭 just measured over 45°C for the first time on record. A new national heat record has been set.

A brutal heatwave tightens its grip across more than a dozen countries in Asia.

[THREAD] pic.twitter.com/I1Ej3lOEMg

— Scott Duncan (@ScottDuncanWX) April 15, 2023
Arabiaweather.com stated that haze "has caused thousands of people to develop respiratory problems and sore throats in recent weeks" and that "Thai authorities have issued health warnings as meteorologists estimate temperatures of up to [122 degrees] in the sun."
Meanwhile, April temperatures across China have been the highest ever recorded at hundreds of weather sites. According to a tweet by climate expert Jim Yang, on April 1st, record-high temperatures were set at 109 meteorological sites in 12 provinces. Nine more weather stations had April highs that were tied with the record.
On Monday, the temperature reached 101 degrees (38.2 Celsius) in Yunhe, Yang tweeted, setting a new record high for April in the province of Zhejiang by 1.6 degrees.
Meanwhile, in Hangzhou, the temperature hit 95 degrees (35 Celsius), a new record high for April. According to Yang, this occurred after temperatures hit 95 degrees on Sunday throughout ten provinces in China.
This past weekend, Linyi, in Shandong province, apparently experienced China's first tornado of the year.
June and July are often the hottest months in China. In Beibei, Chongquing province, the temperature hit a record high of 113 degrees (45 Celsius) last summer, causing rivers to dry up and forest fires to break out.
Temperatures in Yuanjiang, Hunan province, had topped 95 degrees (35 degrees Celsius) for 22 consecutive days as of Friday, adding to the weeks' worth of heat.
According to studies, heat waves in China are becoming more severe and lasting longer due to climate change brought on by humans.
Climate Change and its Impact on Heat Waves in Asia
Prayagraj, India, saw temperatures of 112 degrees (44.6 Celsius) on Monday, the highest of any city in the region. And in Bangladesh, the temperature in Ishurdi hit 109 degrees (43.0 Celsius), matching the April record high.
Temperature records for April were set in Kalewa, Myanmar, at 111 degrees (44.0 Celsius), and in Nepal, at 107 degrees. (41.7 Celsius). Dhaka, the capital of Bangladesh, hit 105 degrees (40.6 Celsius) on Sunday, "its highest temperature for any month in decades," according to a tweet by meteorologist Daniel Herrera.
However, this was still below the record high of 42.3 degrees (46.3 Celsius) set in 1960.
Temperatures of 107 degrees (41.6 degrees Celsius) were recorded in Luang Prabang, 107 degrees (41.5 degrees Celsius) in Phonhong, 107 degrees (41.4 degrees Celsius) in Vientiane, and 107 degrees (41.4 degrees Celsius) in Sayaboury, all within the last few days in Laos.
On Thursday, Turkmenistan hit a record high of 108 degrees Fahrenheit for April. (42.2 Celsius). Temperatures in Turkmenistan and Uzbekistan only dropped to 82 degrees at night, providing no relief from the day. (28 Celsius).
Late this week, temperatures are predicted to drop to far below normal over much of China, signaling the end of the hot wave.