China's Xi Jinping Sacks Minister of National Defence Li Shangfu
China's Xi Jinping has fired his military defence minister, General Li Shangfu, just two months after he vanished from public view. There has been no justification for his dismissal, nor has a replacement been named.
His ousting comes after, Mr Qin and Mr Li were both dismissed from their roles on the State Council, the country's cabinet.
According to state broadcaster CCTV, China's senior legislators, the Standing Committee of the National People's Congress, recommended the expulsion of both men. His departure leaves China without a defence minister as the country prepares to host international defence officials this week in Beijing.
Last month, Reuters reported that he was under investigation for possible corruption in the procurement and development of equipment.
He was last seen in public on August 29th, during a security summit in Beijing with African nations. He'd just been in charge since March.
Gen Li, an aerospace engineer who began his career at a satellite and rocket launch facility, has steadily risen through the ranks of the Chinese military and political elite.
When he led the military's equipment development branch in 2018, the US government sanctioned him over China's purchases of Russian combat planes and armaments.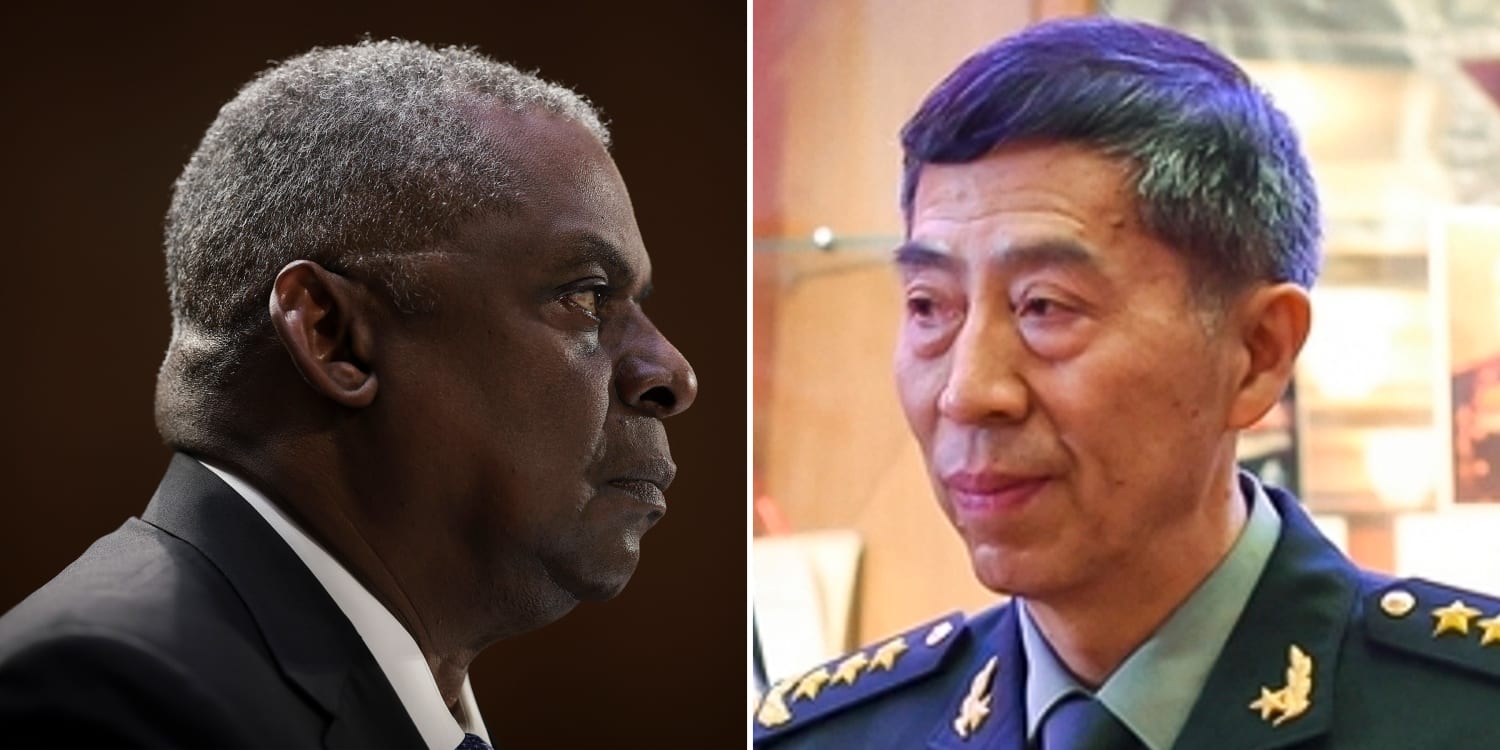 The penalties were supposed to be a stumbling block for Gen Li, who refused to meet with his US counterpart Lloyd Austin at a defence forum in Singapore earlier this year. He, like Mr Qin, was thought to be a favourite of President Xi Jinping. Mr Qin was fired as China's foreign minister in July, after only seven months on the job.
Mr Qin's dismissal was also not explained, however the Wall Street Journal reported that he had an adulterous affair while serving as ambassador to the United States.
Soon after, two chiefs of an elite unit in charge of the country's nuclear arsenal were removed, sparking speculation of a purge.
General Li Yuchao, who led the People's Liberation Army's (PLA) Rocket Force unit, and his deputy had "disappeared" for months prior to their dismissals.

China's purges of top officials
Meanwhile, Xi Jinping and China may be in trouble, according to recent headlines, following the apparent purging of two of Beijing's primary interlocutors with the rest of the world, both high-profile loyalists in the Chinese leader's ministry.
However, Beijing's well-known opacity may have obscured assessments of how the instability is influencing Xi's grasp on power and decision-making as China's competition with the US heats up.
While China's lack of transparency and predictability raises more concerns and fosters speculation, some experts argue that this does not necessarily portend difficult times for Xi, the country's most powerful leader since Mao Zedong.
"It doesn't mean China is less stable," Yun Sun, director of the China programme at Washington's Stimson Centre, said. "It just means we know less about what's going on."
The fact that Xi has the ability to remove senior officials "when he wants to," she noted, "actually says his power base is solid."
Ministers who have gone missing
The widespread concern about the missing ministers began in July, when then-Foreign Minister Qin Gang was absent for weeks, only to be abruptly removed from his office without explanation after a one-month absence. According to reports last month, he was fired after fathering a kid in the United States during a long-rumored extramarital romance while serving as ambassador to Washington, potentially jeopardising Chinese national security.
More purges raised eyebrows in August, when two of the most senior officials in the People's Liberation Army's Rocket Force — which oversees the country's land-based missile and nuclear arsenals — were deposed, ostensibly in an effort to install more loyal officials and combat corruption within the force.
Concerns about Xi's government have grown in recent weeks, owing to Defence Minister Li Shangfu's more than month-long, as-yet unexplained absence. The defence commander, who was last seen in public on August 29, is apparently being investigated along with eight other senior officials for potential wrongdoing while leading the military's equipment procurement unit.
In October of last year, models of military equipment and a big screen depicting Chinese leader Xi Jinping were on show at the Military Museum of the Chinese People's Revolution in Beijing.
In October of last year, models of military equipment and a big screen depicting Chinese leader Xi Jinping were on show at the Military Museum of the Chinese People's Revolution in Beijing. REUTERS |
Both Li and Qin are among China's five state councillors, a position in the Cabinet that is higher than that of a regular minister. Li also serves on Xi's Central Military Commission, which commands the country's armed forces.
Li is expected to be formally removed before the Xiangshan Forum international security summit in Beijing from October 29 to 31. According to Reuters, who cited unidentified sources, Gen. Liu Zhenli, the commander of the military body responsible for China's combat operations and planning, has emerged as the top frontrunner to fill the role.
Although the positions of foreign and defence ministers are mostly symbolic in the Chinese system — Qin was not the country's top diplomat, and Li does not command combat forces — the duo were widely regarded as significant public faces representing Beijing's diplomatic and military policies.
"The removal of two senior officials charged with China's diplomacy and China's military diplomacy could certainly upset China's interactions with the rest of the world in these domains," M. Taylor Fravel, a China expert and director of the Massachusetts Institute of Technology's Security Studies Programme, said.
The removals could be a distraction for the United States, which is attempting to manage its increasingly tense competition with Beijing and keep it from escalating into conflict.