Tornado hits Southern California City, Causing Damage and Chaos"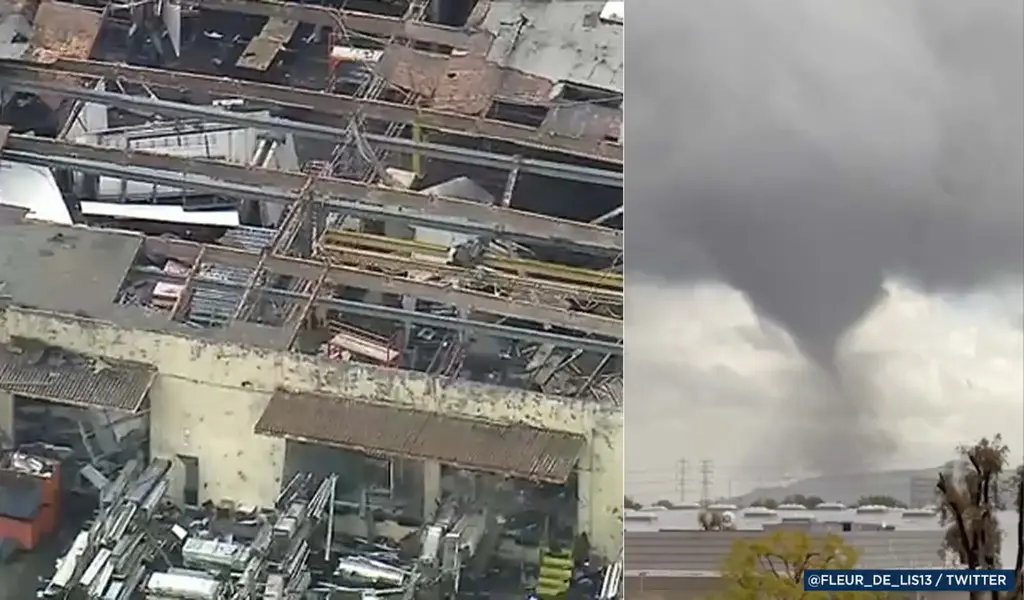 (CTN News) – On Wednesday, a tornado ripped through a city in southern California, ripping roofs off buildings and tossing cars around as the state's protracted winter weather drama took an even more dramatic turn.
Montebello, California, was hit by a whirlwind reminiscent of those in the Midwest, shattering windows and sending residents fleeing for cover.
"I was driving… and I saw this tornado in front of me and had to reverse out," one local business owner told KTLA.
The tornado ripped off the building's roof. The vehicles have all shattered windows. Automobiles were wrecked, and the whole scene was chaotic.
The city is located only a few miles (kilometers) from the heart of Los Angeles, and footage showed what appeared to be roofing material circling above industrial buildings.
Holes could be seen on several roofs, pipelines and installations were twisted and destroyed, and cars appeared to have been forced out of their parking spots in the resulting aerial photographs.
California hit by intense storm, flooding and power outages affecting hundreds of thousands
The proprietor of a local shop described the scene as "the craziest thing he's ever seen," describing how he witnessed cars "swinging" through the streets.
The event, described as a "weak tornado" by the National Weather Service, was also being looked into in conjunction with a similar incident in Carpinteria, California, which occurred close to Santa Barbara.
According to the National Weather Service, a brief, weak, and narrow tornado touched down near the Sandpiper Village mobile home park in Carpinteria on the evening of March 21.
Approximately 25 mobile homes were damaged, and a few trees in the cemetery next to the park were also harmed.
According to the National Weather Service, the most powerful storms in nature are tornadoes, violently rotating air columns that impact the earth.
One storm can produce gusts of up to 300 miles per hour (480 kilometers per hour), tearing across a community in seconds.
The preliminary NWS estimates place the maximum sustained wind speeds at approximately 85 miles per hour during these two occurrences.
According to meteorologist Daniel Swain's Twitter post, the damage was "pretty significant" by California standards, and there may also have been injuries.
Tornadoes occurred near the end of a severe storm that pounded California, killing at least one person, damaging thousands of structures, and leaving hundreds of thousands without electricity.
Large areas of the state are still under a flood watch, and Tulare County has lost much land to the water.
Climate change exacerbates extreme weather, making dry periods drier and wet times much wetter.
Carrie Monteiro, a spokesman for Tulare County's Emergency Operations Center, told the Los Angeles Times that over 700 buildings were destroyed.
Before the all-clear for people to return home, utility firms must examine any water, sewage, and electricity systems damage.
She said it would be a hard slog in Tulare County.
Over a dozen atmospheric rivers, which are bands of moisture that chug in from the Pacific Ocean, have slammed the state in the past few months.
Rain and snow totaling trillions of gallons (liters) have been dumped on a region in an unprecedented drought for decades.
According to water managers, regional reservoirs are in better shape now than in years, but that may swiftly change if next winter is as dry as this one.
According to scientists, climate change makes dry periods even drier and wet times considerably wetter than they otherwise would be.
Related CTN News:
Thailand is Expecting More Heavy Rains and Flash Floods this Week
Heavy Rain and Flash flood Warnings Issued in Southern Thailand
48 dead in US Deadliest Winter Storm, As Freezing Conditions Continue