Vets in Thailand Remove 14 Bullets from Wild Baby Elephant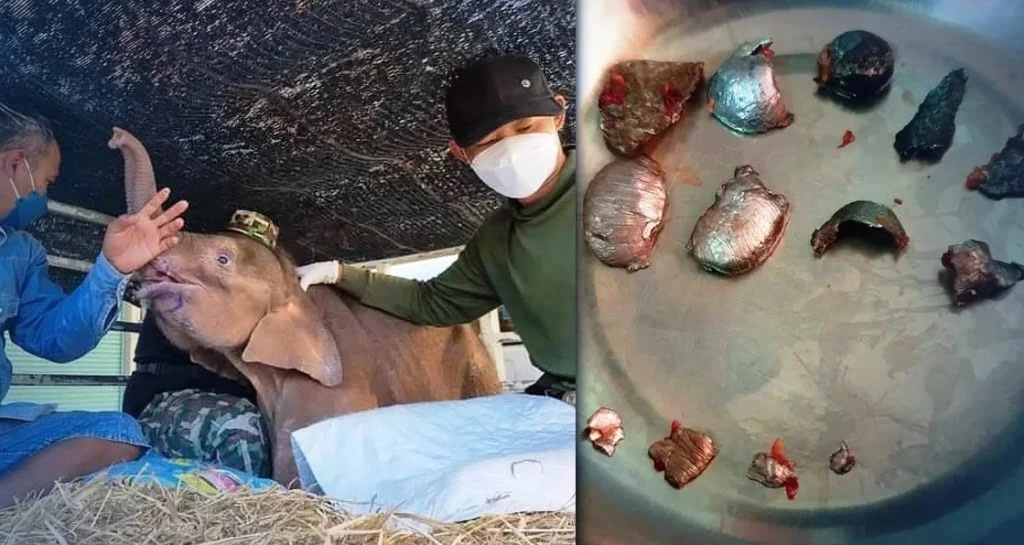 A team of veterinarians from Nern Plub Wan Animal Hospital in Thailand successfully removed 14 bullets from the front legs of a wild baby elephant named "Fah Sai" on Friday.
In Chanthaburi's Kaeng Hang Maew district, the elephant was found with gunshot wounds and a snare on November 28. Poachers had rigged a snare trap to catch the little elephant. Veterinarians said they were shocked why anyone would want to shoot or injure a baby elephant.
After her rescuers transported her to Nong Nooch Tropical Garden in Chonburi's Pattaya district for treatment, they named her Fah Sai (clear skies).
To prevent ulcers from spreading, the vets removed the lower part of her front right leg that had been injured by the snare.
During nearly two hours of surgery, vets removed 10 large bullets and four small ones from her legs, though some shrapnel remains lodged in her flesh. As soon as her wounds start healing, the shrapnel and dead skin will naturally fall out, said Dr Sunita Wingwon.
"During her recovery, her wounds will have to be dressed every day. After they are completely dry, she will begin physical therapy, including swimming, to rebuild the muscle mass that was lost during surgery."
Department of National Parks, Wildlife and Plant Conservation said snare traps made with simple tools are deadly to wildlife. When animals struggle to escape, they often tighten the traps and injure themselves further.
The use of these life-threatening traps that are commonly found in conservation areas has also been monitored and curtailed by park rangers across the country.