UK Visa Appointment Scandal: Brokers Exploit Overseas Workers and Students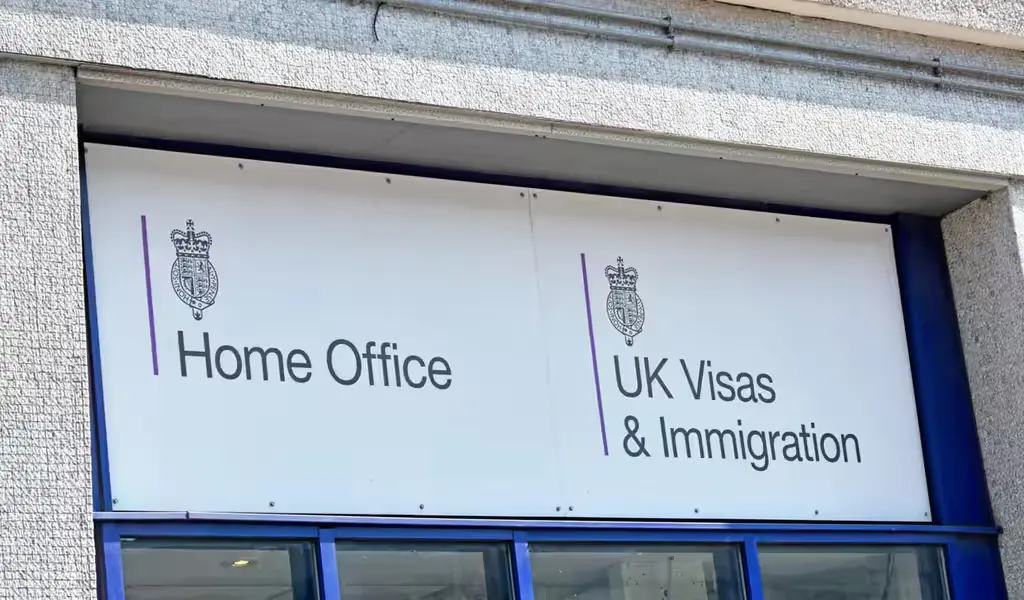 (CTN News) – Brokers are booking immigration interviews in the UK and selling the appointments for hundreds of pounds, exploiting international students and workers.
The biometric appointments are extensively promoted on social media platforms like Facebook and the encrypted messaging application Telegram, where the Observer discovered brokers charging up to £800 for them.
"Are you thrilled to be going to the UK? One message board ad urged people to not let the burden of scheduling visa appointments prevent them from visiting Pakistan, India, Nepal, and Bangladesh.
Others claim to be able to help individuals get around waiting times in the official system by offering them appointments the very next day at "reasonable prices" with no payment required up ahead.
greater demand for visas from international students and healthcare professionals has contributed to greater pressure on some consular services abroad, fueling the growth of the underground market.
Those who intend to remain in the UK for longer than six months, as well as short-term visits from specified countries, are required to submit fingerprints and a photograph at an in-person appointment in their home country.
However, some people in south Asia are having trouble acquiring slots via VFS Global, the outsourcing company authorised by the Home Office to handle UK visa applications in the region, even though direct booking of biometric appointments is normally free or between £30 and £85 for priority services.
Local agents' strategies can differ. Both automated bots and human agents monitor VFS Global's booking system for available slots, with the latter filling them on their clients' behalf as soon as possible.
The Home Office said it is working to prevent "fraudulent behaviour" by agents who make unnecessary appointment requests, only to later cancel and resell those times to paying customers.
It is believed that the situation is the greatest in Pakistan, where a surge in agents abusing the appointment system has occurred over the past year. After having trouble getting appointments through official routes, many asking for UK visas from the nation said they had no choice except to pay the brokers.
One Afghan citizen applying for a student visa in Pakistan reported looking for available booking slots multiple times in September but to no avail. Meanwhile, brokers were offering one- to three-day slots for 250,000 Pakistani rupees (PKR) (about £735).
He said, "You have to pay someone to get into the VFS office." No one I know has been able to schedule regular appointments. Nobody would be paying this much if they could just set up regular appointments themselves.
A broker quoted a student from Kmoke, in the Gujranwala district of north-east Pakistan, 190,000 PKR (about £560) for an emergency appointment in Islamabad. She drove six hours to reach VFS Global's facility, only to discover there was no such appointment.
Eight days later, she paid 40,000 PKR (about £120) to another agent who got a slot for her. She missed her flight to the UK and had to postpone the beginning of her first semester at university as a result of the delays.
According to her, "if you stand in front of any VFS centre [in Pakistan], so many people will come up to you asking: 'You need appointment?'" She went on to say that practically every education consultant in her nation was a "middleman of appointment-selling."
Fast Track Global Consultants immigration advisor Inam Raziq from Birmingham called it "shocking" that clients were paying "dodgy agents" after problems with online appointment scheduling.
He claimed that students were especially "desperate" before registration deadlines for classes. There are no appointment times listed on the main webpage. "But the agents say, 'If you give us the money I'll give you one,'" he explained.
Appointment brokering is big business in south Asia, according to Rakesh Ranjan, south Asia coordinator for the migrant workers' programme at the UK-based Institute for Human Rights and Business. Agents sell VFS Global appointments for people travelling to the United States, Canada, and European Union countries, as well as the United Kingdom.
Ranjan was quoted the equivalent of £500 by an agent who offered to assist him prepare his documents and book an appointment when he applied for a visa from New Delhi recently.
He claimed that many employees were paying for unnecessary benefits and that some workers relied on agents because they lacked access to the internet. It's a huge problem. Everything about coming to the UK costs more money," he remarked.
VFS Global, which offers consular services for 70 governments including the UK, has stated that it is attempting to crack down on middlemen who charge a premium or swindle applicants by selling slots that do not exist.
Measures include keeping an eye out for automated activity, disabling the ability to reschedule or cancel appointments, and rejecting bookings from phoney users.
It was stated that most places in southern Asia had no problems with availability, and that free appointments were provided randomly on a first come, first served basis. One country where agents "significantly ramped up their claims and activities this year" was Pakistan, where there was a surge in applicants hoping to study or settle in Britain.
Any effort to exploit the visa appointment system will be dealt with severely. To combat this misuse, VFS Global has been working closely with the UK Home Office.
"We have not experienced abuse of this type or scale in any other UKVI [UK visas and immigration] locations," the company's representative stated. They also said that clients were "strongly encouraged" to only make appointments through the company's website and to stay away from any unofficial agents.
The firm and the Home Office have been criticised for not making the scheduling procedure more user-friendly by, for instance, giving appointments directly to applicants or releasing them at set times each day.
An agent who offers UK immigration appointments in India and Pakistan claimed some agents were "greedy" but others were delivering a real service that was only needed because it was so difficult to book slots via the official website. He also noted that appointments tend to pop up unexpectedly and are "online for only one minute, and then they disappear."
When the UK's independent chief inspector of borders and immigration conducted an audit of visa services in 2021, they found availability concerns at abroad application centres. One applicant noted that using VFS Global's approach was "like a lottery," and that they had to keep checking the website at all hours of the night in order to locate a time that worked for them.
VFS Global claimed that the problems noted in the inspection report were the result of delays caused by Covid-19, and that releasing slots at predetermined intervals would increase fraudulent misuse.
There has been "abuse of the visa appointment booking process" by "unauthorised agents" in south Asia, and the Home Office has promised to take strong steps to stop it. To prevent future incidents of fraud and to make appointments accessible to legitimate individuals, we are continuing to collaborate with the provider to implement steps to this end, the spokeswoman said.