Despite Thailand's Free Visa Chinese Tourists Hesitant to Travel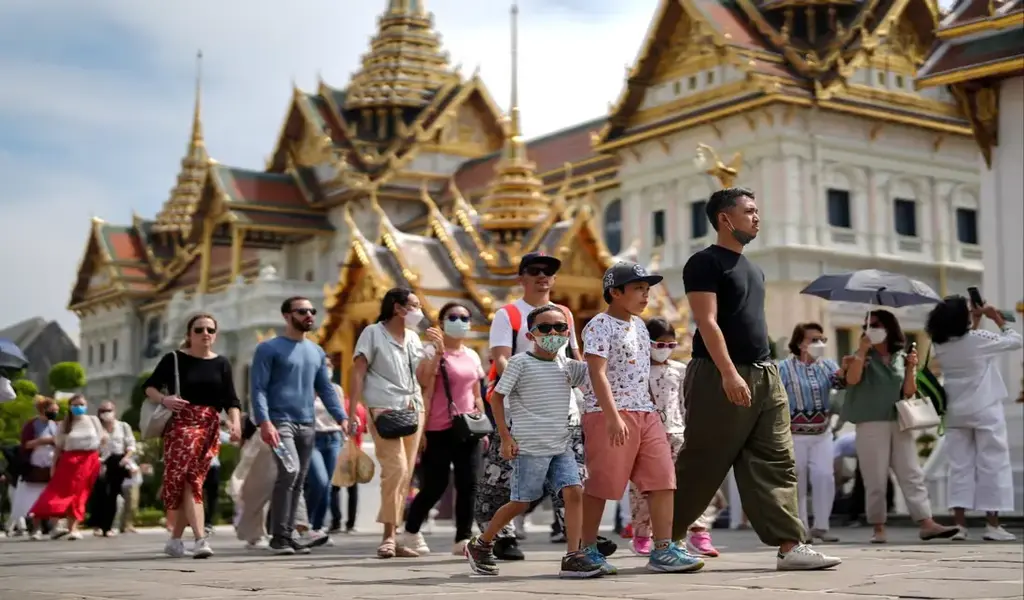 Although roughly 1.4 million Chinese tourists visited Thailand in the first six months of this year, their return has been slower than predicted.
The prime minister claims that this year's low arrival numbers are due in major part to the difficulty and expense of obtaining visas from China, the country's largest source of visitors prior to the outbreak. Almost 28 percent of the record 40 million foreign arrivals to Thailand in 2019 were from China, bringing in almost 1.9 trillion baht in income.
Fearing that this year's Chinese visitor numbers could be fewer than planned due to tight visa procedures, the new government has created a visa exemption measure.
After hearing that only about 1.4 million Chinese visitors had arrived in the first six months, the Thai government lowered its target number of arrivals from China from 5 million to 3 million.
Unfortunately for nations that rely on one of the world's largest sources of tourism, the free Visa comes at a time when more and more Chinese travellers are postponing outbound plans due to economic uncertainties.

Chinese Slowly Returning to Thailand
Oliver Wyman, a consulting firm, conducted a study last month and found that 54% of respondents, all seasoned travellers who had gone overseas before the epidemic sealed Chinese borders, said they planned to travel in 2023. last is down from 62% of respondents questioned in June.
While only 6% of respondents in June stated they had no plans to travel overseas in the next three years, 22% now say they fall into that category.
The study only included those whose monthly household income was at least 30,000 yuan (150,000 baht), a demographic representative of the country's middle class and a factor in hopes for a post-Covid consumption recovery in China.
It's unclear if the robustness of spending on "experiential services" like travel and restaurants will continue next year.
Imke Wouters, a partner at Oliver Wyman and the study's primary investigator, said, "While Chinese travellers are returning, it is taking longer than we expected when the border reopened."
As a result of the current economic slump and political environment, 32% of respondents indicated they were less likely to travel overseas, while only 19% said they were more likely.
Meanwhile, enthusiasm for domestic travel remained high, with 35% reporting an increased propensity to travel within China and 14% reporting a decreased propensity.
Consumer spending and industrial output in China gained up pace in August, adding to early signs of stabilisation, thanks to the summer tourism boom and stimulus drive. However, Beijing's recent attempts to improve the economy are starting to bear fruit, and the next eight-day Golden Week holiday will be another test of that.

Short-haul Asian destinations
Starting on Friday, more than 21 million people will fly for the holiday, driving up prices. Short-haul Asian destinations like Thailand, Japan, and South Korea are among the most popular, along with domestic tourist hotspots.
And it's not just vacationing; high-end purchases may also be a sign of economic anxiety among the middle class. Among Oliver Wyman's sample of "casual luxury shoppers" (those who planned to spend less than 40,000 yuan on luxury items this year), 16% planned to increase their expenditure, while 30% were considering cutting back.
The survey found that those who spent more than 40,000 yuan managed to stay optimistic and resilient despite the economic downturn.
As a result of the visa-free program, Tourism Authority Director Thapanee Kiatphaibool said Monday that the number of Chinese visitors might reach 4 million to 5 million.
Earlier this year, Prime Minister's Office Spokesman Chai Wacharonke reported that 15 million foreign tourists had visited Thailand through July. He stated the government's expectation that 28 million tourists will bring in 1.4 trillion baht ($39.2 billion) that year.