Philippines Hit By Magnitude 6.7 Earthquake, One Dead, 18 Injured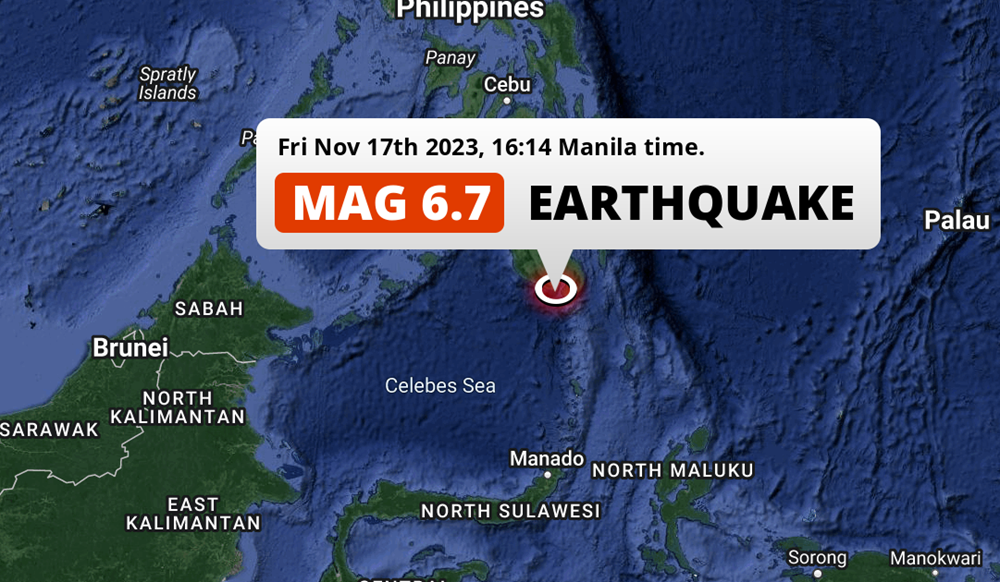 A magnitude 6.7 earthquake struck the Philippines on Friday, killing one person, injuring dozens and damaging buildings, authorities said. The earthquake struck off Mindanao island at a depth of 60 km (37.3 miles), according to the German Research Center for Geosciences.
Angel Dugaduga, a disaster response official in the coastal town of Glan near the epicentre, said at least one person died and 18 others were injured based on an initial report.
The town's municipal office building and gymnasium were also damaged from the quake and electricity had been knocked out by the tremor, Dugaduga added.
Earthquakes are common in the Philippines, which lies on the "Ring of Fire", a belt of volcanoes circling the Pacific Ocean that is prone to seismic activity. The Philippine seismology agency PHIVOLCS and the Pacific Tsunamic Warning Center said a tsunami was not expected.
Amor Mio, police chief of nearby Koronadal city, said there were no reports of casualties but officials were checking a shopping mall reported to have been damaged.
"The employees were ordered evacuated for their safety. According to police in the area, there was extensive damage but we could not ascertain definitely yet the extent," Mio told Reuters by telephone.
PHIVOLCS director Teresito Bacolcol told DZRH radio the earthquake's intensity was "destructive, so we would expect damage".
The earthquake lasted several seconds, he said, advising residents to be on alert for aftershocks as strong as magnitude 6.2.
Radio announcer Leny Aranego in General Santos city, close to Glan, said the quake shook buildings and desks. "We saw how the walls cracked and computers fell," he told DZRH radio station.
Michael Ricafort, an economist at the lender RCBC, said in a Facebook post passengers at General Santos City airport were evacuated to the tarmac.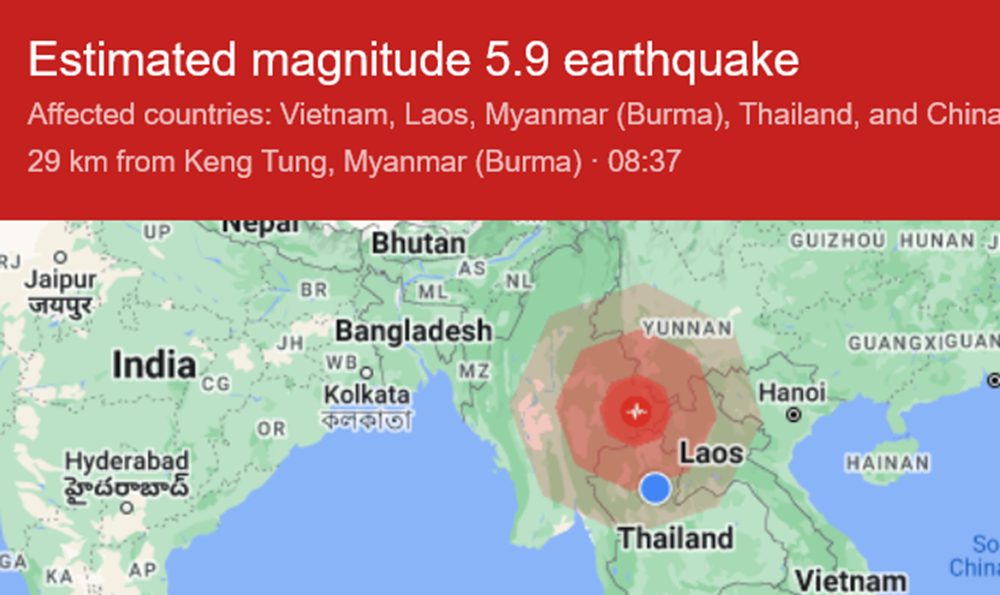 Earthquake Rocks Northern Thailand
Estimated magnitude 5.9 earthquake has struck at 8:37 am today 29 km from Keng Tung, Myanmar affecting northern Thailand, Laos, Vietnam and China.
The earthquake could be felt in Chiang Rai province registering 3.6 on the Richter scale. The Thai Meteorological Department's Earthquake Observation Division reported no damage or injuries. The tremor was felt in Mae Lao, Muang, Phan and Mae Suai districts of Chiang Rai.
According to reports provided to the ministry, 11 hospitals in Chiang Rai and two in Chiang Mai in northern Thailand, as well as one in Sakon Nakhon province in the northeast, were affected.
Chiang Rai Prachanukroh Hospital in Muang district, Mae Lao Hospital, Somdej Phra Yayasangwon Hospital in Wiang Chai, Mae Chan Hospital, Phan Hospital, Chiang Khong Crown Prince Hospital, Chiang Saen Hospital, Phaya Mengrai Hospital, Doi Luang Hospital, Mae Fa Luang Hospital, and Mae Sai Hospital were among the hospitals affected.
The earthquake, which was felt in many regions in the North and Northeast of Thailand, caused cracks in hospital buildings but had little effect on their fundamental structures.
Staff and patients at Maharaj Nakorn Chiang Mai Hospital reported experiencing the tremor for roughly five seconds.
Medical services at Chiangrai Prachanukroh Hospital were discontinued, and patients were moved to another facility. A detailed investigation of the hospital for potential damage was underway.
Cracks were discovered on the structures of San Sai Hospital in the San Sai district and Chiang Dao Hospital in the Chiang Dao area in Chiang Mai.
Cracks were discovered on the ninth floor of the emergency ward in the northeastern province of Sakon Nakhon. The entire building was locked off for assessment, and outpatient services were discontinued.
A building at Ban Pa Kang School in tambon San Pa Pao in Chiang Mai's San Sai district that had been temporarily closed following an earlier earthquake on November 9 was discovered to have received more damage.
Natural disasters such as floods, tropical storms, and forest fires are prevalent in northern Thailand, but weak to moderate (below magnitude 6.0) earthquakes are fairly rare, and earthquake danger should not be disregarded.
Three noteworthy earthquakes have struck northern Thailand in the recent two decades, causing extensive damage and/or loss of life.
An M6.3 earthquake in neighboring Laos on May 16, 2007 damaged public facilities, including a school, a hospital, and historic landmarks.
On March 24, 2011, an M6.9 temblor struck near the Thai-Laos border, killing one person in northern Thailand and was felt in the northwest as well as in Bangkok.
Most recently, the M6.1 Mae Lao earthquake in Chiang Rai, northern Thailand, on May 5, 2014, was one of the most significant seismic events ever recorded in the country. This quake caused substantial damage to over 15,000 buildings and infrastructures, as well as one fatality and 107 injuries.
The Department of Disaster Prevention and Mitigation in Chiang Rai estimates a total economic loss of USD 300 million.
Thailand has 15 fault lines that go through 22 regions. Scientists are especially concerned about the Mae Chan fault line, which might cause a magnitude 7 earthquake in the near future. It is approximately 100 kilometers long and runs across the provinces of Chiang Mai and Chiang Rai.
The Sri Sawat and Three Pagoda fault lines, which run across the western region and are near to the country's largest artificial water catchment, the Sringarind dam in Kanchanaburi province, are also under intense scrutiny.